Effective Family Grantmaking in Times of Economic Uncertainty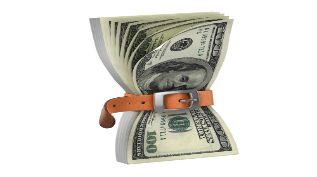 By its very nature, family philanthropy tends to be a long-term endeavor. Family philanthropies that seek to effectively serve through the generations need to be flexible, resourceful, and resilient. In uncertain economic times, families must employ a variety of strategies to reinvent themselves and to help their grantees to do the same.
What strategies can family grantmakers use to weather times of economic uncertainty? How can they continue to support causes that spark their passion through lean times when grants funds are scarce? This post explores ways to make the most of philanthropic resources in times of trouble, including: cost-cutting strategies, ideas for maintaining levels of giving, and how collaborative grantmaking can help families remain engaged in the causes they support.
Tightening Your Belt: Cutting Costs as a Coping Strategy
When the economic forecast gets cloudy and investment income slows to a trickle, it seems logical to look for ways to curb philanthropic costs. But what are the best strategies for cutting costs without compromising your philanthropic agenda?
Cutting Administrative Costs
Despite rumors of impending congressional changes, the 5% payout rule for private foundations still includes administrative expenses. By cutting administrative costs—staff salaries, office space and leasing fees, and smaller administrative expenses like office supply budgets—a family foundation can increase the proportion of its yearly payout available for grants. As distasteful as steps such as laying off staff or moving to smaller offices can be these measures help a family continue its good works in the long term.
Decrease Grants or Consider Changes in Grantmaking Strategies
Since many foundations are established to exist in perpetuity, their boards are conditioned to think about how they will continue to serve their causes decades into the future. By temporarily cutting the number of grants available or shrinking the size of the existing number, temporary belt-tightening can be accomplished. Other families decide to limit the number of new grantees or decline to support them at all, choosing instead only to review proposals from previous or current grantees. This reduces the administrative cost of the review process and can cap the number of grants until the economic outlook improves.
Focus Existing Grants and Revisit Your Mission
Being ever mindful of your philanthropic mission can be an effective way of riding out a bad economic situation. When the amount of money available for grants decreases across the board, your family may begin hearing from a broader range of nonprofits. Keeping an eye on your mission can help you or your foundation board to focus on the causes that are most important to you and to allot your funds accordingly.
Plan Ahead for Lean Times
Advance planning during an economic boom can go a long way towards shoring up your grant money, so it is a good idea to plan ahead. Although it is tempting in times of plenty to increase foundation outputs, setting aside extra funds for the times when the market is less robust makes good sense, especially for funds or foundations intended to exist in perpetuity. However, if your goal is to alleviate immediate suffering, as in the case of a natural disaster or human rights tragedy, it may make sense to spend despite your long-term plan.
Holding the Line: Maintaining Your Level of Giving
If you've already trimmed your staff size, moved your foundation's office into a room the size of a broom closet, and cut all but the most essential grants—or if contemplating such measures leaves you cold—there are ways to maintain charitable commitments without spending cuts.
Consider Program Related Investing
Investing in PRIs is an effective way to continue to aid the nonprofits family philanthropists support without touching their endowments. The nonprofits benefit because program-related investing provides a low or no-interest loan, and potentially allows them to raise more funds than they might receive through grants alone. In addition, PRIs can be cycled through several different projects as initial investment funds are returned and reinvested.
Dip Into Your Principal or Spend Out Entirely
Critical junctures, such as a large drop in available funds, cause some family philanthropists to re-evaluate their goals and motivations for giving. Said Patricia Cummings, former executive director of the Jay and Rose Phillips Foundation, of a decision to use principal funds to reinforce grantmaking during the recent slump: "The board talked about the foundation's mission. They said the mission of the foundation was not to hold on to assets." The Steve and Michelle Kirsch Foundation has even been willing to spend itself out in order to maintain its level of giving. Chief Executive Kathleen Gwynn reported: "The reality is we might be out of business in four years or so. . . Steve and Michelle and the board agreed that this foundation might not last in perpetuity. That was not the goal of setting up the Steven and Michelle Kirsch Foundation. The goal was to solve problems." (San Jose Mercury News, December 2002)
Try Your Hand at Collaborative Grantmaking
There are a variety of reasons that collaborative grantmaking initiatives make good financial sense. They allow donors with similar goals and interests to pool their funds for maximum impact, avoid duplicate efforts, and cut the administrative costs to both grantor and grantee. In addition to fiscal advantages, collaborations allow multiple donors who share a passion to come together and discuss ideas, share contacts, and speak out on behalf of the causes they support. It can be a good way for a family member with a small discretionary grant or for an individual donor with a donor-advised fund to provide maximum impact with a small dollar amount.
The New Hampshire GIS Conservation Collaborative (NHGCC) is a good example of family philanthropists, academics, scientists, and community members coming together in support of a cause. What started as a small discretionary grant awarded to the Audubon Society by Samuel P. Pardoe Foundation Trustee, Bruce Pardoe, to fund a study on the uses of geographic information systems in New Hampshire, has grown to a collaborative of individuals representing thirty organizations and private funders. The $10,000 discretionary grant, given in 1999, was only the beginning; the Pardoe Foundation alone gave more that $250,000 in grants from 2000-2003 to fund GIS programs in New Hampshire.
Other Benefits of Collaborative Grantmaking
Collaborative grantmaking can also be a boon to large families engaged in philanthropy because it allows for flexibility and can accommodate the disparate interests of family members. For the Rockefellers, whose giving is carried out by several generations of donors from locations all over the Nation, a collaborative can be a good way to unify family members with similar philanthropic interests. In 1991, the family founded The Philanthropic Collaborative, a nonprofit, public charity, to foster philanthropic collaborations between family members. The six collaborations housed under the TPC—now called the Rockefeller Philanthropy Advisors—allow family members to work together on grantmaking projects they value and seek partners both within the family and without. Working as a part of a collaborative allows all those involved to pool their considerable clout, share administrative costs, and reduce the amount of individual risk inherent in taking on a new project.
According to Eileen Growald, Chair of the Board, Rockefeller Philanthropy Associates, the collaboratives have impacted the Rockefeller family giving in a variety of ways. In her introduction to the National Center's Collaborative Grantmaking: Lessons Learned from the Rockefeller Family's Experiences, she provides that theirr funder collaborations:
help us to actualize our values and core beliefs with projects that are time and scope defined;
provide a structure to manage family involvement of our diverse interests and passions;
give opportunities for active, hands-on participation in grantmaking;
enable greater impact in grantmaking by attracting a number of donors; and
leverage the family's historical role in philanthropy.
A Final Note on Donor Resources
Remember that not all charitable contributions are monetary. Although actual grant sizes may need to be reduced during an economic downturn, donors can continue to impact their grantees in positive ways.
Invest your time:
Share the good news about the grants and organizations you are supporting
Host a special event
Volunteer for a committee or advisory board
Serve on the board of directors
Share your experience:
Offer advice and guidance on issues around which you are knowledgeable e.g., strategic planning, development, accounting, and technology
Help with staff hiring by spreading the word about jobs and helping to screen resumes
Recommend professionals whose work you value, e.g., consultants, contractors, accountants, and lawyers, etc.
Use your voice and be a spokesperson:
Introduce the organizations you support to other potential donors
Share your contact database with the organizations you support for their mailing lists