African-American Family Philanthropy: a Long, Venerable Tradition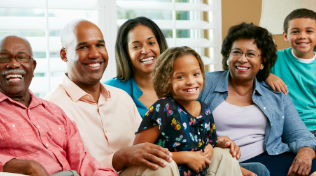 "Every man must decide whether he will walk in the creative light of altruism or the darkness of destructive selfishness. This is the judgment. Life's persistent and most urgent question is 'What are you doing for others?"
– Dr. Martin Luther King, Jr.
"It was part of my religious upbringing. I have a deep concern about what happens to the community, that is, I don't separate myself from what happens to my people. That's the connectedness that I learned from my family."
–Jean Fairfax
It's the interconnectedness of the African-American community that has profoundly influenced the development of black philanthropy in America. Historically, the tradition of African-American philanthropy has been centered around an informal network of giving to community churches, social organizations, and educational institutions. According to Emmett Carson, president of the Minneapolis Foundation, one reason for the strength and vitality of African-American charitable institutions is that the infrastructure of society at large was not designed or intended to provide for their survival. So as early as the late 18th century, African Americans began forming mutual aid societies to provide economic support and assistance to people in their communities. It was through these organizations that all manner of causes, from the Underground Railroad and abolitionist groups to the Civil Rights Movement, were often covertly funded. Much of the history of African-American philanthropy has been focused on identifying and meeting the immediate needs of the community, whether donations are being made directly to family or community members, or through local churches, aid societies, social, and political organizations.
These early organizations were so powerful and influential, in fact, that several states, including Maryland and Virginia, banned their formation in the mid-nineteenth century. In a speech at the 2004 New England Conference on Black Philanthropy, Carson describes how the need for secrecy often shaped the development of African-American philanthropy in America:
People died because they were involved in these clubs. That's why you go down to the deep south now, and it's just the bridge club. But the bridge club funds this, funds that, supports this. It's just the women's bridge club. The bridge club was the cover. It was the philanthropic work that came out of this tradition.
The Tradition Today
"No individual has any right to come into the world and go out of it without leaving behind him distinct and legitimate reasons for having passed through it."
–George Washington Carver
A 2003 giving pattern study by the Chronicle of Philanthropy found that African-American donors give, on average, 25% more of their discretionary income to charity than whites in the same income bracket. The study also found that in counties and cities with an above-average number of black residents earning $50,000 a year or more, giving levels tended to be higher. Much of the money donated by African Americans is given through local churches or church-related programs: a whopping nine out of every $10.
The ranks of noted African-American philanthropists are filled with familiar names: names of historical significance like Harriet Tubman and Frederick Douglass; of entertainers like Bill Cosby and Oprah Winfrey; of sports greats like David Robinson and Michael Jordan; and successful business men like Alphonse Fletcher, Jr. But the list is also populated by the names of laundresses, beauty product innovators, preachers, and school teachers, who are carrying on their good works with little fanfare.
People like Osceola McCarty, a Mississippi washerwoman who, during her lifetime, saved more than $150,000 which she donated to Southern Mississippi University. Forced to leave school after the sixth grade to care for a childless aunt, Ms. McCarty began saving what little she could at an early age: first for candy money, and later to be put into the bank. After more than 75 years of taking in washing McCarty had amassed a sizeable sum in several bank accounts, and approached her bank with an idea: she wanted to allot some money to extended family members, and some to her church, but the lion's share, she decided, should go to a scholarship fund at Southern Mississippi. Circumstances prevented her from continuing her own education, but Ms. McCarty, who remembered a time when blacks were prohibited from attending the school, wanted to send someone else's child to college. Of her generous gift, she said: "I can't do everything," she said, "but I can do something to help somebody. And what I can do I will do. I wish I could do more." (Osceola McCarty Donates $150,000 to Southern Miss.)
Or Betty and Jean Fairfax, the children of a middle -class family from Cleveland, who come from a long line of civically-minded, philanthropically-motivated people, including their mother, a social worker, and their suffragette grandmother. The Fairfax sisters, a former teacher and a civil rights worker, have embraced the philanthropic lessons they learned early in life and have created endowments worth over $1 million: funding, among other things, an endowment at Kent State University for African American students interested in public education and the Black Legacy Endowment Fund at Arizona Community Foundation. The Fairfax sisters, neither of whom had careers known for exorbitant salaries, credit their ability to give generously to lifestyle choices and to planning ahead. Says Jean: "Black Americans are a giving people but much of that giving over the years has been spontaneous and not been strategic. Due to my experience with organizations of grantmakers, I began to understand the importance of strategic philanthropy, which is philanthropy that makes a difference."
Also on the list of great African-American philanthropists is Matel Dawson, a forklift operator at a Ford Motors plant for more than 60 years. Before his death in 2002, Dawson had given away more than $1.3 million in scholarships for students in need, many of them at nearby Wayne State College. Of his impetus to give the proceeds of his modest working income to charity, Dawson recalled the memory of his parents Bessie and Mat, Sr.: "This is what they wanted me to do. . . I'm on a mission. If I was doing anything else with my money, I'd be throwing it away." (OnPhilanthropy, "Now Be Thankful: People Who Define Philanthropy.")
The Future of African-American Family Philanthropy
"We must serve consciously as caring role models, emphasizing the ethic of service, not consumption."
–Marian Wright Edelman
"So many things in life inspire philanthropy, such as your faith in humanity and your belief in the human spirit to overcome."
–Oprah Winfrey
Most experts agree that the key to promoting and encouraging philanthropy among African-American families is creating awareness of the philanthropic power already residing in their communities. Erica Hunt, president of the 21st Century Foundation, points out that although the tradition of philanthropic giving in the black community is strong, many people simply do not identify their charitable activities in this way. Among the goals of the Twenty-First Century Foundation is creating an awareness in the community of the power of their good works: "We want to make our philanthropy visible to ourselves—as black people we're often not even aware that our giving is philanthropic. . .We often think of ourselves as being supplicants, but in fact, there's a lot of giving going on in our community" ("African American Giving Comes of Age", Businessweek Online).
For all families, regardless of race or ethnicity, planning ahead and starting early are key components to a successful giving plan. Even if a child is raised with a strong sense of civic responsibility and cultivates an intense desire to give back to the community, knowing where to begin can be difficult. As an adult the would-be donor is often faced with a very different set of circumstances than his or her parents. The desire and tradition of giving are there, but questions may linger: To whom should I give? How? And, how much?
Khary Lazarre-White, co-founder and co-director of Brotherhood/Sister Sol, a nonprofit organization that serves and supports Black and Latino youth in Harlem points out that a lot of potential donors in the African-American community are sometimes hesitant to become more philanthropically active because extra income is a new and uncertain phenomenon. In a NPR interview, he said: "A lot of young people are coming from families where they are the first to make this kind of upper-middleclass to wealthy money and they're afraid it can be taken away at any moment. They're not really sure how much they are able to give."
It is in situations like these that financial planning and guidance are crucial: donors can have maximum impact on their communities by seeking advice at younger ages and establishing more formalized giving vehicles such as endowments. Jean Fairfax is a big proponent of approaching philanthropy strategically: starting early and thinking ahead. In an interview in the National Center's Faith and Family Philanthropy: Grace, Gratitude, and Generosity, she notes: "I think it's very important for a person in their forties and early fifties to think about creating—actually, to do more than think about it, to create—charitable funds and begin to put the money away so it can grow. . .they may not be withdrawing the monies right away, but they still need to start early."
Organizations like the Twenty-First Century Foundation, a local community foundation, or other informational resources like the National Center can also be of assistance to new and prospective donors. These organizations can provide guidance on how to establish a family's giving vehicle and help them to establish a philanthropic agenda that meets their goals and expectations.
Additional Reading
The Future of African-American Philanthropy, Philanthropy News Digest
A Rising Force: On the State of Black Philanthropy, Inside Philanthropy
Redefining Philanthropy: How African-Americans Give Back, NPR