Site Visits: a Tool for Effective and Engaged Donors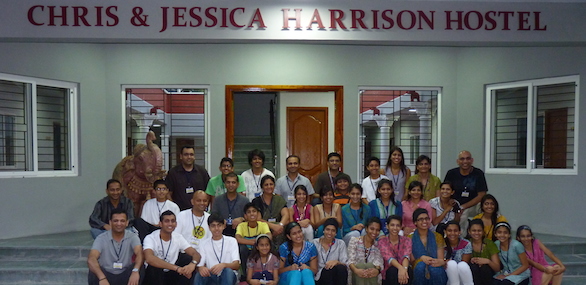 Writing a check to a nonprofit is not in and of itself a particularly satisfying activity and it is only one step in getting the job done. There is no greater satisfaction than having some involvement with the organization you are helping to fund. Site visits accomplish this. Nothing beats getting to know the people and their work up close and having the chance to work in partnership with an organization to get a critical job done.
—Sybil Hite, Vice President, Hite Foundation in
"A Colleague's Perspective on Site Visits"
It's a sentiment we hear echoed over and over again, from donors and donor families all over the country, and the world: philanthropy today is much more than sitting down to write a check to a favorite charity. Twenty-first century donors are dynamic, committed, and involved in their philanthropy in more ways than ever before. And more often than not they bring their entrepreneurial spirit, skills, and ambition to the table as well as their pocketbooks. They are a generation of philanthropists with their sleeves rolled up to the elbows, as generous with their time and expertise as they are with their money.
Although some of these folks are full-time philanthropists, many have busy careers and home lives and have a limited amount of time to devote to pursuing their philanthropic agendas. Certainly, every philanthropic family hopes that they can have a positive and lasting impact on their communities, but how can a busy family ensure that they are making good grants; grants to organizations whose missions are in keeping with their own, and whose programs are sound and effective?
One of the best, and most efficient ways to determine whether a given program is a good fit for your family's philanthropy is to make a site visit. Site visits can be an excellent opportunity to connect with potential grantees and get a clear picture of what a program really looks like, warts and all. It's your chance to witness first-hand the staff and board's enthusiasm for their project, their commitment to it, and their hopes for the future.
Why Make a Site Visit?
Particularly for smaller foundations or funds, in which the family still makes all of their own grantmaking decisions, the number and diversity of applicants can make the application review process a time-consuming and overwhelming one. This is especially true in the age of the internet when so much information is readily available to grantseekers, and in which a grant application can often be made with the click of a button. How do families distinguish between programs whose missions complement their own philanthropic goals, and those that have simply crafted a convincing appeal for funds? How can they prevent good programs from going unnoticed due to deceptively weak applications?
For some families, the site visit is the penultimate act before a grantmaking decision is made. They narrow down the number of grantees to a few that have made the greatest impression, or seem like the best fit for their mission, and use the site visit as a final criterion. For Diane Bryant of the Frances Hollis Brain Foundation, a site visit is something she embarks on only when she is really serious about a grantee program:
"I don't go out unless I'm really considering a program, after I've made a few phone calls to screen for mission and intent, and had them send some materials."
Site visits can also help families to evaluate how well a grant already awarded is working in accomplishing the philanthropy's goals. Visiting grantees, in an open and un-intimidating manner, can help you gauge the impact your grant is having on a given issue or organization, and to maintain ties to the community, which will help you to be responsive to its changing needs. It can also be a great way to remain actively involved with the organizations you fund, and a pressure-free way to introduce your children or other next generation family members to your philanthropy.
How to Make Your Site Visit a Success
Be Clear About the Purpose of Your Site Visit
Whether you use site visits as part of your grantee selection or evaluation process, or as an opportunity to form or maintain a relationship with grantees, be sure to consider your expectations for the visit. If you are conducting your site visit as a family, some of the things you may wish to achieve through the experience may include:
to gain a better understanding of the organization's work or mission
to observe how the organization's processes serve to accomplish its goals
to show your children, or younger members of your family, the real and tangible ways in which your philanthropy benefits the community
to boost morale and get the chance to talk directly with the leadership and other staff of the program you are funding
Similarly, it is important to provide a clear picture of what you expect from the organizations you visit and what you hope they will gain from the experience. What kind of visit would you prefer? A structured presentation or an informal question-and-answer session? If you are bringing younger family members, would you like them to take part in a project as a part of the visit? With whom do you expect to meet during your visit: staff, board members, or members of the constituencies being served by the nonprofit?
Although you should certainly be cautious about being prescriptive, having a conversation with grantees about expectations increases the likelihood that you will walk away from the experience feeling good about it and your grantmaking decision. Additionally, it can ease a grantee's anxiety about your visit, which will give you a more accurate impression of how their organization runs. Consider what you want grantees or prospective grantees to garner from having you visit, and how you can structure the visit to promote an open and mutually respectful communication between you.
A little advance preparation can also ensure that your site visit will run smoothly and efficiently, which is extremely important for both busy family donors and the nonprofit staff. A well-thought-out site visit can be an effective tool to aid you in your grantmaking processes and decisions, but a poorly planned one can leave you feeling frustrated or like you've wasted your time: a mistake that can be taxing for you, and costly for a potentially deserving charity.
Be Prepared: Read the Materials and Get Directions
You don't have to spend hours pouring over information packets or surfing the internet to find out about prospective or current grantees. Take the time to specify exactly the kind of information you are interested in knowing about grantees, and craft your application process accordingly. If you come from a business-oriented background and statistical information about the number of children fed or the number of new trees planted by a grantee program resonates most with you, be sure to request this information before making your site visit. If recommendations from other local grantmakers are more meaningful to you, ask your grantees to provide references and contact information prior to your visit. Doing a little homework beforehand will allow you to relax and observe how the organization functions, or doesn't, during your visit.
It may seem silly, but grantmakers agree: be sure to get accurate directions! You want to arrive for your site visit relaxed and with an open mind, not exasperated after driving around aimlessly in unfamiliar territory trying to stave off road rage. Ask for all the information that you will need from grantees to have a successful site visit: directions to their location, the names of folks you'll meet with, and the length of time you should expect to spend there.
Go in with Your Eyes and Ears Open
The experience of a site visit is as much about absorbing the general tenor of an organization and making connections with its staff as it is about evaluating the mechanics of a specific program. If you can, arrange to meet with several individuals within an organization during your visit. Bryant recommends meeting with nonprofit board members as well as with staff if possible, because doing so will give you a sense of whether there is agreement on the organization's mission and practices. Observe how staff members communicate with you, and with one another: do they appear to be on the same page?
While many organizations you visit may have a presentation prepared for you, additional or alternative informal conversations may be more valuable to you in getting a clear picture of what the grantee is and does. Donna Sherlock of the Minnesota Women's Foundation, says she tries to discourage grantees from giving her a canned presentation: "If I come out and someone's got a prearranged performance, it might be entertaining and interesting, but I'm not going to get my questions answered" (The Truth About Site Visits by Joel Hoekstra). The sort of general information found in these presentations should already be familiar to you from reading their grant proposal or informational packet. The site visit is your opportunity to explore other facets of the organization's work.
Lay the Ground Work
"Site visits are about creating a relationship of partners, and it's very hard to have such a relationship if the foundation and the grantee aren't speaking the same language. Clear communication requires face-to-face contact."
—Karen Starr, senior program officer, Otto Bremer Foundation in
The Truth About Site Visits by Joel Hoekstra
Remember though that how you approach a site visit will likely set the stage for your interaction with the organization in the future, whether you decide to fund them at that particular time or not. Take some time to think about what kind of a relationship you'd like to create. Bryant likes to think of the Frances Hollis Brain Foundation's relationship to its grantees "as a collaboration, rather than a top-down relationship," which promotes a sense of shared investment and commitment between funders and grantees.
Approach your grantees or prospective grantees in a way that encourages open and frank communication about what works in their organization, what doesn't, and what has great potential. Recognize that grantees may feel intimidated or nervous about your visit, because if the organization is small or funding opportunities in your community are scarce the viability of their project may rely heavily on your determination. Even small things, such as arriving at your local 4-H Club to talk about funding in jeans, ready to lend a hand, or arranging to combine your site visit with a family volunteer opportunity can go a long way in establishing this communal, collaborative environment.
Listen to Your Instincts
After meeting with a potential or current grantee, what is your gut telling you? Some questions to ask yourselves:
Do you feel bolstered or excited about a given project?
How does the organization seem to fit into your grantmaking agenda?
Do you have the information you need to make a decision?
If not, what other information do you need? Where could you get it?
To capture a record of your visit for posterity and for trustees not able to accompany you, you may wish to fill out some sort of "site visit report" following your visit. One example is included in the list of resources below —this type of report can be as specific or general as you would like, and will vary greatly depending on the kind of organization or program you are visiting.
What if a Site Visit Isn't Possible?
Often times family members are collaborating on their grantmaking from far-flung locations across the country and perhaps from around the world. Perhaps the philanthropically active members of the family live far from the locus of their giving, and see their charitable activities as their way of remaining in touch with their family history or the donor's memory. Or perhaps in today's global society, family members have felt touched by tragedies and struggles taking place in locations around the world and feel compelled to become involved. In cases like these site visits may be neither possible nor practical. So how to grantmakers gather reliable, helpful information to help them make decisions about their grantmaking.
Diane Bryant, whose foundation was founded in Kentucky and concentrates its giving in Kentucky, Maine, Georgia, and Ohio, suggests that when site visits are not an option, families can rely on other resources in local communities to fill-in information gaps. She says: "If a site visit isn't possible, I look for other checks on the system. I ask for letters of support, a contact in the community—at a local church for example—and a current donor list. I look for other people to be my site visit, and for other ways to make connections."
If your family is dealing with issues related to geographic dispersion, and is seeking solid strategies for addressing the challenges of funding programs in remote locations, you might find Grantmaking with a Compass: The Challenges of Geography to be helpful. In particular, review the section entitled "Funding in Areas Where Family Trustees No Longer Live," which includes advice on educating trustees about community issues, and maintaining and strengthening ties to the community.