The Changing Face of Philanthropy: Diversity in Family Giving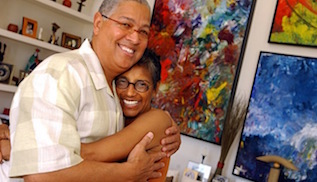 Quick, create a mental picture of a philanthropist. What do you see? An older white man?
That's the picture that pops into most of our heads. And it's not surprising — this is the dominant image of philanthropy in the United States. From Andrew Carnegie to Warren Buffett, these are the faces of philanthropy most familiar to us.
For some new images of philanthropists, take a look at a wonderful new video, "I Am a Philanthropist:  Diverse Voices in Giving."  This video will help populate your mind with philanthropists, such as Shirley and Bernard Kinsey (pictured at right), an African American couple who have amassed a large collection of African American art and historical documents that they loan for exhibitions, or Susan Lowenberg and Joyce Newstat, who support the communities they identify with most closely – Jewish and LGBT (lesbian, gay, bisexual and transgender).
"I Am a Philanthropist" premiered at an event last November presented by D5, a coalition of funders, joint affinity groups, the Council on Foundations and the Foundation Center to grow philanthropy's diversity, equity and inclusion.  More than 200 people gathered at the event in Los Angeles to shine a spotlight on the diverse face of philanthropy.  As the board chair of the National Center for Family Philanthropy, one of the sponsors of the event, I was interested in learning more about diversity in family philanthropy.  In my own 20-plus years of experience with my family's philanthropy, I have seen how incorporating diverse perspectives into our grantmaking and practices has enriched our connection to the community.  I have witnessed how fresh vision can open one's eyes to different ways of seeing community needs.  Sometimes it takes a newcomer to show what you haven't seen, simply because you haven't been looking for it.  I wanted to see what more I could learn about philanthropy by looking at the growing diversity in the field.  My curiosity was rewarded.
The day was packed.  The screening of "I Am a Philanthropist" was followed by panel discussions, a live performance by Tony award-winning artist Sarah Jones, and an interview with Academy Award-winning actress Geena Davis, who spoke about her philanthropic interest in funding women and girls. (For those of you who would rather be reading E! instead of Family Giving News:  Geena Davis is still gorgeous, and she's smart and articulate.  Can you believe that Thelma and Louise was released 20 years ago?)
I asked Rockefeller Philanthropy Advisors' Judy Belk (a former NCFP board member) and event sponsor and emcee, how family philanthropy fits into the D5 effort.  Belk, who led a very special NCFP Teleconference on this topic on April 12, 2012, said, "Family is one of the major motivations for diverse donors in philanthropy, just as it is a motivator for many philanthropists.  They want to give, and they want to inspire the next generation.  We are looking at ways to support these new families in philanthropy."
Bernard and Shirley Kinsey's interest in collecting African American historical documents and artifacts started when their son had difficulty researching a book report about his ancestry. This desire to help their son with his schoolwork blossomed into a collection that travels to museums around the country, including the Smithsonian. The Kinsey ethos about sharing their blessings comes from a strong belief that "If you want to play catch, you have to throw the ball back. You have to throw the ball back to make this world work.  In other words, you just can't have all the money, you've got to share it." Philanthropy is "not just sharing money but sharing ideas, sharing your relationships, your networks."  Bernard and Shirley's philanthropy has included major gifts to and fundraising for their alma mater Florida A & M, a historically black university.
The overall theme of the D5 effort is to recognize that a diversity of approaches and viewpoints strengthens philanthropy.  Deborah Santana (pictured at left), one of the subjects of the "I Am a Philanthropist" video, remarked that growing up as a biracial child gave her empathy for people who are different, and most people in need of funding are also different in that they are outside the mainstream.  She has a particular interest in supporting women in developing countries who are often marginalized.  Incorporating diverse perspectives like Deborah's into philanthropy helps us better understand the communities in which we wish to work.
"If you want to play catch, you have to throw the ball back."
The event caused me to reflect on how diversity impacts the work of the Durfee Foundation, the family foundation started by my grandparents in 1960.   To look at a photo of our extended family twenty years ago, you would have seen the basic WASP portrait:  a lot of white people, most of them tall.  But that picture is changing, as illustrated by a conversation I had several years ago with my son Will when he was six years old. Will and I were in a bookstore and he was looking at a book about Martin Luther King, Jr. The following exchange ensued:
Will (a little blond boy):  Mommy, are we African American?

Me:  (hearing the snorts of laughter from other bookstore patrons) No, sweetie, we're not African American.

Will:  Are we Latino?

Me:  No.

Will:  Are we Jewish?

Me:  No.

Will:  Are we half Jewish?

Me:  No.

Will:  (looking horrified) Are we just plain?
After explaining to Will that our family ancestry from Northern Europe is not the same as "just plain," I reflected on how our extended family is becoming more and more diverse.  Some family members have married spouses whose ancestors came from different parts of the globe, and they have had children.  My cousin Halina, who serves on the Durfee Foundation board with me, is married to her wife Kim, and last year they adopted an adorable baby daughter.
This diversity within my family enriches all of us, and enriches The Durfee Foundation's grantmaking.  Many years ago when Halina joined our board, she initiated grants in the LGBT community and opened a new program area that is very consistent with the foundation's mission to support people and organizations that have difficulty obtaining funding.  Halina's perspective adds a new dimension to our work.
The data is all out there about the changing demographics of the U.S.  According to a study by the Kaiser Family Foundation, by 2050 the United States will have a majority nonwhite population.  This is already true in California, where our family foundation is based.  It's not surprising, then, that as the face of America changes, so does the face of family philanthropy.  I am excited by these changes, and believe that as philanthropy welcomes and learns from its new members, grantmaking will become more connected to the communities we serve, and more supportive of diverse communities.
Those of us in mainstream philanthropy (Will might have called it "just plain" philanthropy) have a lot to learn from diverse philanthropists.  Just as Halina opened up the eyes of the board of my family's foundation to the LGBT community, other diverse philanthropists can show the way to giving in communities that we may not have given much thought to, simply because we hadn't been living in those worlds.
I will leave you with a quote from Bishop Desmond Tutu that was cited by Deborah Santana in the video:
"Do your little bit of good where you are; it's those little bits of good put together that overwhelm the world."
This sentiment resonates with all philanthropists, and gives us reason to welcome newcomers and celebrate one another for the work that we do.