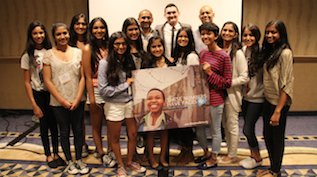 Friends Focus is a special feature of Family Giving News highlighting brief updates and announcements on the cutting edge work of family foundations and advised funds that are members of our Friends of the Family network. Are you a current Friend of the National Center and have an update you'd like to share with Family Giving News readers? Email us.
The Potts Family Foundation awarded more than $100,000 in grants to seven early childhood programs in Oklahoma. These grants are part of the Foundation's statewide initiative on early childhood, which includes education, advocacy and research in addition to grants. Foundation President Pat Potts said "Children are the key to our successes as a state. "The money and additional resources these deserving agencies invest in young children today will reap exponential long-term benefits for the sustainability of our state's economic growth as well as advancement. " Read more about the grant distribution here.
The world of family philanthropy is sad to lose Jaylee Mead, a beloved rocket scientist turned philanthropist, who together with her late husband Gilbert, led the Mead Family Foundation. She was a wonderful friend to the National Center and her famous quote "Starting a family foundation isn't rocket science" is now immortalized in our seminal publication, Splendid Legacy: The Guide to Creating Your Family Foundation. The Meads were well known cultural patrons of the Washington, DC community and will be greatly missed. Learn more about Jaylee's life and the work of the foundation.
The David and Lura Lovell Foundation is looking for an executive director! The foundation, based in Tucson AZ, is a private family foundation that according to their website was established to "share the good fortune of its founders through grants to organizations in the communities where its trustees reside." They focus on mental illness, integrative medicine and cultural/spiritual enrichment, and philanthropic education.
The William J. and Dorothy K. O'Neill Foundation is changing their funding guidelines in 2013, having just completed two years of intensive strategic planning involving all 93 family members. The foundation's new mission statement is "To partner with nonprofits to improve the quality of life for families and communities, in places where O'Neill family members live." They have created four grant program areas to help them achieve their mission, including a new responsive grant option.
The Tarsadia Foundation's blog has recently spotlighted both the interests of its junior board members, as well as efforts of grantees working across the globe in support of their mission.  The Tarsadia Foundation supports non-profit organizations with programs and projects that provide educational opportunities for the underserved, support the health and well-being of the community, and help to employ the employable through economic empowerment. Their blog includes both profiles of the creative strategies being used by grantees, and spotlights "the amazing members of the Foundation's Junior Board."
Longtime philanthropist and NCFP Friend Saul Mintz passed away after 80 years of helping others. He was a beloved member of the Monroe, Louisiana, community serving on numerous boards of organizations helping both the local and statewide Louisiana community. He is survived by his wife of 59 years, Jean Strauss Mintz.  TheJean & Saul A Mintz Foundation focuses on art, education, health care, human services and the United Way.  Mintz also served as president of The United Way of Northeast Louisiana.