An Invitation to a New Peer Network for Non-Family Staff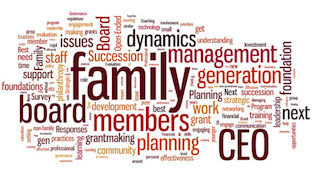 This month's "Voices in the Field" comes from the two co-chairs of the new NCFP Non-Family Staff Peer Learning Network: Andrea Sholler, Associate Director of the Tow Foundation in Connecticut, and Sharmila Rao Thakkar, Executive Vice President of the Siragusa Foundation in Chicago. They share why they think a peer network is important and what they are hoping to gain from the Non-Family Staff Peer Learning Network.
Andrea Sholler, Associate Director, The Tow Foundation
"In September 2011 I joined The Tow Foundation as Associate Director.  Tow is a family foundation based in New Canaan, Connecticut.  Over my twenty-odd year career working in the non-profit and public sectors I had always found it fairly easy to transition from one position to the next.  This was different.  While I had worked for and with foundations and as a teenager and had the opportunity to work for my own father, I'd never before worked for an organization that was led and defined by a family of which I was not a member.  In that context I found it took much longer than any previous position to learn the culture and adapt my work style.  During this process I sought a peer network that I might be able to turn to for advice and feedback.  While I had some very helpful conversations with colleagues who serve as Executive Directors of family foundations, my attempts to locate a formal network of peers was not successful. That is when I turned to Jason Born and Lauren Hasey Maher at the National Center for Family Philanthropy (NCFP) to discuss the idea of creating a Non-family Staff Peer Learning Network through NCFP."
Sharmila Rao Thakkar Executive Vice President Siragusa Foundation:
"I recall the day I came across the position announcement for The Siragusa Foundation. New to Chicago and seeking an opportunity in philanthropy, I was thrilled to see an opening that related to my training in health, social services, and communications. After more than a decade working in fairly large offices, with lots of employees and levels or hierarchies, and formal processes (for everything) – foundations, associations, corporations, nonprofits – this was going to be new for me in some ways. Honestly, before starting I did not give much thought to the "family" piece of the work. The awareness came as I realized how much of my training and learning came from the people around me – both in the office and out.  The office was comprised of 3 staff members (one of which was family) and the family member board chair – the last time I worked in such an environment was in my dad's office as a teenager!    While it was a welcome change to actually be so close to work, to have access to decision-makers and real opportunities to explore and engage with each other,  I wondered what muscles I'd have to flex and which I'd have to develop. I had worked at a large foundation and spent several years volunteering with a local community foundation. I was lucky to have mentorship early on in addition to being given all the necessary tools and resources (such as NCFP, ASF, COF, and our local Donors Forum) to learn about family philanthropy, as it may differ from my experiences in philanthropy in general.  And what I began to treasure most was the connection to colleagues, both in group settings and one-on-one in person, via phone, and even via email. I learned how valuable having a network of colleagues, often in other cities, was to not only my daily work, idea generation and exploration, and addressing challenges and opportunities, but also to my overall personal and professional development. For all that NCFP has provided me and the foundation as we've grown, developed, and accomplished, I am excited that we will now have a network of non-family staff to connect with, confide in, learn from, and grow with. Particularly as the field of family philanthropy expands and the opportunities will abound, I look forward to what we all can share and contribute to both the personal and professional pieces that make family philanthropy such a rewarding experience."
The National Center for Family Philanthropy will be sending a special invitation in the coming weeks to Friends of the Family and Leadership Circle members to help us plan the launch of this new network. An initial call will be based on the preferences of the participants, and we expect this to evolve into a regular series of peer learning and peer driven conference calls/hangouts/meetups or whatever you dream up. NCFP will be here for support and can help facilitate an in person meeting at the National Forum on Family Philanthropy.
Topics that we expect to explore over our first few calls will include:
navigating family dynamics in tricky situations;
understanding one's role grantee relations and communications when funding decisions are not ultimately yours to make;
career planning in philanthropy; and
managing a shifting landscape as family members' areas of interest change.
This special, new service is designed for non-family CEOs and senior staff who are current Friends or Leadership Circle members of the National Center for Family Philanthropy. There is no additional charge for this special benefit. To sign up, please complete this short registration form. For additional information, please contact  NCFP Vice President for Programs Jason Born at jason@ncfp.org or phone 202.350.9376, or Andrea Sholler at The Tow Foundation at andrea@towfoundation.org.