Thoughts from #Ncfp14 Advisory Committee Members & Speakers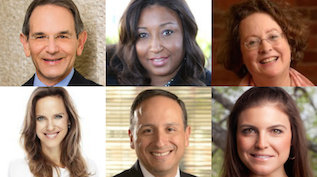 The Inaugural National Forum on Family Philanthropy will bring together more than 250 representatives from family foundations, donor advised funds, family offices and other charitable programs along with prominent business, academic and philanthropic leaders for fresh perspectives, new research and candid discussions about trends in family philanthropy. We are grateful to all of those who have helped shape the National Forum including our Advisory Committee members and the more than 65 speakers participating in the Forum. Here are just a few of the voices you will hear at the plenary sessions.
National Forum Advisory Committee members share what they are most looking forward to about #ncfp14 next week

"The knowledge sharing set to take place at NCFP's inaugural Forum will contribute greatly to the broader philanthropic discourse and enhance our ability to support our clients' philanthropic ambitions."
– Claire Costello | Managing Director, National Philanthropic Practice Executive for U.S. Trust, Bank of America Private Wealth Management

"The National Forum on Family Philanthropy promises to be one of the most exciting Forums in 2014! I am excited about the high quality speakers, the exchange of ideas through this extraordinary learning community and the opportunity to meet family philanthropic leaders from throughout the U.S."
– Janine Lee  |  President, Southeastern Council on Foundations

"This forum will be a one-of-a-kind event bringing together leaders in the field of family philanthropy for dynamic conversations about the issues we all face leading family foundations. I look forward to learning from the very best in our field!"
– Katherine Lorenz | President, Cynthia and George Mitchell Foundation

"As someone who is launching a new family philanthropy within a family office, I am looking forward to connecting with colleagues and sharing the questions that drive me these days. How can I best create a flexible vehicle that is a source of joy and lifelong learning and connection for family members? How can all the family's resources and connections best be deployed for Impact? I'll be looking for answers and inspiration at the conference."
– Melinda Marble | Director of Family Philanthropy, Pilot House Associates
Notable quotes from National Forum on Family Philanthropy ppeakers
Jennifer Buffett, president and co-chair of the Novo Foundation, will be a panelist for the lunch plenary "In a Woman's Voice: The Role of Women in Family Philanthropy". She is a champion of the role women can play in changing the world. Here is an excerpt from a statement she made in Forbes about the genesis of the NoVo Foundation's mission. "When my husband Peter and I started the NoVo Foundation, we dedicated its mission to fostering a transformation from a world based on systems of domination and exploitation to one of collaboration and partnership, with girls and women as the primary agents of change.  When we wrote this mission statement in 2006, we had only just begun to take in its magnitude.  We studied the ways philanthropy can play into many imbalanced systems (and colonialistic ways of thinking and acting).  Those with little or no voice are often overlooked, seldom fully understood, and rarely given power or voice.  It is staggering how often well-educated and well-meaning members of our profession fail to engage the disenfranchised in constructive conversations about what they need and how society might play a role in empowering them". Read more.
Jim Canales, former CEO of the James Irvine Foundation and incoming President at the Barr Foundation will be speaking at the opening plenary about "Creating Community in our Time". The following is an excerpt from an interview he did for Tactical Philanthropy addressing one of the key components for creating community in the twenty-first century. "I think transparency is a mindset, it's a value, and it's something that ought to permeate across the foundations. I think that in the case of the institution that maybe every once in a while releases a report that talks about a mistake that it might have made or an effort that perhaps didn't go as they had planned, and that basically becomes their sole effort at transparency — I can understand that that may lead some to feel that all attention had been diverted to that effort." Read more. 
is part of two different philanthropic families; one she was born into and one she married into. On the NCFP webinar "Diverse Voices in family Philanthropy", she was asked how did these two different families develop the competencies to support diverse communities? She mentioned it was much easier in the family she married into because the Flora Family already had a tradition of spouses with a myriad of international ethnicities  serving on the board.   She said "I think that I fit in naturally because the family was so open to know about you as a person, we want to know about what your values are." She continues "within my own family it was kind of a generational issue in terms of the parents want to dictate how this foundation works. And they had some ideas but my brother and I being the younger want to, you know, have a more kind of holistic view. We wanted to bring our spouses in. And both of us did marry people outside of our race and we wanted to make sure that their voices were included in my parents' foundation and that was a difficult conversation for us to have with our dad.  Kimberly will be sharing here experiences in multigenerational family philanthropy in the closing plenary "Family Philanthropy Across the Generations."
Ira Hirschfield, President of the Evelyn and Walter Haas, Jr. Fund, as he describes the fund's long and successful battle to improve opportunities for gay-marriage and the gay rights movement at the "Family Philanthropy and Big, Bold Ideas" plenary.  He noted a critical component of this success in an interview with the San Francisco Chronicle: "Our trustees believe that you take on big challenges -and that you are in for the long haul." Read more.
Mario Morino will share his journey in founding a philanthropy at the breakfast plenary "'I'll Have What She's Having!' A Founder's Conversation". You can get a preview of the work he did to get his philanthropy off the ground in Bridgespan's GiveSmart video below. He shares how important it was to listen carefully to over 700 people from gang members to college presidents in setting the mission of his philanthropy.