Leveraging NCFP Resources for Local Peer Learning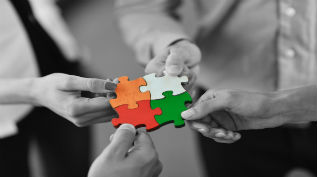 Like many regional associations of grantmakers, Grantmakers of Western PA (GWP) was created to help those working in philanthropy connect with and learn from one another.  As GWP approaches its 30th anniversary, the people interested in making smart community investments have broadened well beyond professional grantmakers.
Like our colleagues at NCFP, and other regional associations, we want to figure out how to connect philanthropy professionals with donors seeking community impact – all of whom benefit from greater awareness of what the others are up to.  One of our members, Social Venture Partners Pittsburgh (SVP), is partnering with GWP to do just that.
SVP and GWP recently co-hosted a viewing of the live NCFP webinar "So You Want To Be A Family Philanthropist" – marketing the opportunity to GWP's family foundation members and SVP Partners.  Here is what we learned:
We took advantage of SVP Pittsburgh's location: it rents space within a company called c-leveled that is an amalgam of an incubator, accelerator, technology and business advisor, and marketing firm.  By gathering webinar viewers over a brown-bag lunch at donated space at c-leveled, we kept costs down while testing whether we might attract a wider group of participants.
We did succeed in attracting a diverse group including SVP investors, family foundation trustees, a family foundation CEO, a community foundation staff member, a representative of a national donor-advised fund, and a bank wealth manager.
This diverse audience appreciated the family dynamics lens that NCFP brought to the issue; that lens sparked some peer sharing on issues of engaging younger generations and on giving through different charitable vehicles.
The points raised during the webinar prompted a lively discussion of various local options for giving – also an outcome both SVP and GWP hoped for.
We learned that a 90-minute live webinar is a very long time to focus on a screen.  Our group elected to sign off after about an hour and move straight to our own in-person Q & A. We will also experiment with viewing a recorded webinar to find the right balance between in-person dialogue and access to NCFP's national experts.
Put this in the category of "we really should have known better": we neglected to allow time to network before the webinar started.  For our second NCFP live webinar viewing, we are having everyone arrive 30 minutes early.
It will be fascinating to see how dialogue develops between engaged individual donors and professional grantmakers – all of whom share keen interest in community outcomes but who play very different roles in working toward them.
Thanks to NCFP for its contribution to GWP's outreach!