Leveraging Social Sector Leadership: Opportunities for Family Philanthropy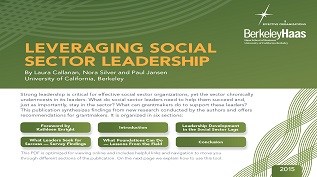 While the connection between strong leadership and effective organizations may seem obvious, navigating the variety of ways grantmakers can support leadership can seem overwhelming. In GEO's recent publication, Leveraging Social Sector Leadership, the authors present research that lifts up what social sector leaders say they need to be successful and how grantmakers can support those needs. The recommendations come down to three simple suggestions:
Invest: Develop talent and the talent pipeline.
Engage: Focus on collaboration.
Imagine: Be attentive to "white space."
While the social sector lags behind the private sector in terms of investments in human capital, many funders are providing support which enables social sector leaders to invest, engage, and imagine. In this piece we share how two family foundations — The Durfee Foundation and the Frieda C. Fox Family Foundation — are supporting social sector leadership.
Invest: Develop talent and the talent pipeline.
There is an opportunity for foundations to help social sector organizations invest more in leadership, yet Foundation Center data show that from 1992 to 2011, annual foundation support for leadership development was just 1 percent of overall foundation giving.
Investment in leadership development creates a virtuous cycle — strong leaders build organizations that attract high performers. Similarly, underinvestment in leadership creates a vicious cycle that can lead to rapid staff turnover and high rates of burnout.
The Durfee Foundation devotes nearly all its grantmaking to supporting nonprofit leaders in the Los Angeles area. The foundation's commitment to supporting nonprofit leaders stems from the values of its founders, Dorothy Durfee Avery and Stanton Avery.
"My grandfather was an entrepreneur, and he emphasized how success in business and community endeavors depends on having the right people," said Carrie Avery, board president. "As a foundation we focus on supporting and sustaining valuable leaders so they stay in the game and can lead their organizations and their causes to succeed."
The Frieda C. Fox Family Foundation devotes a significant portion of its staff time and resources to its Youth Philanthropy Connect initiative, created to help engage and develop the skills of the next generation of philanthropic leaders.
"Our experience shows that young people will step up to the challenge of leadership if we create opportunities for them to do it," said Annie Hernandez, executive director. "Not only does this help prepare them for lives of philanthropy and service, but it helps make our foundations more relevant and more responsive to emerging issues and needs."
Engage: Focus on collaboration.
When asked what attributes are most critical to do their jobs well, social sector leaders placed attributes related to collaboration at the top of the list. Grantmakers can place emphasis on collaboration in their leadership development investments through a variety of ways such as supporting programs that emphasize collaborative capabilities, modeling collaboration in the design and support of various programs, building cohorts, supporting coaching with a focus on collaborative skills, and connecting generations.
In Youth Philanthropy Connect, collaboration happens at a variety of different levels. Four family foundations came together as founding partners to create the initiative, and today programs are offered in partnership with several partner organizations. Goals of YPC include creating strong peer networks for next-generation philanthropists as well as strengthening intergenerational connections.
Imagine: Be attentive to "white space."
When GEO held focus groups with nonprofit executives across the country, we heard a common refrain — leaders typically feel stretched thin and are so consumed with the day-to-day demands of the job they have no time to look at the big picture, build relationships with other organizations that could be potential partners, or lift up and look outside their organizations for new ideas. Not only does this contribute to burnout, it can hamper the organization's effectiveness. These focus group findings are corroborated by the McKinsey and UC Berkeley research of 196 social sector leaders reported in Leveraging Social Sector Leadership.
Often, the best thing grantmakers can do for nonprofit leaders is to support renewal and reflection by helping to create the "white space" leaders need to explore new ideas.
The Durfee Foundation helps provide nonprofit leaders this white space in a variety of ways. The Durfee Sabbatical Program, which has served as a model for other foundations across the country, provides leaders with time for renewal while at the same time allowing their organizations to increase their bench strength. The Stanton Fellowship provides two-year grants to give leaders the time and space to tease out solutions to complex problems that challenge the future of Los Angeles. The Springboard Fund supports leaders of new social-benefit ventures in Los Angeles through two-year grants to help them advance their organizations to the next stage of development and by connecting them to seasoned nonprofit leaders who can serve as mentors.
"Now that we have been doing this for some time, the reward is seeing that the work of supporting nonprofit leaders is cumulative," Avery said. "We keep growing the alumni pool for these programs, and they begin to form a network of people who are supporting each other and getting better results than they would if they hadn't created those connections."
Imagine the reward the sector would see if foundation funding for leadership grew beyond the current one percent and if more grantmakers joined together to help grow and strengthen networks of leaders.
Read more about The Durfee Foundation and the Frieda C. Fox Family Foundation in GEO's Smarter Grantmaking Playbook.