New NCFP Study Shows New Family Foundations Giving at Faster Rate Than Predecessors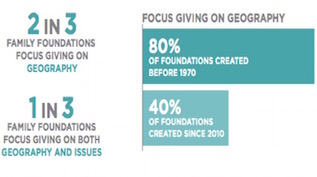 In an age when donor-advised funds and social enterprises dominate discussions about U.S. giving trends, a groundbreaking new study reveals that a growing number of families are more interested in forming their own foundations, and they are using these foundations to distribute assets at a much faster rate than their predecessors.
The National Center for Family Philanthropy partnered with the Urban Institute and J.P. Morgan Private Bank to produce the first-ever study, which found a major generational shift in family giving as nearly 70 percent of all U.S. family foundations were created within the past 25 years. Of these newer foundations, roughly 60 percent report that they expect their assets to increase and nearly one in five pay out more than 10 percent of their endowments each year.
"Families view foundations as a critical tool for helping them achieve their charitable goals," said NCFP President Virginia Esposito. "This rich study reflects the tremendous growth that is underway in family philanthropy and offers us a number of opportunities for enhancing future practice and impact."
As these foundations look to the future, the study found about half of the respondents anticipate receiving additional assets into their foundation in the next four years. Of those younger foundations (created after 1990) nearly 60 percent anticipate an increase compared with just 15 percent of those created before 1970.
But foundations that increase their assets will not necessarily increase their payout rates. Foundations with already high payout rates (above six percent) are more likely than those with lower payout rates (six percent or less) to increase their payout rate in the future (25 percent versus 17 percent, respectively).
"We believe, studying family foundations in such an in-depth way enables everyone involved to work more strategically," said Diane Whitty, Global Head of J.P. Morgan Private Bank's Philanthropy Centre. "Of family foundations, the study found 70 percent have less than $10 million in assets and three percent have more than $200 million. This means they must operate tactically and thoughtfully to impact their chosen causes."
Among the key findings in the 2015 report:
Place-based philanthropy is the most common focus of family foundation giving, but this focus is likely to shift over time. About four in five foundations created before 1970 focus their giving on geography compared with only two in five foundations created since 2010.
Two out of three family foundations have founding donors still actively involved in the foundation.
Family foundations have little perceived family conflict — as almost 90 percent of survey respondents report that most family members work well together.
About 30 percent of family foundations use community foundation donor-advised funds or give directly to community foundations; 10 percent have donor advised funds at other institutions. Midsize foundations — those with annual giving between $500,000 and $1 million — and family foundations formed before 1970 are most likely to use this vehicle.
Twenty percent of the youngest family foundations have decided to operate with a limited life span — meaning they plan to spend out their endowments by a set date rather than operating in perpetuity. In addition, 20 percent of all family foundations revisit the question of perpetuity periodically, and another 42 percent say they are undecided on this issue.
Most family foundations (62 percent) have payout rates between five and six percent of corpus. But roughly 30 percent had payout rates above six percent, and roughly half of this group (15 percent of total) give more than 10 percent of corpus.
NCFP engaged the Urban Institute to conduct the nationally representative survey, which creates a profile of family foundations while documenting the current number, size, assets and giving levels across the nation. J.P. Morgan Private Bank is the project's lead sponsor and partner, with additional support from the William Penn Foundation, The Nord Family Foundation, The Stocker Foundation, The Leighty Foundation and the Rasmusson Foundation.
NCFP and its partners will use the survey findings to plan programs and provide services that meet the daily needs of families, as well as educate lawmakers about the practices and governance of family foundations.
---
Get a complimentary copy of the National Center for Family Philanthropy's Trends in Family Philanthropy Survey — and learn how you can reserve your copy of the full report.