I Am Family Philanthropy: Katherine Lorenz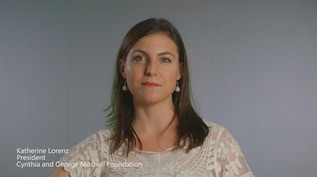 Editor's note: Every day we see committed and generous families making a positive impact on the communities and issues they serve. Through our I Am Family Philanthropy video interview series, we are delighted to share their voices and stories. In this installment, we are sharing the story of Katherine Lorenz, her family, and the Cynthia and George Mitchell Foundation. 
---
Katherine Lorenz reflects on how philanthropy has brought together multiple generations of her family. Katherine shares how the Cook's Branch Conservancy in Piney Woods, TX promotes local and regional conservation ethics and demonstrates the resilience of nature in perpetuity.