National Center for Family Philanthropy Names Four New Members to Board of Directors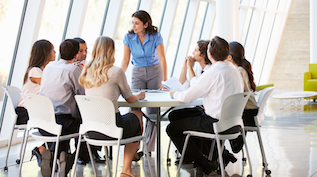 The National Center for Family Philanthropy (NCFP) is pleased to announce the addition of four new members to its Board of Directors. Sandy Cardin, Kelly Nowlin, and Rick Williams joined NCFP's Board in April, and David Weitnauer will begin his term at NCFP's fall Board meeting in October.
Sandy Cardin is the President of the Charles and Lynn Schusterman Family Foundation, and is a frequent presenter and panelist in global forums on topics related to catalytic grantmaking, innovative program-building, Jewish identity, young adult engagement, and Israel.
Kelly Nowlin is a family trustee of the Surdna Foundation, where she chairs both the Andrus Family Program and the Centennial Working Group. She is responsible for outreach to the nearly 500 living descendants of Surdna's founding patriarch, John E. Andrus, and identifies opportunities to collaborate with other family foundations and youth philanthropy programs. Kelly is also guiding the development of activities marking Surdna's 100th anniversary.
Rick Williams is the CEO of the Sobrato Family Foundation, which promotes access to
high-quality education, career pathways, and essential human services, as it seeks to make Silicon Valley a place of opportunity for all its residents. Prior to joining SFF, Mr. Williams founded and was President of Realize Consulting Group, a management consultant firm focused on creating effective and sustainable solutions for philanthropic and nonprofit organizations and the communities they serve.
David Weitnauer is President of the R. Howard Dobbs, Jr. Foundation.  David joined the Foundation in 2007 following eleven years with the Rockdale Foundation as a founding Board member and its first Executive Director.
 "We are so excited to add such a dynamic and distinguished group of new Directors to our Board", said NCFP President Ginny Esposito. "Sandy, Kelly, Rick, and David bring a total of more than 70 years of experience working in the nonprofit sector, and each one of them offers a unique perspective on NCFP's work. We look forward to engaging all of them deeply in our celebration of NCFP's 20th Anniversary in 2017, and to leveraging their collective experience in and knowledge of the field of family philanthropy as we move into NCFP's next twenty years."