How to Create — and Recreate — Your Family Foundation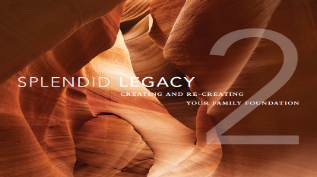 When you want to start a new business or invest in the stock market, you'll find shelves full of books designed to help you do just that.
But if you walk into your favorite bookstore and ask a clerk where you can find a guide on how to start a family foundation, you'll almost certainly be greeted with a blank stare.
That's because there aren't any comprehensive resources currently in print that walk you through the labyrinth of creating or re-creating a family foundation.
Well, that's no longer the case.
Today marks the official launch of Splendid Legacy 2: Creating and Re-Creating Your Family Foundation.
This new book, published by the National Center for Family Philanthropy, is an update to our popular, out-of-print 2002 first edition and includes advice from some of the field's leading experts.
In it, you'll find practical information on everything from considering the proper legal framework for your foundation, to creating your grantmaking policy, to establishing a governance structure, to setting up an effective social-media strategy.
And while it is written to help provide advice to families who are starting their journey into philanthropy, it was also created to serve as a go-to resource for families who are looking to revitalize the work of their existing foundations — and to introduce new generations in their families to this vital work.
Splendid Legacy 2: Creating and Re-Creating Your Family Foundation is your guide to marshaling the forces of family and charitable intentions for your own magical experience.
There will be times you will need to summon the insight and courage to make dramatic shifts and subtle adjustments.
You will need to figure out what and where your treasure is and just how much risk you are comfortable taking on.
But, as Alexis de Tocqueville wrote about our early American voluntary spirit, the effort has the "power to produce wonders."
I hope you'll consider adding this important volume to your family's bookshelf — and to share the news with other families who are considering the wonderful journey into philanthropy.
We believe it will more than pay for itself through the advice and ideas it provides — while helping ensure that your family is making a greater impact with its philanthropy.