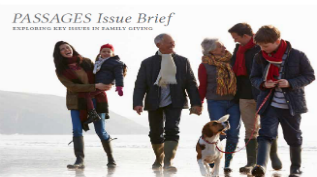 The 2017 National Forum on Family Philanthropy revealed a great deal about the knowledge and level of commitment that many families currently have toward impact investing. In our impact investing sessions and workshop, we asked attendees to create their own foundation and develop their own investment policy statement. Despite a shy start from some, the creativity in the room was phenomenal; each participant crafted insightful portfolio goals that aligned with their mission, and each family team came together seamlessly to support values on both sides of goals and investments. It was a delightful moment to see family leaders deconstruct a portfolio in order to construct something new, valuable and aligned to a purpose that moved beyond financial gains.
The theme of this issue of Passages is "Emotionally Invested" and it includes a number of articles about impact investing alongside your values. Impact investing seeks a return from one's investments other than a strictly financial return. For the majority of impact investors, that means they seek a general or specific environmental, social or governance outcome, in addition to a financial return, from their investments. For example, an investor who may be concerned about the effects of climate change, may seek to reduce the exposure to fossil fuels in their investment portfolio, reinvesting the proceeds in either alternative forms of energy or in other investments. Others may choose to invest in solutions designed to increase options for affordable housing. With impact investing – it is possible to invest with intention and insight and still have an eye toward a competitive market return.
What follows in this publication are a series of articles that help give real, practical meaning to what impact investing is all about and how families can identify and build shared values.
We know the ways we have supported families have helped further identify, embed, and nurture values across generations and toward a sustainable family future. The challenges that we face in our communities and in our world, demands the thoughtful and long-time horizon capital that multigenerational families can bring to bear; capital that seeks to work well beyond financial returns for a thriving, regenerative world.
---
For more information on Impact Investing check out NCFP's newest Passages paper: EMOTIONALLY INVESTED: A collection of articles about Impact Investing