Reckoning with Racial Terrorism and White Culture: a Family Foundation's Journey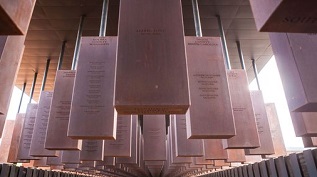 Editor's Note: This blog post originally appeared here. This post is the third in a series of guest features on NCRP's resource, Power Moves: Your essential philanthropy assessment guide for equity and justice. 
---
Warning: This blog post contains and describes an image of a lynching that may be disturbing for some readers.
In 1884 and 1910, two lynchings took place in Dallas, Texas. The circumstances recorded for these heinous and violent acts are in keeping with many of those on record at the Legacy Museum and National Memorial for Peace and Justice in Montgomery, Alabama.
Currently, you will not find a marker in the city that cites this history, though you can find an internet site called Dallas Untold that records the information through text and photographs. One photo in particular is haunting. In a crowd that surrounds a hanged man, Holland Allen Brooks, two white boys are looking directly at the camera.
I have thought a lot of that photograph since I returned from the museum and monument opening in April with my colleague Lauren Embrey, president of the Embrey Family Foundation.
Acts of racial terrorism like these against Black people have been created and sustained by white culture. Bryan Stevenson and the Equal Justice team have bravely offered us an invitation to reckon with our country's sins, to face the shadow side of our historical and current demons of mass incarceration of brown and Black men and women, and to heal.
If we continue to be "blinded by our white" and don't own what is happening now in the U.S., it will continue to fester. We have the power to do right.
I am a white woman working in a white, privileged family foundation. Though we have undertaken public leadership efforts and invested more than $2 million dollars to work on racial equity in Dallas, we know we still can push ourselves to go deeper.
We can examine what has worked and fallen short, and find new ways to offer transparency in our learning. For example, last year Lauren wrote, "We must change the narrative, the one learned as children, and the one that continues today. Each of us can be part of that solution, and it starts by understanding our biases and the words we use."
As an overwhelmingly wealthy, white sector, I feel it is incumbent of every funder that has begun this work or is steeped in it, and even more importantly, is afraid of it, to make the pilgrimage to Montgomery, Alabama.
Here are some recommendations from our journey at the Embrey Family Foundation:
Don't overplan. As stated in the NCRP Power Moves guide, this is adaptive leadership and movement building. If you try to roadmap it before you begin, you might never start.
Find ways to sit in your discomfort. Don't expect to be thanked by communities of color. In some instances you might be discounted, outed or ignored for your efforts. Do it anyway. One simple action Gloria Steinem referenced at the opening of the museum and memorial in Montgomery was "If you are white and have power, listen twice as much as you talk."
You will have dark nights of the soul – talk them out with other white colleagues and those that are on the same path. I did not weep at the monument. I felt I had to witness it, and intentionally sought to be present and take it in. When I got home the next day, I felt heartsick hearing the shower running. I was reliving the memory of what I perceived as the "veil of tears" wall in the monument, which is dedicated to the unnamed and unknown victims of lynching. I broke way down and let the tears flow.
Art can lead the way. Funding art as social justice has been our foundation's way into difficult work over and over again. Find and support the artists in your community.
Get help. Find trusted resources that can guide and counsel. Many resources are listed on the Power Moves site, and the recent publication As the South Grows: So Grows the Nation outlines a sensible roadmap for entering into or enlarging our collective consciousness on engaging in equity work. This report reminded me of the museum's archival documentation on the financial capitalization of enslavement in the South that has compounded wealth across the U.S. today.
We are sunsetting our foundation in 5-7 years, which shortens our threshold for grantmaking in Texas. It also gives us an opportunity for fresh insight on how best to give out our remaining years.
For this reason, we are participating NCRP's new year-long advisory and peer-learning group for funders committed to working on Power Moves, an assessment guide for equity and justice. We look forward to sharing more about our journey.
In this work, you will have joy, you will feel love and you will be called to a higher ground of community – perhaps contributing to the beloved community many have waited generations to take their seat in. Even a small family foundation can make a difference. We invite you to join us.