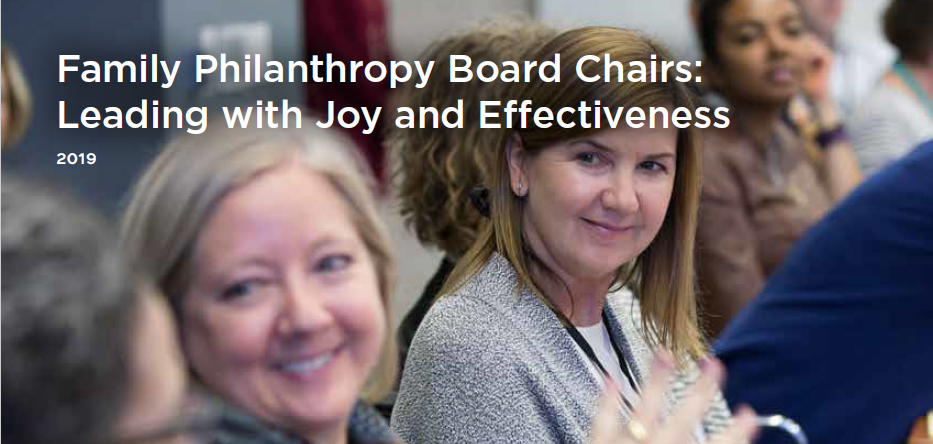 Who typically serves as the board chair of a family foundation, and how does the board choose who will be placed in this essential role? What are the responsibilities of board chairs, and what skills, qualities, and aptitudes are likely to lead to better board dynamics and performance? What are the common challenges that board chairs face, and what tips do existing chairs for tackling these challenge? And wow do board chairs and leadership staff work together to strengthen board and foundation performance? NCFP's new Passages issue brief, Family Philanthropy Board Chairs: Leading with Joy and Effectiveness, examines how current and prospective board chairs can be most effective for their organizations.
In family foundations—as well as almost every organization and group of humans that exists—conflicts come up. What's a board chair's role in mitigating those conflicts or dealing with disruptive behavior, especially when it relates to family dynamics?
According to Ruth Cummings, former chair of the Nathan Cummings Foundation, "To serve in a family foundation, we have to call upon our best selves and, as a board, agree on the behavior we aspire to. We want to believe that everyone's actions are with the best of the foundation in mind, and remember that the foundation will outlast the behavior or certain individuals. Yet if the disruptive behavior is taking up a lot of the psychic air space, it's up to the board chair to say 'this is inappropriate' when needed, and remind the board what they are there to achieve."
Often, a board chair will initiate this conversation with the individual, in person or by phone outside the boardroom. As a board chair in this situation, you might start out by saying "I need to have an awkward conversation with you."
It helps, says Susan Packard Orr of the David & Lucile Packard Foundation, to rise above assumptions. "You can't ascribe motives to other people, or assume you know why someone did what they did or said what they said. We all have to stop ourselves and say, 'well, I don't know,' and only then can you have a real conversation."
"It's not the board chair's job to unpack the family baggage, but to know how to work with it, and at times, work around it."

– Eliza Quigley, Harris & Eliza Kempner Foundation
No matter how skilled a board chair, when confronted with a delicate family situation, it's hard to maintain a neutral unbiased position. "When you have a challenging personality, as boards often do, it makes it more difficult if that person is a family member," says Mary Mountcastle. "As chair, I try to treat the person as I would anyone on the board, without cutting them more or less slack."
If there's one thing that gets in the way of a healthy board, it's sidebar conversations, she says. Sometimes called parking lot conversations (or, in plain terms, gossip), sidebar conversations are those that occur outside of board meetings between two or more members, typically about someone or something that happened in the meeting or on the board.
"I try to bring the difficult situations into the room, or better yet, assign a board committee to handle it." For example, a committee can talk individually to different people, so that people feel like their views are being represented. "Often there are different sets of facts and people with different viewpoints. The committee can gather all the opinions, and come forward with a recommendation for the entire board. That way, the board doesn't have to sink its time into something that might not easily get resolved," Mountcastle says.
This was the case for Susan Packard Orr, who recalls a situation early on in her role as chair when the board had a difficult time with a family member. "It was a conflict within the family, and our outside trustees stepped in and spoke with the family member outside the boardroom. It's hard within a family to resolve these issues; we come with baggage. Our CEO worked with individual family members behind the scenes, and we resolved it by splitting the foundation. Since that time, we've had very few issues. My sisters and I saw how disruptive that experience was, and determined not to go through that again. We've modeled that behavior in the boardroom for the next generation."
A nuanced part of board leadership is when a board chair can help the board see its patterns over time, says Michelle Knapik. "Board chairs have to be able to see the family dynamics that are transferred onto the foundation, and tease through them, which can at times feel like an impossible task. What board chairs can do is try to take their own preferences and triggers out of the equation."
This takes an incredible amount of self-awareness, she says. "Without self-awareness about their own triggers within the context of family dynamics, a chair or anyone in perceived power might react in a way that shuts down conversations quickly. When this happens, board members can lose the value of hearing differing perspectives, and this runs the risk of contaminating the organizational culture—sometimes for years, where it doesn't feel safe to bring a new perspective into the space."
"It's important for a board chair to remember—and model—that everyone has something to bring to the table, even those who come across as a little rough," says Eliza Quigley of the Harris & Eliza Kempner Foundation. "With families, they bring their skills and passion as much as they bring their baggage. It's not the board chair's job to unpack that baggage, but to know how to work within it, or at times, work around it," says Quigley.
For more information on dealing with disruption, visit NCFP's Knowledge Center to download the Passages Avoiding Avoidance: Managing Conflict in Family Philanthropy, NCFP, 2015.