The Exit Interview: Lessons Learned, Stories Shared and Memories Treasured from Richard Woo's 20 Years of Leadership at The Russell Family Foundation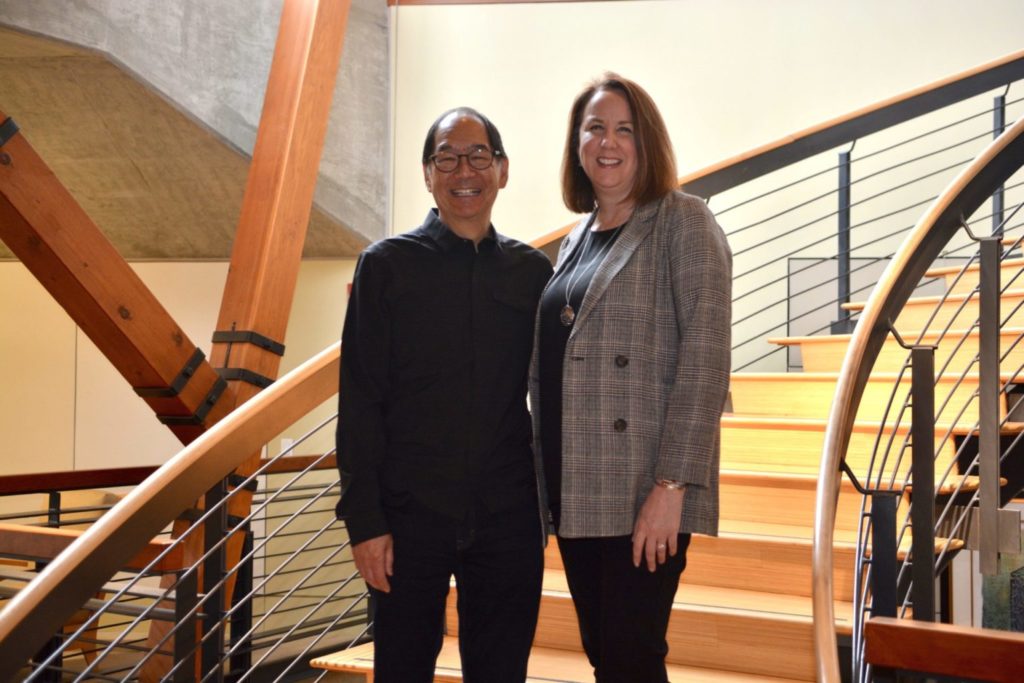 Editor's note: This interview originally appeared through The Russell Family Foundation's website and appears with permission.
Original preface: Over the last 20 years, outgoing chief executive officer Richard Woo has led The Russell Family Foundation from its early beginning as he and co-founders George and Jane Russell charted its philanthropic path and giving model all the way to present-day as a community-driven organization that has provided $135 million in grant funding to support our region through people-centered, place-based change.
It would be difficult, if not impossible, to summarize Richard's legacy in one post. However, we couldn't let him go without a reflection on his time here at TRFF.
---
Current TRFF Chief Financial Officer Kathleen Simpson, who will be serving as TRFF's Interim CEO starting January 1, 2020, sat down with Richard to hear some of his final thoughts and reflections. This interview has been edited for clarity.
Kathleen Simpson (KS): Richard, let's start at the beginning. Why did you join TRFF back in 2000?
Richard Woo (RW): TRFF offered the opportunity to build something entirely from scratch. That was a really compelling and intriguing proposition, and to do that with a group of original founders was very appealing. Prior to my work at TRFF, I led the Levi Strauss Foundation in San Francisco. There, my role was to uphold and extend a grand tradition. At TRFF, there was the opportunity to shape a new tradition and a fresh legacy.
The interview process for this job was very thorough, and—looking back—quite indicative of what the future would hold for me at TRFF. The last interview (for the position) was a weekend that my wife and I spent with the co-founders, George and Jane Russell, as guests in their home here in the Puget Sound region. When you spend that much time together – a full weekend in such a casual and relaxed setting – you get to know each other in ways that you wouldn't by simply sitting in an office.
KS: What was most surprising about your time at TRFF?
RW: The most surprising learning experience was getting to work so closely with George and Jane—and the family at large—but particularly George and Jane. To be invited as an equal partner in the launch of their vision was so rewarding. They harnessed a lot of the lessons they employed in building their successful business (The Frank Russell Company) in their work with TRFF.
For example, George always said, "Hire people who are smarter than you." What he meant by that was, if you are humble and secure as a leader, you understand your shortcomings as much as you do your talents. When you're willing to recognize talent in other people and offer the freedom for them to shine, you build an organization that's far greater than you could ever imagine.
Jane's comments about risk-taking, success, and failure also stuck with me. At my first annual performance review, Jane complimented me on a great year filled with many successes.  She then said: "Richard, for all these achievements, we don't see any failures. If you're not making mistakes, then maybe you're not taking enough risks and pushing beyond your comfort zone.  Take risks, make mistakes, learn and move forward." These leadership lessons that come not from a book but from building something together are some of the best I've ever had the pleasure of experiencing.
KS: 20 years is a long time to lead an organization. Where did you find inspiration along the way?
RW: The deepest and longest-lasting inspiration has always come from the people, the places, and communities we serve.  That approach reflect's George's advice to hire people smarter than you. At TRFF, we believe the people who know the most about community building are our nonprofit grantees, grassroots leaders and local partners. There are many ideas that sound great when you're brainstorming plans in a conference room, but the best solutions come from the people who have the lived experience closest to the community issues.  They are people smarter than us on these matters.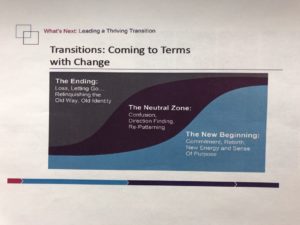 KS: Transitioning leadership can be difficult for organizations. What is your advice for exiting CEOs and management teams to make it a positive and beneficial experience?
RW: One of the most useful models we've relied on during my transition process has been a framework designed by William Bridges – who is known for his work in transitions, change and organizational culture. Bridges talked about change as events that often happen outside of ourselves. Transition is the way in which we come to terms with those changes internally and in our relationships with other people. There is a concept he created that shows the relationship between Endings, the "Neutral Zone" and New Beginnings. We've built our transition process around that framework – and it's been helpful to the staff and board to keep them grounded. We even have visual cues around the office so that in the midst of all the transitions, a person can ask themselves about what they are truly experiencing in the moment.
I would also say that it is important to give your organization enough time to thoughtfully plan for your exit, but not so much time that the sense of urgency fades.
KS: What's an important lesson you learned while serving as CEO?
RW: One important lesson I've learned is that the experiences, qualities, and ideas that propelled you into the role of CEO are not necessarily timeless. What I mean by that is that you might think of the acronym CEO as chief executive officer, but I'd suggest an alternative meaning as "continually evolving officer." We need to embrace the idea of continually evolving as an individual, as a team member, with our board and ultimately with our community.
When I look at the communities we are serving and the issues we are facing, they are so different from when I started in 2000. On the other hand, some of the same problems persist or have gotten worse in some respects. This means we cannot simply rely on the same strategies and tactics we've tried before and perhaps weren't entirely successful—we must evolve our approaches.
At TRFF, we rely on communities and aim to center our work around them. Communities are vibrant and constantly changing. I think that by committing to that approach, you are able to tap into the excitement and experimentation, as well as all of the instructive failing and succeeding that comes naturally from these deep partnerships.
KS: If you could sum up your leadership experience in 3 words, what would those words be?
RW: Curiosity. Inspiration. Relationships.
KS: Finally, what is your advice to me as I step into this position in 2020?
RW: I am going to repeat something you shared with me recently as we were talking about the future and changing roles. You said, "Clear is kind." That has really been sticking with me. Kathleen, I think a vital talent you possess is your sense of clarity. It's a gift for people to know where you stand and for you to invite them to share where they stand. In a field like philanthropy, which deals in matters of the heart, mind, and community, it is easy to slip into ambiguity and confusion. Your clarity is one of your strongest leadership traits.  By being clear and decisive, yet open-minded—you can support people to move forward toward consensus and commitment. I believe the Foundation and the communities of our region will be well-served in this way.
---
Richard, we are beyond grateful for your impact – not just as CEO of this organization, but as a leader who has embodied the essence of what it means to remain humble while holding out a vision for many to follow. Thank you, from the bottom of our hearts.