Claude Norcott: when Congregations Offer Guidance on Philanthropy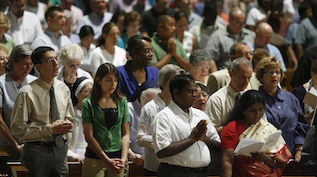 How can families of faith draw on congregational worship to find outlets for their charitable giving and how can donor families use congregational worship to instill charitable values in their children? This chapter from 'Faith and Family Philanthropy' describes how experiences in congregational worship provide powerful motivations for family giving and volunteering.
*****
How can families of faith draw on congregational worship to find outlets for their charitable giving? Perhaps just as important, how can donor families today use congregational worship to instill charitable values in their children?
For many families of faith, memories of first experiences in congregational worship are powerful. How did parents choose to support their congregation: Did they give a specific percent of their income? Did they volunteer for church activities? Did they donate time and money to organizations supported by their congregation? Did they pay monthly to maintain membership in their congregation? And, did they discuss their philanthropic choices with their children? As a first step in seeking answers, it is useful to look at congregational worship in America today.
Congregational Worship at the Millenium
In the not too distant past, many believed that organized religion was a dying element of American culture and that Americans had become completely absorbed in themselves. They were wrong. Although religious affiliations may have changed and boundaries between denominations blurred, faith and the philanthropy associated with it are alive and well.
Today, about half of all Americans engage regularly in some form of worship.[1] Whether African Methodist Episcopal, Baptist, Bahá'i, Catholic, Evangelical, Hindu, Jewish, Mormon, Muslim, Protestant, Orthodox Christian, Mennonite, or a member of some other religious order, they are gathering, worshiping, and engaging in church-sponsored community activities. They are worshiping in tiny storefronts, rented warehouses, quaint stone and brick edifices, wooden-sided temples, ornate cathedrals, mosaiced mosques, and crystalline mega-complexes, and sometimes even sharing facilities with other denominations. Congregations still sing to the formal strains of the organ but they are also swaying to the music of gospel choirs, raising their voices to the accompaniment of guitars, reveling in the pageantry of trumpets and timpani, chanting á cappela, and sometimes worshipping in silence. Worship is diverse and changing.
Although it is impossible to count all of the religious congregations in this country, a new study by Carl. Sudley and David A. Roozen for the Hartford Seminary estimates the number at about 325,000. Fully half of those congregations have fewer than 100 adult members who attend on a regular basis (25 percent have fewer than 50 regular attendees) and only 10 percent have more than 1,000 regularly participating members. The study also found that:
Although 53 percent of congregations were founded before 1945, a tremendous increase has occurred since then, particularly in the suburbs and in the western part of the country;
While a downturn in new church development has occurred among the Roman Catholic, Orthodox, and mainline Protestant denominations, over the past 20 years the number of Evangelical Protestants, Bahá'is, Muslims, and Mormons has surged — particularly in the suburbs; and
The demographics of congregations are a "mirror image" of zip codes in which the congregations are located.
How Congregations Promote Philanthropy
Americans join congregations, first and foremost, because worship adds a spirituality to life, and second, because they provide the opportunity for fellowship — for being a part of a family.
African Americans, in particular, have long used their churches as a vital refuge:[2]
What happened there on Sunday morning (and throughout the week) enabled community leadership development, celebrated and preserved a unique culture, created space where the rules and authorities of the other culture were suspended, and provided a staging-ground for action. Today (as throughout our history), dozens of immigrant communities are discovering similar benefits….Earlier immigrant congregations typically disappeared after their members (or their children) learned English….[Today, both] because discrimination persists and because they wish to preserve their particular cultural and religious heritage, children and grandchildren are maintaining the hundreds of Korean and Mexican and Chinese churches that have been founded in the past three decades.
Large or small, most of these congregations — and more particularly, the individuals who worship within their walls — are working together to improve life in their geographical communities, and often, the greater society. The typical congregation supports six community outreach organizations by giving cash, volunteering, allowing their facilities to be used, making in-kind donations, and providing staff assistance:[3]
On average, two of the supported organizations provide direct services — food, clothing, and shelter — to people in need. (Congregations connect to these organizations most typically through homeless shelters, food pantries, domestic violence shelters, meal programs, clergy associations' emergency assistance funds, the Red Cross, and the Salvation Army.)
One connection is with a community development or political and social advocacy organization such as a block watch group, civic club, Habitat for Humanity, Urban League, Heifer Project, or a neighborhood association.
Two connections enhance the educational, health, and cultural life of the community — daycare centers, scout troops, blood banks, theater groups.
One may involve evangelistic and mission work — Campus Crusade for Christ, Gideons, or Youth With a Mission.
Other connections may involve civic and social efforts to provide opportunities for personal growth, self-help, and the like, including activities such as Alcoholics Anonymous, weight control groups, sports leagues, and support groups for specialized diseases.  
In the words of the pastor of a mid-sized Episcopal parish in Seattle, Washington:[4]
I think most people who come here have recognized that they need spiritual and ethical moorings in their lives. It's not just working and consuming and spending leisure time, there has to be a spiritual pursuit…. We're not holding up a model of the church that says we live in another age and everything's black and white. We're saying, these questions have been around in different forms for a long time and there's a way in which one can journey through life without becoming unglued. I think that people are looking for a way to make a difference in the world. We're seeing a real interest in outreach here. People want to reach out and help others. People are also looking for something that's transcendent from their lives. They come to worship and want to have a spiritual experience.
Data show that congregations are highly successful in encouraging individual members to support causes in the community. According to the Doing Good in American Communities report, only one out of six individuals surveyed reported giving nothing to congregation-supported secular causes. In addition,
Almost all religious traditions are at least minimally involved, but the level of activity in Jewish and mainline Protestant congregations tends to be higher than in conservative, African-American, and Catholic churches….Mainline Protestants spend a similar number of dollars, but spread them among more groups. Along with contributions from virtually all other religious groups, their resources help to sustain the community.
Finally, it is not uncommon for a group of congregations to work together to serve a particular population:
…one will collect, store, and distribute furniture…another will take care of food, and a third will collect clothing. They may notify various social service agencies of the arrangement so that needy persons can be referred to the right place.
---
Leaders Are Key In Outreach Decisions
Ninety-eight percent of all faith communities have designated leaders, [5] and 89 percent of those leaders are paid for their work. Religious leaders are iman, pastors, priests, rabbis, and readers.   On average, they are 56 year old when they assume a position of leadership of a Catholic and Orthodox congregation, 51 for a moderate Protestant congregation, 52 for liberal Protestant congregation, and 49 for Evangelical Protestant and World groups.
It is the spiritual leaders with the highest level of formal education — a master's degree from a seminary followed by additional specialized study or a doctoral degree — who serve the largest congregations and have the longest tenures.   These individuals use more references from literature and current events in sermons and engage in ecumenical worship and community social ministries more often. Not surprisingly, their congregations — and thus their members — are able to give the most to their communities in terms of money, goods, time and talents, and facilities.
---
Congregational Worship Remains a Catalyst for Giving
In the end, the story that studies and anecdotal information about faith and giving tell is quite simple: Congregational worship, across all religions, is a powerful catalyst for faith-based giving — whether the gifts are of money, talents, or time. Equally important, congregations and their leaders are teaching members to give to their church, their community, and the larger society by providing opportunities to learn, to discuss, and to practice their philanthropy. The religious congregation of the millenium is a place where families make connections, exchange ideas, and collaborate on how to better the world they live in — activities that often translate in action in family philanthropy.
---
[1]     In the opening months of 2001 two excellent studies of faith communities were published. This chapter is based findings of those studies. Information concerning congregations and the service organizations they support is from Nancy T. Ammerman (2001), Doing Good in American Communities: Congregations and Service Organizations Working Together: A Research Report from the Organizing Religious Work Project, Hartford: Hartford Institute for Religion Research, Hartford Seminary. Data on membership, congregation leaders, finances, and similar topics is Carl S. Dudley and David A. Roozen (March 2001), Faith Communities Today: A Report on Religion in the United States, Hartford: Hartford Institute for Religion Research, Hartford Seminary. The studies can be downloaded from the Hartford Institute's website at www.hartsem.edu.
[2]     Ammerman, p. 7.
[3]     Ammerman, p. 3-4, 13, 15-16.
[4]     Ammerman, p. 5.
[5]     Dudley and Roozen, p. 64.