FADICA: How Catholic Family Philanthropy Keeps a Hallowed Tradition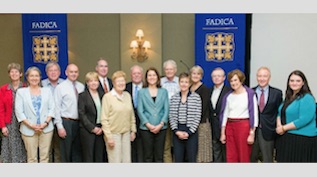 Catholic family foundations have organized into a donor group that provides highly motivated, carefully directed giving to nurture and revitalize Catholicism in the U.S. and worldwide. This overview from 'Faith and Family Philanthropy' features a brief history of Catholic philanthropy, and a discussion of the current challenges and opportunities for Catholic donors in the U.S. and worldwide.
******
Catholic family foundations have organized into a donor group that provides highly motivated, carefully directed giving to nurture and revitalize Catholicism in this country and worldwide. This development is only one of many surprising developments in Catholicism today. Who would have ever guessed for example, that the religion that produced John Paul II, world traveler and pop superstar, would be running out of priests and nuns to staff its parishes and schools? Who could imagine that a faith that generated one of the largest private educational systems in the country would be facing widespread religious illiteracy among its own young adults? Who would have supposed that an institution with such distinctive practices, teachings, and separatist subculture would be worrying about losing religious identity?
In the 1940s and 1950s, Catholicism was a distinctive and dominant cultural institution in America. The Bing Crosby-Barry Fitzgerald movie, Going My Way, won seven academy awards. Bishop Fulton Sheehan viewers dominated the Tuesday night prime-time television audience. New York's Cardinal Francis Spellman was as familiar a face to American GI's in Korea as Bob Hope. Catholic nuns — numbering nearly 200,000 — were as common to urban Americans as to the nearly 3 million uniformed Catholic children whom they drilled.
There were Catholic sodalities and fraternal groups, the Knights of Columbus, the Holy Name Society, book clubs, guilds, trade unions, Catholic insurance companies, May processions, and even school campaigns to aid pagan babies. Catholic practices of no meat on Fridays, confessions on Saturday, Latin masses, Holy days of obligation, and First Communions found their ways into American literature in the novels of Flannery O'Connor, J. F. Powers, and Paul Horgan. Catholics filled their churches, seminaries, and convents.
Who could have suspected that in a mere three decades much of this rich and colorful Catholic subculture would fade away, and that the institutional life that it reflected would undergo a profound transformation?
Still, it did.
In the United States, the number of Catholic priests has experienced a precipitous drop. Equipped with 60,000 priests during the 1960s, the church had only half that number at the turn of the century. More than 10 percent of Catholic parishes in this country now have no full-time pastor, and only a little more than 6,000 Catholic seminarians are now preparing for the priesthood — a paltry figure when compared with the 42,767 young men who peopled American seminaries in 1966.
The diminishing numbers of Catholic sisters has led to acute financial problems within Catholic religious orders. Many of those orders have been forced to sell the schools, colleges, and hospitals their foundresses worked hard to build decades ago, and vowed religious women face huge retirement costs for the care of the nearly 80,000 American sisters, half of whom are now over 60.
Catholic religious practice has also undergone remarkable change. Ever-shrinking numbers of Roman Catholics attend church on Sunday. During the 1960s, nearly two-thirds of the individuals who called themselves Catholics attended Mass on a weekly basis. Today, large archdioceses typically report that only about 25 to 30 percent of their parishioners attend on a regular basis. Demographic shifts —Catholics moving from urban to suburban settings —have left nearly every big city in the East and Midwest with empty church buildings and parochial schools that are struggling to survive. Over the past three decades, some 4,000 parochial schools have consolidated or closed.
Religious intermarriage, which was rare among Catholics in the 1950s, is now commonplace. In this country today, only about half of the marriages officiated in the Catholic Church involve spouses who are both Catholic. Although this trend may suggest new possibilities for interreligious understanding, it may also point to diminishing religious loyalties, identity, and practice in the future.
At one time, great numbers of Catholic young people were educated through the expansive network of Catholic schools and colleges. This is no longer the case. The result, documented through social science, is an increased detachment between young people and the church and less interest in religion. For example, Catholic generation studies at Purdue University document that older Catholics report far higher levels of childhood religiosity than their younger counterparts, and that as a result, older Catholics show a significantly stronger religious self-concept.
It is within this complex environment that the foundations with a tradition for supporting Catholic institutions and programs are exploring what implications these changes have for their philanthropy. In an institution with a $10 billion annual fundraising goal, they ask: "How will our part in all of this make a real difference?" "Is it realistic," they ask, "to expect a revival in the Catholic priesthood and sisterhood? And, equally important, what can I do to help fill the pews and add to the vigor of religious belief and practice?"
Although few believe that the phenomenon of Catholicism that the United States experienced after World War II will soon be repeated, a consensus is emerging that better efforts to build a stronger sense of religious identity can increase the church's capacity to serve, to teach, and to carry out its pastoral mission.
Networked Philanthropy to Rejuvenate Catholicism
Eyebrows sometimes rise when I describe my work-a-day world. As the president of Foundations and Donors Interested in Catholic Activities (FADICA), I bring together the trustees of 47 private family foundations who share an interest in Catholic programs and institutions on a regular basis.
This group has been meeting on its own initiative for 25 years. It tracks changes and trends within the nation's 20,000 parishes, 9,000 parochial schools, 200 Catholic colleges and universities, 500 Catholic hospitals, and a social service network that is second only to that of the government.
I'm never sure whether it is the religious nature of our interests or the size of the Catholic Church's eleemosynary outreach that astonishes people. But then, maybe it is actually disbelief that a clergy-led church allows lay benefactors to study and monitor its progress so independently. What is even more surprising are the proposals that family foundation trustees evaluate at their meetings.   Someone sitting in on a Catholic foundation meeting today might see proposals to:
Establish new Catholic studies centers on campuses such as the University of St. Thomas in St. Paul, Minnesota — an institution where a course on the history of Catholicism and its impact on the world is part of the university curriculum. It is not a catechism class; rather it is a treatment of Catholicism as a legitimate topic for scholarly inquiry. The scope of these proposed centers' work ranges from Catholic arts and literature to Catholics and social movements.
Fund service institutes such as the one established at Boston College for the 2000-2001 academic year where newly hired lay Catholic college administrators and faculty — individuals typically educated at non-Catholic institutions — obtain remedial exposure to the history of Catholic higher education.
Provide lay people with the graduate theological education once reserved for the clergy. More than 300,000 mostly volunteer lay people have now stepped forward to teach and minister in Catholic parishes — a transition that poses vast educational challenges for a church accustomed to a highly theologically literate clergy.
Assist parochial schools. Although the number of children who attend Catholic schools is now about 50 percent of what it was in the 1950s, many Catholics have come to appreciate the effectiveness of these schools. Catholic schools have resulted in superior educational outcomes among the poor. And, for the 20 percent of school-age Catholic children who still attend Catholic schools, the extra benefits of improved religious understanding and institutional loyalty are real. Graduates of Catholic schools are more likely to take their faith seriously, support their church generously, become lifelong church volunteers, and enter a seminary or convent. Research data continue to show the spiritual and moral impact of these schools and, as a result, a renaissance in Catholic education is underway, commanding new interest and a flood of support from private philanthropy.
Support parish-based programming and pastoral care. Whole populations of single professional Catholics now comprise large segments of some of the more vital urban Catholic congregations in America. Parish growth among this population has followed better outreach, hospitality and community-building efforts by urban pastors, better preaching, and improvements in liturgical music. In the past, the quality of pastoral programming was seldom a matter of funding interest for the typical Catholic philanthropy. In the older Catholic subculture, Catholics could be counted on to attend the parish closest to where they lived, regardless of what they found there. Not any more. Today, an urban church that makes no special effort to reach younger Catholics will likely be empty on Sunday.
What is even more interesting is that many of the efforts of the FADICA group are producing good results. For instance, a few years ago, FADICA members went to Rome to visit the Vatican. It was a time when donations to the Vatican were not keeping pace with administrative costs. Some 30 years of deficit spending was beginning to impede operations and services.
FADICA foundations were asked to help. They responded proactively, first, by engaging international consulting and investment firms, and later by financing the introduction of cost-cutting technology. Because of the managerial improvements introduced, and the increased public accountability that resulted, the Vatican has enjoyed more then 10 years of modest budget surpluses.
Over the past decade, FADICA has launched campaigns that raised more than $400 million for international and national church needs. Funds raised have been used to rebuild universities, seminaries, and schools in Eastern Europe and Russia, to help meet the retirement needs of Catholic sisters, and for numerous other purposes.
Although these efforts represent collaborative philanthropy, individual grantmaking by Catholic donors provides a stunning picture of the rich variety of faith-based foundation giving. Examples of individual and family philanthropy among Catholic donors include:
A $22 million grant to develop seven work-study high schools for low-income Latino students in the United States;
A multi-million dollar gift that ended decades of squabbling among clergy over who was going to pay for the restoration of one of Christendom's most holy sites — Jerusalem's Church of the Holy Sepulcher. (The grant underwrote the costs of the reconstruction project);
A gift of nearly $500,000 for a series of 30 meetings, nationwide, to show Catholic parishes how to respond better to the needs of young adults; and
A website and 1-800 telephone program — developed by a donor who made his fortune in technology — that directs traveling Catholics to a parish where they can attend mass, no matter what their location.
Young Members Need to Be Educated
Foundation giving in all these areas of Catholic revitalization has affected donor families. Awareness that a foundation's religious mission may not endure without special efforts to reach younger generations of trustees is growing. Younger trustees are more likely to have been educated outside of the Catholic school system, and thus possess limited knowledge of the church's mission and problems. Without an intentional effort to cultivate a stronger religious identity, many older trustees believe that future grantmaking will bypass the religious causes that they hold dear.
That is where cooperation among family foundations plays a role and that is where FADICA is focusing its attention — helping members acclimate a younger generation to the Catholic environment and history. As one younger member of FADICA put it:
There is no question that we need to be better educated about the church. I would say for myself that I am woefully ignorant about so many dimensions of church life… FADICA needs to get the younger people in and teach them the tradition.
FADICA now has more than 100 members, age 18 to 33, in its extended family network. This group will receive special attention during the next 3 years through a program called the Future Foundation Leadership Venture. The initiative will bring younger members together for the equivalent of Catholicism 101 — church organization, history, basic beliefs, spiritual and liturgical practices, demographic trends, and future church needs —the basics in Catholic philanthropy.   In addition, FADICA will provide opportunities for younger members to serve on boards of Catholic organizations and to work with other younger foundation trustees to fund special projects. It is hoped that this initiative will nurture an understanding of the Catholic perspectives on human dignity, expose the younger members of FADICA to a distinctive tradition of special concern for the poor, and, ultimately groom a cadre of young philanthropists to serve as thoughtful, faith-grounded trustees. FADICA's goal is to enable its younger members to help Catholic institutions adjust to the colossal demands of operating in a new and more secular environment, where Catholic lay people —not just clergy — shoulder more responsibility for church life, leadership, and service.
In a recent address to FADICA foundations, University of Notre Dame historian Scott Appleby said:
The relocation of the formative process, the disintegration of parts of the formative community, and the threat of a loss of a distinctive religious identity are the greatest challenges for Catholics.
There is little question that Catholics are at a special moment and that philanthropy is rising to the occasion. In his scholarly way, Appleby reminded all that it is no longer a "Bells of St. Mary's" world. The tightly structured church with clearly differentiated roles between clergy and laity and a thick separatist subculture is passing into history.
---
Why I'm Proud to Belong to a New Generation of Catholic Family Philanthropists
The family philanthropic inclinations of my generation, the thirty-something X Generation, are hard to discern. It is easier to say how we differ from the tendencies of our forebearers than to describe those tendencies with any thoroughness. And our complex relationship to Catholic philanthropy is no exception.
We recognize the necessity of maintaining the bond between private philanthropy and the church. Participating in Catholic philanthropy itself is one of the ways we can become more engaged in the life of the church, mindful that the core values at work in any philanthropic endeavor link us to the Gospels.
There are reasons to be optimistic. Personally, I would be reluctant to deviate substantially from the mission set down by my grandparents when they started their foundation — The Thomas and Dorothy Leavey Foundation. My grandparents established the foundation in 1952, using stock from Farmers Insurance Group, a company that my grandfather co-founded in 1928. Both of my grandparents have died, but all nine of their grandchildren, my mother, and my grandfather's nephew remain active in this family foundation. Although my grandfather left no detailed mission statement, he expressed his strong desire that the foundation would support Catholic causes. The board today respects and follows that commitment, which is now deeply imbedded in the foundation's 50-year history.
This isn't a slavish, unthinking attachment to tradition. It's about forging our own strong link in a familial chain of giving and service. For me, the tricky part is not letting my points of difference with that tradition prevent me from carrying out my work with integrity. It would be inconsistent and foolhardy to attempt to sever the tradition from its religious and cultural roots. Likewise, it would be a waste not to try to expand on and mold the tradition.
Thus, the Leavey Foundation supports hospitals, universities, schools, churches, religious orders, and social service organizations in Southern California and throughout the country. Approximately three-quarters of its beneficiaries are affiliated with the Catholic Church in some way.
For younger Catholics, part of the appeal of Catholic causes is that the church is now at the leading edge of social concern. Although Catholicism is mainstream, many of its concerns are not. This has profound implications for those who choose to support Catholic works and Catholic culture. It's a way of swimming against the tide, a way of being "radical," if you will. Even if we aren't in harmony with every note, our actions can help ensure that the vital voice of the Catholic message continues to be heard.
Much is made of my generation's concern for social justice; the practical orientation of so many Catholic charities is a great draw for us. Feeding, sheltering, healing, and educating — the basics. The three concentrations of my family's foundation are education, healthcare, and social services, but the foundation is also involved in building a new cathedral for Los Angeles. Erecting a church is a good emblem of Catholic philanthropy because it's symbolic and practical, spiritual and down-to-earth. New sanctuaries rooted in our faith tradition must be built by and for the new generation.
Guaranteeing the future of Catholic philanthropy is a huge challenge, and although respecting tradition may not be sufficient, it is a necessary condition for doing so.
— John P. McCarthy
---
Nevertheless, a generation of younger Catholic philanthropists, formed in an entirely new era, appears ready to tap into its religious roots to reappropriate a spiritual identity and thereby continue a hallowed tradition of charitable service.