Family Stories: William Caspar Graustein Memorial Fund
The William Caspar Graustein Memorial Fund chose to pursue a new direction for what had been a 'small and sleepy' family foundation. The Memorial Fund's first three annual reports, collected in this chapter from 'Living the Legacy: The Values of a Family's Philanthropy Across Generations,' share some of these stories and the way in which they guided its evolution.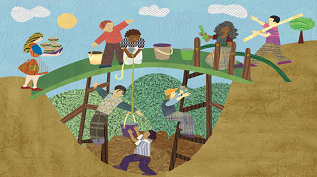 A few years ago a sudden increase in assets challenged me and the other trustees to set a new direction for what had been a small and sleepy family foundation. At the outset of the process to set a new mission and strategy I recognized that I wanted the new program do three things at once: to meet current needs, to be a fitting memorial to my father and his siblings, and to be compelling enough to get me out of bed in the morning.
The outward labor of guiding this transition was mirrored by an inward process of coming to understand as an adult stories of my family that I heard as a child. These stories came to be touchstones for guiding the Memorial Fund's work. To my surprise, they also were reference points in navigating towards a new role or identity for myself. The following set of letters from the Memorial Fund's first three annual reports tell some of these stories and the way in which they guided its evolution.
Creating the Memorial Fund: From the 1993 Report
Telling the story of the Graustein family and the creation of the Memorial Fund is probably the clearest way to explain why the Memorial Fund exists and what it does. Listening to the stories of the people, families, and communities we work with is an essential part of our work. Supporting and inspiring the children of our communities is what we seek to achieve.
My grandfather, Adolph Graustein, emigrated to Boston from Prussia in 1874 at the age of 12. His father put him to work with a tinsmith and then a milk dealer. Ten years after he landed he went into the milk business himself and started a family. He was determined that his children should make the most of the freedom and opportunities of this country; he encouraged and supported all of his children to pursue education as a way of creating their own opportunities. Archibald, the eldest and my father, attended the Cambridge public schools, graduated from Harvard college and law school, and made a career in law and business. William earned a doctorate in mathematics at the University of Bonn and became a professor of mathematics at Harvard. Jeannette and Alice were among the first women to earn PhD's in the natural sciences from Harvard. Edward became an engineer, and Winifred was elected State Senator in New Hampshire. Each of them pursued an education with vigor and applied the skills and insights he or she acquired to innovate, to lead, or to establish new directions.
William Caspar Graustein died in an automobile accident in 1941. I was born four years later and named after him. My father established the William Caspar Graustein Memorial Fund in the following year for "religious, charitable, scientific, literary and educational purposes within the United States of America." He used the Memorial Fund to carry out his and his family's charitable giving until his death in 1969. The largest gift went to establish a chair of mathematics at Harvard in his brother's name. Following his death, the Memorial Fund was left with a small endowment. In 1987 the sale of a business my father had started greatly increased the value of a trust for his widow Hallie Hubbard Graustein, my mother. She and I decided that upon her death the assets of that trust should go to the Memorial Fund. She died in January 1993, and by the end of the year her estate was transferred to the Memorial Fund.
In planning how the Memorial Fund should apply its new resources, the trustees asked, "What approach to needs and opportunities at the end of the twentieth century would be an appropriate memorial to the experience and achievement of an immigrant family of the nineteenth century?" Education transformed my parent's generation's capacity to imagine and achieve their goals. We asked many people involved in education to speak about their work and views; they rewarded us by sharing their passions and their insights.
After listening to these voices, the trustees established the mission for the Memorial Fund, "to improve the effectiveness of education in fostering both personal development and leadership." This mission reflects the gift my grandfather and his community gave to their children. Keeping that gift alive by passing it on to our children is a fitting way to honor them. To accomplish this mission, we have set three goals:
To engage young children more deeply in their own education.
To support Connecticut communities in improving education for their elementary and pre-school children. We think of communities both geographically and culturally, and mean to include teachers, parents, administrators and others who have a concern for the lives of children.
To develop both statewide and local leadership dedicated to improving and advocating for education.
Illustrating the Vision of the Fund: From the 1994 Report
My uncle William Caspar Graustein died a few years before I was born. A few stories have been passed along that illustrate his character and illuminate the vision of this fund that is a memorial to him.
He was a professor of mathematics at Harvard in the 1920s and 1930s. He would often talk with his students as he walked home after one of his introductory classes. One of his students who was majoring in mathematics recalled that he was the only professor with whom she had the chance to chat informally and remembered the interest he took in his students' welfare.
In her senior year this student asked his permission to take an advanced course in projective geometry. He warned her that it might be difficult, but encouraged her to aim for understanding something more difficult than what she had mastered before. All seemed to go fairly well for her until the final examination, when she was unable to get satisfactory solutions to all of the four problems. Although she was greatly discouraged and worried that this would cost her her degree, she set to work that evening preparing for her next exam.
When her mother tried to cheer her by saying that things could not be so bad, for she did not seem unhappy, she burst into tears. Her mother called my uncle. "The poor girl!" he is reported saying, "She got a B in the course. She shouldn't be discouraged – she can do anything she sets her mind to. Let me talk with her." He went on to tell her that her partial solutions had demonstrated that she was on the right track and had understood what he had been trying to teach.
In listening to this story now, four aspects of that telephone conversation in 1928 strike me:
The first is empathy—the recognition of the distress that the student had felt after working hard in the course and struggling with the examination. The second is respect for what the student had achieved and the acknowledgment that partial answers to challenging problems were not only adequate, but honorable. The third is encouragement. "She can do anything she sets her mind to." His encouragement went beyond the scope of the course. The fourth is freedom. "She can do anything she sets her mind to." He acknowledged her freedom to explore and set her own direction.
This particular combination of attitudes spans a range of relations between judging performances and accepting the person; between being a teacher and being a peer. They grew from concern for the student and an understanding of her and of her aspirations.
The exchange was, in a way, a gift to the student, and like most true gifts, the full nature and value of the gift could not be known at the time by either the donor or the recipient. The student went on to become an astronomer, working at Harvard and later at Yale, who not only advanced the scientific understanding of her field but also, by example and encouragement, advanced the opportunities for women in astronomy.
She later said that, after that course, she was determined to do her best because she did not want to disappoint the person who had been kind to her and placed faith in her. The direction, the labor and the accomplishments of her career were, however, hers. It was her effort and purpose that defined and increased the value of my uncle's gift and enabled her, in turn, to pass such gifts along to others.
She remembered William Caspar Graustein and some sixty years later wrote in her alumni magazine about her favorite professor. A mutual friend recognized the name and introduced us. We work in adjacent laboratories, but had not met before then.
We are honored that Dorrit Hoffleit, my uncle's student, joins the staff and trustees of the Memorial Fund for the photograph in this report, for her career and person represent the fruition of the kind of gifts we hope to enable.
Organizations and institutions cannot make the type of gift this story describes, for these are gifts of human exchange that are passed only between one person and another. The role of an institution, and of the Memorial Fund in particular, is to help to mediate how people interact – to create a place and a set of expectations that allow the exchange of human gifts to flourish.
I hope that your encounters with the Memorial Fund will encourage you to think, to explore and to talk about the welfare of our children and about our aspirations for their future. I hope that you will find the values of empathy, respect, encouragement and freedom to be tangible in our conversations, for we seek to be examples of what we encourage. I hope that we will learn from you, and your stories and examples, for we cannot presume to teach unless we ourselves are teachable.
Maintaining Clarity of Purpose: From the 1995 Report
Most of the stories that I heard as a child about my father's youth involved his family; I can recall only this one that did not. As my father told the story, his friend Amos White would study in the library because he could not afford textbooks. One day the library clock stopped and White came late to class. My father was sitting near the middle of a back row when White opened the door of the lecture hall. The professor saw White, interrupted his lecture and said, "You are late. Get out."
"Sir, the clock in the library stopped."
"OUT"
"But, Sir…"
"Get OUT!"
The professor started down the aisle towards White to throw him out. Several students seated in aisle seats rose and stood in the aisle to block the professor. White, seeing his entrance to the classroom turn unexpectedly into a confrontation, turned around, left the room, and closed the door behind him.
"And do you know what Amos did then?" my Dad would say with a chuckle. "He remembered there were big heating grates in the floor of the room, so he went down to the basement, found the grate that was by the lectern, sat down in the basement underneath the grate and took notes on the rest of the lecture!"
My father admired White's resourcefulness and clarity of purpose. As a child, I heard my father's story as a fable with Amos as the hero. The moral that I heard in that fable was to avoid confrontation, but never to lose sight of the goal. That was advice that my father practiced as well as dispensed, both at home and in his work – I never saw him lose his temper and he never seemed to lose touch with what was important to him. It seemed that in telling the story, he was picking an example to teach me an enduring truth.
When I was in college, at the time of the civil rights movement, my father told the story again, and mentioned for the first time that Amos White was a black man. Five years later, my father died, so I did not hear the story again.
Five years ago, we began the work of revising the mission and goals of the Memorial Fund by talking with dozens of people involved in education. One of them, Emma Ruff, is a former principal of a New Haven high school, an English teacher and a gifted storyteller. She showed us the power of stories in shaping the path of one's education and shared her vision of the purpose of education, for people to "learn how to rub shoulders without getting bruised."
That conversation brought the story of Amos White back to mind for the first time in years. In reflecting as an adult about that story, I no longer heard a parent telling a child a fable. Rather, I heard for the first time, my father telling me of a milestone in his own education. It was Amos, rather than the professor, who was the teacher that day and my father remembered the lesson for a lifetime.
I told the story to Thelma Ewig (a fellow trustee of the Memorial Fund), who had been my father's law partner. She recalled how Amos White used to visit my father in his office from time to time. They remained friends for the rest of their lives.
I went to the archives at Harvard and found that Amos and my father had been classmates in the local public high school. Only five black faces looked out from the pages of their college class album. Reading the names of the others in the class, I began to imagine that my father, as the son of an immigrant dairyman, may have felt as out of his element in the predominantly upper class world of turn-of-the-century Harvard as Amos looked. Amos helped to show my father how to succeed in this unfamiliar world by maintaining a clarity of purpose, a vision of what he wanted to accomplish. His vision was aware of, but not limited by, the expectations of those around him.
Listening again to the story, I believe that the exchange of insights they each drew from their different backgrounds and experience was a profound part of their education and helped them develop both their own visions, a lasting friendship, and a set of values solidly based on their shared experiences.
My understanding of this story, and of the purpose of education, has changed with time. I heard it first as a statement of how things were and hear it now as a story of how things change. Like many stories that bear repeating, it is also a tale of troubles overcome; at the level of the confrontation in the classroom in 1902, of the growth of two young people beginning to find their ways in the world, and of opening access to higher education.
Maintaining clarity of purpose is seldom an easy task, so it is usually productive to ask continually and openly, "What is our purpose here?" We have asked children, teachers, parents, trustees and visitors to the Memorial Fund to offer their views of the purpose of education. These responses, reflecting their understanding of what education has been and their vision of what it may become, are the theme of this annual report. We hope that these responses and the work of the Memorial Fund speak to your condition, help you to keep a clarity of purpose, and encourage you to continue the conversation about what we seek for the education of our children and ourselves.
Original Source: William Caspar Graustein Memorial Fund Annual Reports, 1993 – 1995