Open Road Alliance: Be Fearless spotlight story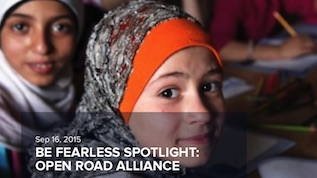 Whatever the catastrophe, Open Road Alliance (ORA) stands ready to help, able to offer grants of up to $100,000—with decisions made within two to six weeks of applying. Their average grant is $76,000 and, since 2012, it has awarded $3.5 million to groups including the Global Press Institute and the Grameen Foundation. Read the full spotlight story here.
This Spotlight is a part of a special blog series by the Case Foundation featuring Be Fearless stories from the field.