Preparing For A Board Retreat On Donor Legacy
This short guide describes the goals and objectives for conducting a board retreat on donor legacy, along with tips on how to develop an effective meeting in advance of the retreat.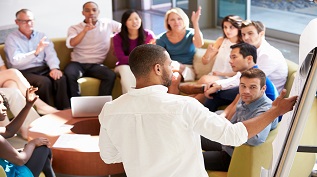 Engage Board and Family Members in Process
A retreat on this topic should be designed to build trust among family members, and to help communicate the family's shared tradition and legacy of giving. One of the best ways to ensure that this happens is to engage family and board members in all aspects of the planning and retreat process.
Collect Relevant Materials and Information
Collect information and materials related to the donor's—and the family's—hopes and dreams for the foundation. These might include:
Information on the donor: Personal interviews, letters, videos, etc.
Information on the family's history: stories, traditions, family business, shared values, etc.
Information on the foundation's history: bylaws and other legal documents, grants history, board history, feedback from grantees, etc.
Information on the foundation's field of interest: thoughts on the future, environmental scan, etc.
Determine Who Will Attend
The Board may wish to consider inviting one or more of the following types of individuals to part or all of the retreat:
Family members who do not serve on the board, including the next generation
Friends and associates of the donor(s)
Staff and advisors
Experts in the foundation's key areas of giving
Others?
Determine Goals for Retreat
Determine in advance what you hope to get out of the retreat. Common goals include renewed family interest in the foundation, a revised mission statement or grantmaking guidelines, or a statement of donor legacy.
Options for Facilitators
Many families have individuals with facilitation skills who can be recruited to help lead a meeting. Some families choose to use two family members as co-facilitators—this lessens the burden on an individual facilitator, and provides a system of checks and balances to the discussion. Other families use outside facilitators to help with planning and conducting the retreat. Contact NCFP at 202.293.3424 for additional ideas.
Develop Agenda, Dates, and Location
Deciding on a specific agenda, as well as where, when, and how to hold the retreat, are all extremely important factors in determining the success of a retreat.