Sample family foundation meeting agenda (Russell Family Foundation)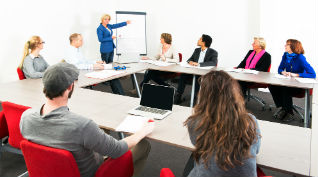 5 minutes     Opening Reading
A story that reflects one of the values of your foundation (serious or humorous). Focuses Trustees and sets the tone for the meeting.
15–30 minutes    Executive Session
What keeps the executive director up at night? Trustees are active listeners, building a trusting relationship with the executive director
1–3 hours    Plenary Session
Educational session on a topic determined by a Board survey, Trustees have compelling interest. Might also be a visit and story by a constituent who has benefited by a grant from your foundation.
5 minutes    Joke
Insert humor whenever possible. This assignment can be given to a quiet Trustee to encourage participation.
1–3 hours    Grantmaking Session
15 minutes    Consent Agenda & Parking Lot
Reports are mailed to Trustees in advance, they approve all in one motion. Put issues to be discussed at future meetings on the Parking Lot.
15–60 minutes    Celebrate
Allocate time to share stories, historical family pictures, build on family heritage and history. Treat this time as sacred.
30 minutes    Executive Session
Pass a Sacred Object: give a quiet Trustee the assignment of bringing a meaningful object to pass around the Board table. The Trustee explains why this object is sacred and why it relates to the family and/or the foundation.
Rules:  
1) No interruption or rebuttal
2) May pass without speaking
(Note: This agenda does not allow for breaks or lunch which can be scheduled as necessary)