The Legacy of Walter and Elise Haas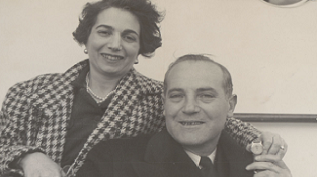 In 1952, Walter A. Haas, Sr. and Elise Stern Haas established the Walter & Elise Haas Fund. Doing so made tangible their commitment to opportunity and access for all. As of its creation the Fund was — and still remains — a natural and enduring extension of our founders' appreciation for San Francisco and the Bay Area.
Establishing the Fund came possible in part through Walter's work as president and then chairman of the board of Levi Strauss and Co. Under his oversight that firm grew from a small manufacturer to the largest apparel company in the world. During his tenure at Levi Strauss, Walter Haas Sr. pioneered socially responsible business practices such as affirmative action before the term was even invented. He volunteered his time and experience, contributing to the Jewish Welfare National Fund, the San Francisco Recreation and Parks Commission, and the San Francisco Chamber of Commerce.
The Fund's co-founder, Elise Stern Haas, spent her life as a civic leader, artist, and patron of the arts. Her work helped pave the way for generations of women and young people to access the full benefit of the City's culture and community. She was the first female president of both the Board of Directors of Mt. Zion Hospital and of the San Francisco Museum of Modern Art.
Since 1952, the Walter & Elise Haas Fund has been overseen by a board of directors comprised of generations of the Haas family. They, along with the Fund's staff, honor Walter and Elise's legacy by focusing on the philanthropic values our founders cherished.
We are, as individuals, responsible for society as a whole.
Our active involvement and leadership is required.
Community and its institutions need to be strengthened
and sustained for future generations.