Thinking Matters Over: Honoring Donor Intent
A question many boards and staff must ask themselves at some point in their existence is to what extent they conduct their affairs to honor the donor's intent. This president's message from the 1997 Kresge Foundation report explores that foundation's attempts to both follow the donor's original intent and to adapt as times have changed since the foundation's creation in 1929.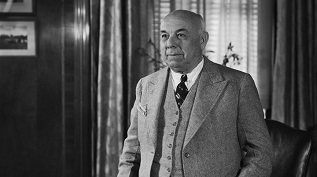 We have in our files some letters between Sebastian S. Kresge (SSK) and the president of a junior college for women (CP). The following excerpts begin with an inquiry after a $50,000 grant was made for a library building:
"In making grants to colleges of this and other kinds, I am trying to get the information as to whether the President of the college uses tobacco in any form, including cigarettes."
SSK, December 3, 1949
 "In regard to your question as to whether I use tobacco in any form, including cigarettes, I wish to reply by saying that I am definitely not an addict to tobacco, but that occasionally I do smoke. This is as candid an answer as I can give to your question."
CP, December 9, 1949
 "Will you please give me an honest estimate of the number of girls at your College who use cigarettes?"
SSK, December 29, 1949
"I have talked to the Dean regarding this matter and we estimate that approximately one-third of them use cigarettes, although all of them are not incessant smokers. None of our girls are permitted to smoke in the dormitories and all who smoke are required to use the College lounges for such purposes."
CP, January 21, 1950
"Thinking matters over before answering about using my name for the proposed new building, I prefer that it not be done, feeling that I am not worthy of such an honor." "Had I known… that you smoke and that no apparent effort was made to discourage smoking among young girls, the grant would not have been made, because that $50,000 could have been used where the above vices are discouraged and heads do not use them."
SSK, February 21, 1950
This correspondence came from a different time, it can be argued, but surely the views of the founder of this foundation were quite clear in this and other subjects. A question many boards and staff are asking themselves these days is to what extent they conduct their affairs to honor the donor's intent. It is a question that may be raised in Congressional hearings, as well.
Sebastian S. Kresge contributed cash, properties and shares of stock in the S.S. Kresge Co. to establish the foundation. The personal estate he left at his death was valued at less than 10 percent of that. Reading the tone of his correspondence suggests that he was serious about what he was doing and what he was leaving.
What he did not do was leave very specific instructions. "For the betterment of mankind" was about as far as he got. He died in 1966 at the age of ninety-nine. His son, Stanley S. Kresge, serves as Trustee and Vice President today, keeping the link.
Things have changed, though. We no longer make grants to junior colleges. We made no grants as small as $50,000 in 1996. We do not ask applicants if they smoke nor deny them if they do. And, while it was common back then, we no longer call female students "girls."
Some of today's grants would have surprised him. He could not have imagined that a telescope could be put into orbit on a satellite and be coordinated by a ground station at Johns Hopkins. That a submersible probe from the Woods Hole Oceanographic Society could find the Titanic and transmit live pictures around the world would have amazed him. He would have been saddened by Newark's decline, as it was once a key installation in his business, but no doubt would be pleased today with efforts to speed its rebirth, including the construction of the New Jersey Performing Arts Center. He had no idea what a Ronald McDonald House is, never heard the term "learning disabilities," and never knew anything about AIDS and HIV. Had he lived long enough to understand the changed circumstances, the foundation's having made grants to organizations addressing all of these needs would have pleased him, we hope, but we cannot be sure.
The foundation has changed, too. We are far larger in assets, in grants and in staff. We are now diverse both as board and staff, and we ask our applicants questions about their diversity. We are completely separate from his company, now known as Kmart, and do not own any of the stock he contributed.
But some things haven't changed. We are still making challenge grants in very much the same fashion as the first one back in 1929. Most of them are for building projects, consistent with his predilection for sustaining and perpetuating organizations that had proven their effectiveness. The principal difference nowadays is our insistence on organizational growth to be achieved in the planning, implementing, and funding of these capital projects, as well as the physical, bricks and mortar end products.
An outside evaluation by James Bell Associates has, in its preliminary surveys, validated the need for these grants and the effectiveness of them in the eyes of the recipients. A mission and goals planning retreat in November brought trustees and staff together and arrived at the same conclusion: The Kresge Foundation is a constant in a changing grantmaker sea, and its "Seal of Good Housekeeping" grants are prized. And yet, as we have begun to learn in our program of special grants limited to the Detroit metropolitan area, there are opportunities for us to serve, in different ways, as well.
Sebastian S. Kresge's gifts to the foundation totaled something on the order of $60 million. The current market value of those assets is $1.8 billion. Grants to our core program have been level in the last few years while our assets have increased. This has brought us to the conclusion that we may accept somewhat more risk in the factors assessed in our building grants, and, therefore, respond to a greater range of institutional readiness within our applicant pool. And, we have authorized three internal task forces to consider limited, special projects outside our usual guidelines.
No one should conclude that we are about to lose our bearings and become, as one of the respondents to an earlier survey put it, "a philanthropic department store." Our review of bricks and mortar requests will continue to be rigorous so that the resulting grants will mean something to the recipients. Special projects will not consume major percentages of our available grant budget, depriving us of capacity to do what we know we do well. Rather, it is change that we are contemplating – healthy, thoughtful change in an environment that constantly changes.
Have we strayed from our donor's original intent? Were he here, he probably would not agree with our every grant decision. But, he would approve that our investment managers cannot buy individual tobacco or alcohol stocks even though, as we have been advised, it may diminish our investment performance. And he ought to be pleased that the rest of our society has finally come around to his way of thinking about tobacco, banning its use in public places. He would also see that our core grant program is rigorous, fair, accessible and needed, and that should please him. Finally, one hopes he would be gratified that we seriously take time to ask ourselves the question.
Yes, we have studied our program, and we are going to accept some change. To paraphrase the junior college president, however, we have permitted some change, but we are definitely not addicted to it.