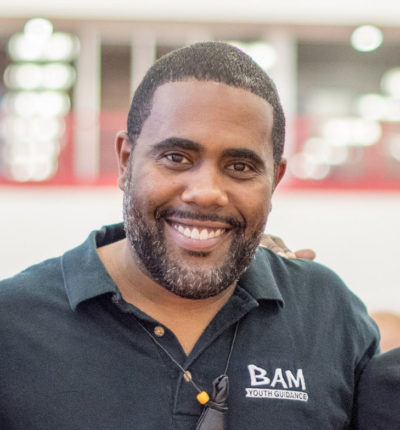 Marshaun Bacon
Becoming A Man (BAM) Replication Specialist, Youth Guidance
Marshaun Bacon is the Becoming A Man (BAM) Replication Specialist for the Chicago nonprofit Youth Guidance, a school-based agency dedicated to supporting at-risk youth. He was born and raised on the South Side of Chicago. A graduate of Morgan Park High School, he was exposed to many of the pitfalls that youths on the South Side often encounter. Bacon has over 20 years of experience creating mentoring opportunities for young people and has made it his personal goal to motivate youth to become community leaders. He holds a B.A. in Sociology and an Ed.M. in Early Childhood Education from the University of Illinois at Urbana-Champaign. After working as a Pre-K teacher for Chicago Public Schools, he received a master's degree in Social Service Administration at the University of Chicago. Bacon first began working for Youth Guidance in 2009 as a BAM Counselor. In 2013, Bacon facilitated the Hyde Park Career Academy BAM group that met with President Obama both at their school and then at the White House. In his current role, Bacon serves as Curriculum Specialist for both the BAM Pilot Programs in Boston, MA and in Seattle, WA. He currently lives in Hyde Park, Chicago with his 2 young sons.
We're here to equip you with the tools you need to make a meaningful impact. Contact NCFP for support!
Keep up with trends in family philanthropy. Subscribe to our newsletter!
Gain access to personalized support and a network of peers. Join our community!