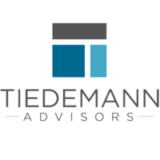 Tiedemann Advisors
Tiedemann Advisors was founded to address the ways that services provided by traditional investment management firms and trust companies typically fell short.
The three founders — the late Carl Tiedemann, his son Michael Tiedemann, and Craig Smith — were committed to making performance more valuable, portfolios more flexible, advice more objective, and service more personal for high-net-worth individuals, families and foundations.
This commitment has only gained strength over time.
The independent ownership model we established in the beginning has given us a strong and sustainable foundation. Mike and Craig continue on as CEO and president, respectively. And a culture of collaboration, innovation and personal attention permeates our entire team.
Get Connected
We're here to equip you with the tools you need to make a meaningful impact. Contact NCFP for support!
Keep up with trends in family philanthropy. Subscribe to our newsletter!
Gain access to personalized support and a network of peers. Join our community!