The Juneteenth Legacy Project and the "Absolute Equality" Mural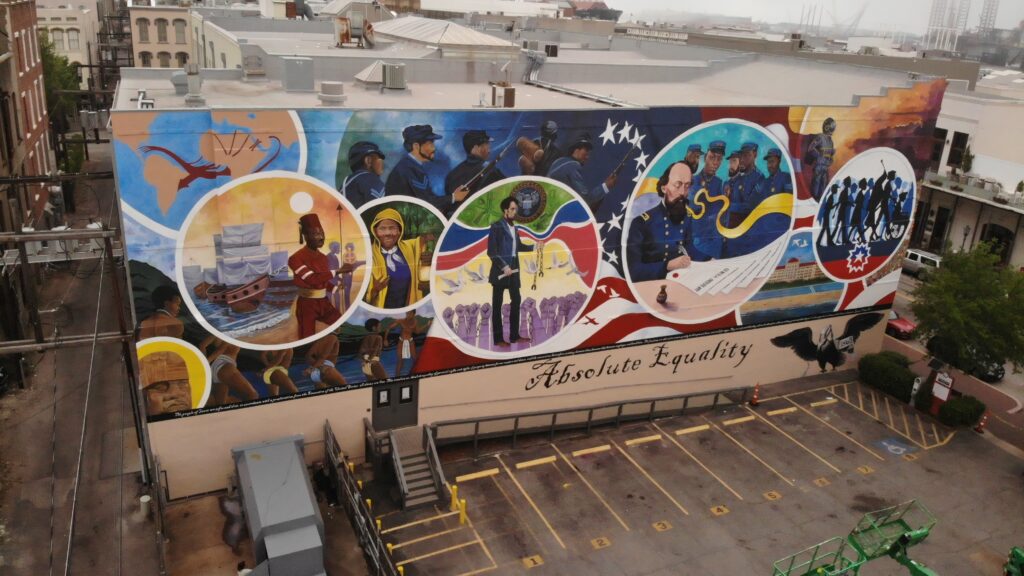 The Juneteenth Legacy Project Mural. Courtesy of Reginald Adams.
On Juneteenth, 2020 I received a call from Galveston historian, Samuel C. Collins. His call was in response to an op-ed published in the Galveston Daily News that day. In it, I wrote that white people must acknowledge systemic racism; to deny it exists is to be complicit. After the horror of George Floyd's murder by police, followed by the protests at home and around the world, I wrote that it is time, long overdue, for white Americans to join our Black neighbors in the collective cry that Black Lives Matter. Sam thanked me for speaking out, but wanted to discuss something else, an idea that had been burning in him for a year.
Sam's research has focused for 35 years on Black history and Juneteenth, in particular. Sam had a proposal. Would I join with him in initiating a public art installation, a massive mural to be painted on an exterior wall adjacent to the actual birthplace of Juneteenth in Galveston? Though the site is now a parking lot, it is the location of the former Osterman Building, headquarters for Union General Gordon Granger. The mural would depict the historic moment on June 19, 1865, when Gen. Granger issued the general orders, which finally announced that all enslaved people in Texas are free, two and a half years after Lincoln read the Emancipation Proclamation on January 1, 1863. General Order Number 3 proclaimed: The people of Texas are informed that in accordance with a proclamation from the Executive of the United States, all slaves are free. This involves an absolute equality of personal rights and rights of property, between former masters and slaves, and the connection heretofore existing between them, become that between employer and hired labor.
I was grateful for the opportunity to do something positive, specific, a way to participate in helping to change the story. As the divisive, offensive monuments were being removed, this very public art installation would be a new monument that tells the real story of Juneteenth, a mural that celebrates the words "absolute equality." The unvarnished truth of American slavery, its impact, and the often-broken promise of emancipation is fundamental to the discussion of racial equality today.
We immediately went to work. First, we wanted to establish the goals of the project beyond the mural itself. In Sam's words: "The Juneteenth Legacy Project will serve as a platform for illuminating and amplifying a complete story of Juneteenth—helping make the invisible visible and giving voice to the voiceless—remembering and celebrating the contributions of Black freedmen and formerly enslaved people who fought for their freedom and the freedom of others." We aimed to recontextualize Juneteenth as a pivotal moment in the arc of US history. Locally, we would seek to partner with other community organizations teaching and celebrating Black history and culture; the mural would serve as our outdoor classroom; it would continue to inspire interest in, and support of, the project's goals.
It was imperative that we find an artist with a reputation for large scale public art installations which had social impact. Fortunately, we didn't have to look far. A nationally and internationally renowned Houston mural artist, Reginald C. Adams, and his team, The Creatives, agreed to do the job. His preliminary sketch for the mural exceeded our expectations and inspired the first contributions of seed funding. The proposed mural was named: "Absolute Equality" and the scene that was depicted incorporated the full text of General Order Number 3. Symbolically and significantly, Granger is shown sitting at his desk displaying the general orders, while the United States Colored Troops, men who fought for their own freedom, stood above him, muskets in their arms.
As a public artist who emphasizes community engagement in his work, Reginald Adams' contract would include an extensive program of community engagement:  local children's art would be incorporated into the mural,  and he planned to introduce an Art and Literacy Contest, involving 150 high school students in the local area, the entries to address issues of racial equality.  An important component would be an augmented reality program to provide additional digital information about the mural, giving background and context via a mobile phone app—scan the mural and the information pops up on the mobile screen.
A lot of groundwork was covered very quickly to get this "show on the road." Legal agreements, including a fiscal sponsorship agreement; formation of the non-profit organization, Juneteenth Legacy Project; City of Galveston partnerships; Landmark Commission approval; all were necessary to get started. We invited sixteen committee members to join the Juneteenth Legacy Project initiative; most were leaders of local minority organizations. It was paramount to engage experienced, professional consultants; therefore, we hired a media strategist, a fundraiser, an event planner. Their contributions and guidance were game changers.
Key to the initiative's success was the development and execution of a well-thought-out communication strategy. A consultant was retained eight months in advance of June 19, 2021. He developed a campaign strategy to help illuminate and amplify a narrative that focused on the art installation project and on the genesis and historical and contemporary relevance of Juneteenth—why Juneteenth should matter to all Americans. The campaign was introduced on February 1, 2021 (Black History Month) with an online media briefing. More than 30 news organizations joined, including The New York Times, Houston Chronicle, NPR, NBC News, ABC News, and CNN.
"There is paint on the wall!" I remember waking up to that message early one morning on March 9. The painting began that day and it was completed on April 13, ahead of schedule. From that point on the media attention was enormous. Local residents and tourists were fascinated —it was hard to miss the four giant lifts and the massive 500 square foot wall that dwarfed the painters cradled on the lifts. The wall became a sightseeing destination and Sam Collins began leading history tours from the site on weekends.
As we prepare for the "Absolute Equality" mural dedication on Juneteenth, I asked for the artists to prepare a few remarks for their time on the stage. I was moved by all of them, but these words capture the essence of them all: "We are all here because the baton of this struggle was passed down to us, so we owe the next generation a divine duty to pass it on."
What impact have we seen?
There is already a shift in the conversation. The actual history, previously unknown to many, is a daily media topic, locally and nationally. Unquestionably, this particular Juneteenth 2021 was going to be different. But when the news cameras get rolling, this public art installation is often what we see, and the words: "Absolute Equality" in very large script, dominate.
The campaign to designate Juneteenth a National Holiday has been significantly strengthened, gaining new media attention through the relationship with the Juneteenth Legacy Project. The City Council of Galveston recently issued two proclamations: Juneteenth has been designated a city holiday, and June 19 to July 4 has been proclaimed Freedom Days.
Thanks to the donation of a museum space within the mural building, we have been able to establish a locus for the community activities that have been the byproduct of the mural project. The space is now a learning center, gallery for African American art, a Black history bookstore and reading room, and a meeting place. Daily history tours from the location retrace the steps of the United States Colored Troops from Ganger's headquarters—showing the role they played in enforcing the general orders.
History tourism in Galveston is already spiking. The mural is expected to continue to attract a significant number of tourists interested in Black history and Juneteenth history in particular.
When we think of impact, Sam and I talk about of how far the project came in less than a year. From an empty parking lot with a small plaque commemorating Juneteenth, 1865, to a massive monument celebrating historical truth and hope, already recognized nationally and internationally.
What are our goals going forward?
The "Absolute Equality" mural and the Juneteenth Legacy Project will continue to be utilized to leverage interest and funding to support local programs addressing Black history, culture; especially the education of young children to grow up aware and proud of their heritage and culture
The Juneteenth Legacy Project will continue to develop the outdoor classroom, local history tours, and minority organization collaborations.
The Juneteenth Legacy Project will support the Juneteenth Museum and Gallery which will celebrate Black artists and authors, host book signings, art openings, and lectures, and provide meeting space for partner organizations
The Juneteenth Legacy Project will continue to amplify the complete story of Juneteenth and is committed to uncovering other stories of significant contributions by Black citizens to the Galveston region
The Juneteenth Legacy Project will provide guidance and a framework for other communities and organizations wishing to make an impact in this realm.
Sheridan Lorenz is a board member of the Cynthia and George Mitchell Foundation
---
The views and opinions expressed in individual blog posts are those of the author(s) and do not necessarily reflect the official policy or position of the National Center for Family Philanthropy.