What are the pervasive narratives around wealth and how wealth is made? And how do we situate our own stories into, or outside of, those narratives? Attendees will grapple with these questions and examine the way that systems, structures, and labor contribute to building wealth.
Philanthropy is beginning to interrogate these wealth origin stories and to consider the fact that much of its wealth was built on the backs and at the expense of BIPOC people. CC Gardner Gleser of the Satterberg Foundation will help participants consider the way this plays out in foundations' roots and practices through her own real life example.
NCFP is hosting four racial justice salons as supplemental learning to our new Racial Justice Learning and Action Network. These small group discussions will feature case studies and bring to life concepts being covered in the Learning and Action Network. The salons will begin by interviewing a leading practitioner in racial justice who will set the context for the small group breakouts that will follow. These conversations will highlight practices that deepen learning and support our ability to engage in conversations related to wealth. 
Please come to the conversation with your video camera on and ready to engage with your peers. Spaces for these sessions are limited to 40 registrants. Roughly 20 slots are being held for Racial Justice Learning and Action participants.
Featured Speakers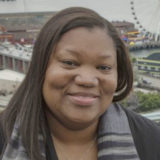 C'Ardiss "CC" Gardner Gleser
C'Ardiss "CC" Gardner Gleser is an advocate for social impact and social justice work. CC began…
View Profile