Effective Family Philanthropy: Tegan and Brian Acton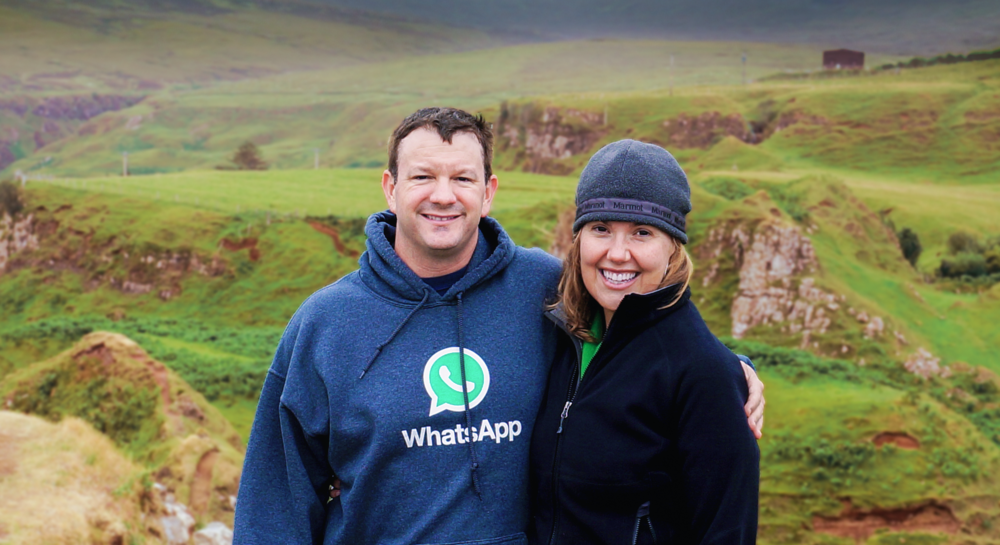 How Billionaire Couple Tegan and Brian Acton Are Giving in the Bay Area and Beyond
Brian and Tegan Acton, in their 40s and worth some $3 billion, are among a new cohort of Silicon Valley donors engaging in major philanthropy. Stanford computer science graduate Brian Acton worked at Yahoo! with Jan Koum, where the two would link up for ultimate frisbee games and later traveled to South America together. In 2009, the duo released WhatsApp, which sold to Facebook (now Meta) for $22 billion in cash and stock in 2014.
The Actons engage in philanthropy through three sister entities, all under the umbrella entity Wildcard Giving. Tegan Acton, in a recent interview, told me turning to large-scale giving after this windfall was by design.
The combined asset valuation of these charities is over $1 billion, as of the end of 2020. Sunlight Giving focuses locally on the Bay Area and provides services to children and their families. Acton Family Giving and Solidarity Giving complete the philanthropic flush for this family, giving in support of building empathy and policy and systems change, respectively.
"We spend our days at organizations pursuing different missions, but with a shared belief in an individual's right to dignity, agency, justice and self-determination," The Actons write in their 2019 Giving Pledge letter. "In the practice of our philanthropy, we are committed to the values of being in service to the public trust, upholding transparency in our work, providing general operating support, continuing to learn and adapt, and trusting grantees and the communities they serve."
But how did the billionaire couple arrive at these values? In my recent conversation with Tegan Acton, I found out more about this evolution, how each of their charities works, their emphasis on providing unrestricted grants and trust-based philanthropy, and where the family plans on going down the line as their young children come of age.
Getting started, and a "pro and con" list
Raised downstate from Silicon Valley in San Luis Obispo, Tegan Acton graduated from the University of California Santa Barbara in 1997. She had a stint at Yahoo! and later worked at Sundance Institute for nearly nine years during her 20s and early 30s, where she, in her words, thoroughly "drank the Kool-Aid" about the power of storytelling and its ability to generate empathy. Her work at the celebrated nonprofit years ago continues to inform her giving today.
She also credits her "backpacking hippie" parents who met at a youth hostel in Ghana and traveled all over West Africa. Acton's parents even plucked her out of fourth grade for a year while the whole family backpacked through Southeast Asia.
"They really were global and believed in that idea of a common humanity and a sense of belonging across continents and across countries. So I think that was the perspective that I was raised with," Acton says.
She adds that Brian Acton, too, believes in these values, given WhatsApp's power—particularly abroad—to keep people connected. The messaging app is used in over 180 countries by more than 2 billion people.
"I think for him, it's about the freedom of thought, the freedom of communication. The idea that you can express yourself freely was something that was really important to him. From my end, it's much more about connecting people more broadly, with each other," she says.
Acton does question the common paradigm of husband as wealth generator and wife as the one who does philanthropy, while recognizing that's part of a larger issue of who is actually allowed to generate wealth in Silicon Valley. The Actons pursue some of their own causes—Brian's philanthropic work, for example, includes funding related to technology. He co-founded the Signal Foundation, which has a mission "to develop open-source privacy technology that protects free expression and enables secure global communication."
Most of their giving is collaborative. Now a multi-pronged operation involving multiple vehicles, the project all started with a conversation as Brian was preparing to sell WhatsApp.
"We drew up a pro and con list of what some of the downsides might be of letting go of something he had built and nurtured for so many years. But sitting at the top of the pro list was the idea of being able to give back. That, for us, was always kind of a driving factor," Acton says.
Are you thinking strongly enough about the moment you decide to launch large-scale philanthropy? As WhatsApp founder Brian Acton was about to sell the company, the couple thought deeply about what it would mean to keep the company versus sell and then dedicate resources to their next chapter. For the Actons, they were ready to make that leap.
She's cautious to speak for Brian, but does say the money was never really the goal when building the business, and calls the fact that Silicon Valley sometimes measures success by valuation a "funny quirk of the industry."
"He was much more proud and excited by how much the product was used than how much it was worth," Acton says.
Today, Tegan Acton serves as president and co-chair of Sunlight Giving, and Brian as secretary and treasurer of the charity, which made 700 grants to 275 unique grantees for a total of more than $33 million in the 2020 fiscal year.
The Wildcard way
The branches of the Actons' philanthropy are held together by Wildcard Giving, an organization that has a lot more transparency than you might expect given the multi-platform approach, which can sometimes make a donor's giving hard to follow. Wildcard has an accessible website that parses out grantees and grantmaking requirements for each vehicle.
The largest of the three, with a corpus of nearly a half-billion in 2020, Sunlight Giving is the couple's family foundation. It focuses on 10 Bay Area communities in the family's backyard. Grantmaking issues include food security, housing stability and healthcare access.
"So much of the money made in Silicon Valley goes out of the area, and we felt on some level that the money we made here should, at least in part, stay here… There should be some recognition, and some offset for that," Acton says.
Recent grantees include Bay Area Legal Aid, Catholic Charities of Santa Clara County, and Alameda County Library Foundation. Acton, by the way, grew up as a self-described "library kid." Sunlight Giving also doubled its local grantmaking in 2020 and 2021 in response to COVID. Acton says that direct services were seeing 10 times their normal volume of demand, so they tried to offer as much support as they could.
Acton Family Giving, also founded in 2014, focuses especially on building empathy. Unsurprisingly, Sundance Institute has been a steady grantee, receiving at least $6 million between 2016 and 2020.
And Solidarity Giving was launched as an outgrowth of the couple's learning journey, which led the Actons to realize they also needed to engage in more systems and policy work at the national level. Acton is convinced they were heading that way already, but in a familiar refrain, the election of 2016 kicked that work into high gear.
Do you consider your philanthropy an opportunity to learn and evolve? The Actons have adjusted their strategies to meet the needs of the day, starting locally in the Bay Area and then engaging more systems and policy work at the national level—particularly on the heels of the Election of 2016.
"The urgency was there and it meant showing up with our checkbook," Acton says, telling me that the first round of grants moved out the door about two weeks after the election.
Acton Family Giving and Solidarity Giving are donor-advised funds set up at Fidelity Charitable, which the Actons find preferable for several reasons. For one, Acton says that at least in their case, these funds have much lower costs associated with them. "We can take payouts and focus more of that money into the grants instead of on overhead," she explains.
The DAFs also align with their overall view of their philanthropy. Rather than thinking of these funds as "theirs," the Actons consider the money as sitting in the public trust. But they try to pair this with a commitment to transparency and to steady giving—publishing grants as they are able, and honoring a minimum payout as if they were foundations. This is notable, considering donor-advised funds have come under fire for allowing charitable giving that can be both opaque and slow-moving.
Acton Family Giving and Solidarity Giving aim to give away $16 million and $10 million each year, respectively.
Staying lean and practicing "trust-based philanthropy"
Keeping overhead low also drives the management of the family's three sister entities, forming a lean operation with around a dozen staff combined. But this structure is how the couple prefers it and Acton doesn't really feel the need to expand for the optics of more employees or a larger headquarters.
Acton also talked about the value of maintaining an office where everyone can still sit around the table and have direct conversations, much harder to do with a large staff. She also made an interesting point about keeping a centralized message and a common language.
"The more levels of hierarchy you put into an organization, the harder it is to maintain that kind of common language, a common reason for being, and common values all the way through," she says.
So far, the couple's two children are not yet involved with their charity. After all, they're still much more interested in Pokemon than anything else, Acton reminds me. But as they get older, she does see them becoming engaged in the family's philanthropy. While some family foundations have been around for generations, the Actons offer a glimpse of what an ultra-wealthy family's philanthropic runway might look like in the early days. Sure, right now, Brian and Tegan steer the ship. But in 15 or 20 years, we could be looking at a much larger enterprise, flush with cash, and steered by several Actons with a range of interests and priorities.
A guiding principle of Wildcard Giving is trust-based philanthropy, which Acton admits didn't really exist as a published framework when they started out. Trust-based philanthropy involves a set of values that help advance equity, shift power, and build mutually accountable relationships. One way the Actons try to advance these aims is by providing general operating support.
Acton recalls her formative years working for nonprofits, and understanding the unique challenges on the fundraising side. Overall, her aim is to be the kind of donor she wishes she had worked with.
"I sometimes kind of joke but also kind of seriously say, I think anyone who works in philanthropy should have to work in nonprofits, too. You have to work on the other side. I think we would be much better donors… and much more empathetic," Acton says.
Vital support at a critical moment
Acton says it's tough to pinpoint exactly what a typical grantee looks like, because the types of nonprofits they support are so varied. However, one key point she stressed is that the organizations and leaders they support are seen and heard in their communities, have identified a problem, and are proposing a potential solution.
"We are on a learning journey alongside them. And really, the question should be, how can we be the best funders for them?" Acton asks.
One past grantee she cites is Guttmacher Institute, a leading research and policy organization committed to advancing sexual and reproductive health and rights, which Solidarity Giving supported for several years.
Jonathan Wittenberg, executive vice president at Guttmacher, has been with the organization since 2005. Founded in 1968 as the Center for Family Planning Program Development—a semi-autonomous division of Planned Parenthood—its initial aims were to ensure access to family planning services for low-income women across the United States.
Today, particularly in the wake of SB8, Texas' anti-abortion law, Guttmacher's work has understandably focused a lot of its attention on responding to that law. "We're also putting that law into the context of national trends and really showing this is part of a much larger trend of dwindling access and attacks on reproductive freedom," Wittenberg says.
Guttmacher received its first grant from Solidarity Giving in 2017 as part of that initial wave of funding on the heels of the 2016 election. The unrestricted grant, Wittenberg says, was vital and allowed the organization to prepare a "defensive posture" for what was to come. Guttmacher was able to launch a project called the Reproductive Health in Crisis Initiative to monitor and expose the harms of the Trump administration's policies, particularly among underserved and vulnerable communities.
Solidarity Giving initially reached out to Guttmacher. Wittenberg describes the reporting requirements as "modest," which helped set into motion unrestricted funding in 2018, 2019 and 2020, as well. "What came through strongly in conversations with the staff was really a reflection of the Actons' values in their approach to philanthropy. That is, organizations really know best where the money needs to go to make an impact," Wittenberg says.
A giving evolution
The evolution of Brian and Tegan Acton's giving to its focus on putting power in the hands of its grantees took time. One helpful space she mentions is the Giving Pledge community. The couple signed their letter in the spring of 2019, at a time when they had already met the qualifications for the pledge.
Acton says they signed as a reaffirmation of the private commitment they already made. "It is a wonderful community and it's inspiring to be with other people," she says, adding that she's grateful for the range of figures in the group.
Intriguingly, while there are like-minded donors she looks up to—she was hesitant to name names—Acton also says she's learned plenty from those taking different approaches. Beyond the Giving Pledge community, she mentions Hewlett Foundation right down the street, which "quite literally wrote the book on effective philanthropy, but is pretty much the antithesis of how we do our work."
Here, Acton is making a distinction between Wildcard's trust-based approach versus Hewlett and other foundations that are emblematic of the effective or strategic philanthropy approach. She mentions Paul Brest's "Money Well Spent: A Strategic Plan for Smart Philanthropy," which makes the case for measurable, results-driven philanthropy. While Acton deeply believes in the shifting of power that trust-based philanthropy is working to foster, she still has respect for Hewlett's work and sits on a couple of donor collaboratives alongside them.
"You find common ground, and mutual respect, even when it's not your particular flavor… The Giving Pledge is a pretty big tent of people. But the common thread that unites is some desire to do good," Acton says.
Are you thinking of the Giving Pledge just as a commitment, or as an opportunity to reaffirm your commitment and join an entire community? The Actons signed their pledge letter in 2019. They had already met the giving qualifications for the pledge but appreciate the range of figures in this growing cohort.
Acton's giving evolution has also been animated by facing what she calls an inherent power imbalance in philanthropy, something that, at times, she thinks has been intentionally reinforced. She knows that philanthropy has not always been known for being equity-minded. And while she doesn't think they alone can dismantle these barriers, funders should do what they can to acknowledge, address and alleviate some of them.
This includes asking questions like whether they actually need a grant application and whether a particular piece of information would change their decision—if not, eliminate it.
"Philanthropy takes up so much space in the room. But we just write the check. You'll hear a funder say, 'we fed X amount of people.' Actually, we wrote a check. Someone else went out there and made it work."
Reframing the conversation and looking ahead
Looking at the recent grantees list for Solidarity Giving reveals a who's who of progressive organizations including ACLU Foundation, NAACP Legal Defense and Education Fund, and Planned Parenthood.
Acton was quick to push back on this partisan characterization, however. She does recall her early days at the library, poring over books and developing a sort of "Kennedy-esque" commitment to civic responsibility. She was also a political science major in undergrad. And Solidarity Giving touches areas like democracy, voting rights and immigration. But when she thinks of her charity, she doesn't consider herself taking a political stance. Instead, she thinks about it in terms of fundamental American values.
"The more we talk about it in terms of red-blue, right-left, the more we're reinforcing that it's one side versus another," she says.
In that spirit, Acton Family Giving is a core partner of a new funder collaborative called New Pluralists, drawn together by the conviction that "philanthropy must also intentionally work across lines of difference to heal America's divides." Hewlett, by the way, is another partner here.
Mostly, Tegan Acton seems keen on reframing the conversation and trying to find common ground. The Actons are also learning as they go. "We've certainly made mistakes. But it's offered us the opportunity to calibrate our work. I think feedback is a gift," she says.
This is just the beginning for the Actons, who are just getting started with their mega-giving at a young age compared to historic philanthropic norms. They also have plenty of runway to decide whether they want their foundations to operate in perpetuity or eventually spend down. And she's excited to see what's in store for their children.
Right now, she's trying to instill in them the importance of service and an understanding of the common humanity we all share—and the responsibility to protect that. "Also, it's work, it's a job. It'll be interesting to see as they grow, like where their interests lie and what they want to do with their time. This is one way to give back. But there are other ways to give back, too, and this is something we're excited to see," she says.