James Erskine Love, Jr.: a Protestant Family's Expressions of Faith and Philanthropy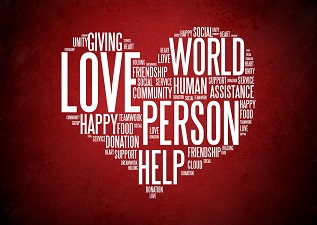 The faith, life, and civic contributions of the late James Erskine Love, Jr., and his family are true examples of how faith and philanthropy often intersect. Many facets of James Erskine Love's life speak to the relationship of faith to action, of values to life, and of the consistency of one's public and private self. This profile from Faith and Family Philanthropy: Grace, Gratitude, and Generosity explores the Love family's seamless legacy of faith, integrity, family, and philanthropy.
---
Nearly every organized religion claims that the ideal expression of faith is found in the way the faithful live their lives — how they treat their neighbors, and how they earn and use their wealth. This is particularly true of the Christian faith.
In the New Testament, Jesus makes numerous references to the connection between goodness and giving. He speaks of the faithful "bearing fruit" like the good vine, telling followers, "If you love me, feed my sheep." The extension n of this idea — that there is a wholeness, an interrelatedness between what one believes and how one does — is the core of Christian life.   All the parts are interrelated.   Saint Paul describes his condition prior to conversion as a state in which his "members [his thoughts and his actions] were at war with one another," and his state after conversion as harmony and wholeness.
The faith, life, and civic contributions of the late James Erskine Love, Jr., and his family, are true examples of how faith and philanthropy often intersect. Although no human example is perfect, many facets of James Erskine Love's life speak to the relationship of faith to action, of values to life, of the consistency of one's public and private self (one's "members").
James Erskine Love, Jr., founded Printpack, Inc., a family-held business that became a leader in the packaging industry. He was a civic leader in Atlanta, Georgia, a devoted husband and father, and a committed and wise philanthropist. There was a wholeness and consistency about Mr. Love, an integrity that made everything he did seem entirely appropriate and consistent as part of the whole cloth that was this man.
Raised during the Great Depression, Love learned the value of hard work and discipline from his divorced mother. A vital part of his upbringing was his close association with the local Presbyterian Church. There he not only learned the Bible but was also immersed in the brand of Calvinism espoused by that denomination. He learned the Westminster Catechism from memory and began to form his view of God, the world, and himself.
The Presbyterian Calvinism described a stern God, a God who not only created the heavens and the earth but also ruled as sovereign over it all. Man was viewed as unworthy, but when repentant received God's forgiveness through the life, death, and resurrection of Jesus Christ. In response, God demanded obedience, and this obedience included worship, self-discipline, frugality, hard work, and participation in bringing order and peace to the earth. At the least, man was expected to respond to God's forgiving love with good works and generosity. Erskine Love, Jr., learned his lessons well, and from an early age began to show his intentions to serve God in the required ways.
Among his friends he was known as a hardworking and determined youngster. As childhood friend Bub Thomason recalls: [1]
Erskine was very clever and industrious too. He figured out that he could go to the Coca-Cola Bottling Company in town, buy a crate of Cokes at 4 cents a bottle, and then sell them door-to-door in our neighborhood for 10 cents each. In the middle of summer in Greenwood, South Carolina, there wasn't a person alive who didn't want a nice cold Coke in the afternoon.
Later, Love greatly increased his profits by selling Cokes on construction sites around town. During his last summer before college, he worked at the local pharmacy as a soda jerk, as a clerk in a local department store, and as a helper on a bread delivery truck. During one period, he delivered bread from 5:30 a.m. to 3:00 p.m., took off 3 hours, then worked a shift at the drugstore from 6:30 p.m. to 10:30 p.m.
Love and his mother worshipped at the local Presbyterian Church. He once recalled that his mother kept a special box on her dresser. Each week, when she brought home her meager salary, she carefully placed money into divided sections of the box marked "home," "church," "food," etc. Love noticed that she always placed the allotted 10 percent of that salary in the slot marked "church" first — an example he never forgot nor varied in his own giving.
At age 16, Love left home for his college years at Georgia Tech. There he continued to seek active leadership roles as he had in high school.   Although a mechanical engineering major, he gravitated toward campus activities that involved business and leadership. He was treasurer of his fraternity and of the inter-fraternity council, and president or treasurer of several other campus organizations.  
Upon graduation, Love took a job in the sales promotion department of the Westinghouse Corporation.   That job returned him to Atlanta. During that time, he married Gay McLawhorn of Winterville, North Carolina. Their marriage produced six children — five boys and one girl.
In 1956, Love left Westinghouse to form Printpack, Inc. He was 28 years old, the father of one son, with another on the way, and in his words:
I turned every available asset I owned into cash to start the business — equity in my house, my car and even cash value of all my life insurance. I literally did not have a single dollar that I did not put into the business. Then, with an equal amount of money borrowed by the company from the bank, and personally endorsed by me, I started in business. With the help of my father and my wife, I founded Printpack in 1956, and the three of us owned virtually all the stock.
Today, Printpak, Inc. has more than 4,000 employees working in 20 plants, worldwide. It remains a family business, not only in ownership but also by virtue of the participation of Gay Love and all six children as members of the Board of Directors.  
While his business was growing, Love was also becoming a civic leader in Atlanta. According to the Reverend Allison Williams, his pastor of some 30 years, his concerns and service for his community grew out of his faith and relationship with the church. His capacity to get things done made him a ready and willing servant to his family, his business, and the institutions and causes he supported.
At various times, Love held leadership and board positions with the Area Council of the Boy Scouts, the Metropolitan Atlanta United Way, the Rotary Club of Atlanta, Trinity Presbyterian Church, Georgia Tech's Centennial Campaign, Columbia Theological Seminary, the education committee of the Westminster Schools, the Atlanta Chamber of Commerce, and many other organizations.
Love conducted his business with a constant concern for the ethical. His attorney and Printpack board member, L. Neil Williams of Alston and Bird, remembers:
He would ask his lawyers and his friends questions that were a bit unusual for a businessman. He would not say, "Is this legal?" or "Do I have to do this under a particular contract?" Instead he would say, "What's really right?" or ask, "What do you think is ethical in this situation?" He never framed questions in terms of legal mandate; he framed them in terms of both common sense and the fundamental correctness of a course of action.
Although the language of the New Testament speaks of this condition of wholeness in terms of "newness" or of being "set free," Erskine's favorite way of describing this new condition was the word "integrity." He spoke of it often. In fact, it is reported in the Love family that, "if Dad was to make a speech, somewhere it would obviously include something about integrity."
Love's frugality, hard work, and discipline paid off. By any measure he was successful. He not only was able to provide very comfortably for his family, but was also able to make generous charitable contributions to many organizations and institutions. He had been serving many such organizations in leadership roles already and was now able to add his financial support to those causes. When Love began to receive far more requests for assistance than he could meet, he sought ways to bring some order and discipline to this aspect of his life.
In 1976, Erskine and Gay Love established a small family foundation. It might be said that the foundation itself is another expression of integrity. It is at once a company foundation, a family foundation, and a vehicle for charitable giving for each member of the Love family. One of Mr. Love's close friends, the Reverend Dr. Davison Philips, remembers that the decision to establish the foundation followed an example set by one of Love's community heroes, a much older, similarly successful community, leader. J. Bulow Campbell, who when establishing his own family foundation, stated that he wanted the community to know that "even though God has prospered me, I do not want it to harden my heart."   The Loves also wanted their foundation to become a means for sharing their charitable and community interests with their six children.
The foundation cannot be separated from all the other charitable giving and civic leadership that the Loves provide for Atlanta and the world. It serves a unique role as part of that larger whole, however, by supporting the core charitable causes in each of the communities in which the six children now live. Through the foundation, the family shares each other's interests in the Boy Scouts, education, a drug rehabilitation center, the Heart Association, the theater, and myriad other causes. It is an integral part of a whole family's broader life of service in their communities.  
Gay Love expressed the underlying question she and her husband had asked each other: "How do you teach your children the values you feel are important and necessary for society?" Her answer, and clearly the answer she and her husband lived as parents, was: "You show them." In addition to the foundation, she recalls their church participation as an example. Not only were they always present — she in the choir and Erskine and the six children together in a pew — but even the financial support was used as a means of teaching values to the children. She and Erskine paid their pledge to the church by mail, but each Sunday Erskine made an additional and visible contribution as the collection plate was passed. The children observed and learned.    
In 1987, Erskine Love, Jr. died unexpectedly at age 58. His wife assumed chairmanship of the board of the company and the foundation; his eldest son, Dennis, age 31, assumed the role of president and CEO of the company. All six children serve on the Printpack board of directors and all six serve, with their mother, on the family foundation board. As the boys come of age and complete their education, they undergo training and assume larger and larger leadership roles in the company and in their communities. Although not on the company payroll, the Loves' daughter is assuming leadership roles in her chosen hometown of Richmond, Virginia, where she chairs the local Heart Ball and the board of a local theater.
The seamless legacy of faith, integrity, family, and philanthropy of Erskine Love, Jr. continues.
---
[1]     Printpack, Inc. (1989), Lasting Impressions: The Story of Printpack and James Erskine Love, Jr., Atlanta: Printpack, Inc.