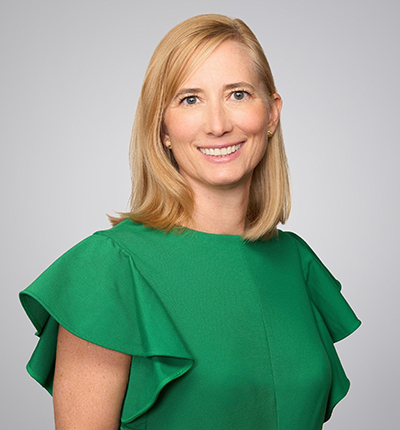 Molly Lyons
Senior Director, Communications
Molly Lyons is the senior director of communications at the National Center for Family Philanthropy (NCFP) where she leads the marketing and communications team in providing members and the field with clear and compelling information that helps them more effectively create the impact they seek. 
An experienced content creator and strategist, Molly has spent more than 25 years helping others tell their stories to the audiences they most want to reach. Previous to NCFP, she helmed the creative and editorial services team at Arabella Advisors. There, she led a team of editors and designers to support client service teams as they produced actionable deliverables and winning proposals for more than 400 institutional and family philanthropy client engagements a year, which influenced billions in philanthropic assets annually. In particular, she was embedded in the firm's individual and family practice, helping to shape giving strategies and develop materials such as annual reports, grantee profiles, donor intent letters, and policy statements that helped clients effectively connect to their family members, partners, and peers. She also produced materials that helped grow and advance the field on topics such as fiscal sponsorship, impact investing, and more. Molly was a trusted strategic communications advisor to executives, leaders, and others across the firm, crafting and implementing internal communications strategies that supported organizational growth and allowed teams to share information effectively and equitably.  
Before joining the social sector, Molly held various positions in the publishing field. She has edited for and has overseen special projects at Condé Nast, Hearst Magazines, Time Inc., Meredith, Hachette Filipacchi, and Gannett properties. Her writing has appeared in multiple national publications, including USA Today. She was a founding editor of Lifetime Magazine, a joint venture of Hearst and Lifetime Television. She's also ghostwritten books and book proposals. As a literary agent, she's worked with authors to conceptualize and sell fiction and non-fiction projects. Her client list includes two New York Times bestselling authors. 
Molly has served on the board of the Women's Media Group and is a graduate of Amherst College. 
We're here to equip you with the tools you need to make a meaningful impact. Contact NCFP for support!
Keep up with trends in family philanthropy. Subscribe to our newsletter!
Gain access to personalized support and a network of peers. Join our community!