Ethical Wills: Writing Your Chapter of the Family History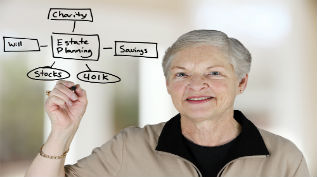 To be faithful to ourselves, we must keep our ancestors and posterity within reach and grasp of our thoughts and affections, living in the memory and retrospect of the past, and hoping with affection and care for those who are to come after.
—Daniel Webster
It's widely acknowledged that the time to think about estate-planning or writing your will is well before you think you'll need one. Whether it's a marriage, the birth of a first child, a sudden windfall or financial success, an illness, the death of a parent or other loved one, or any other life changing event, we're often faced with the prospect of addressing this issue far sooner than we ever expected. It can be a daunting process because it not only requires that we confront the fact of our own mortality, but also causes us to take a serious look at how we have lived, whom we have affected and been affected by, and the legacy we want to leave behind.
Luckily there are lots of experts out there ready to help us get our financial and legal affairs in order: lawyers and wealth advisors who can apprise us of our options and ensure that our tangible assets are distributed in a way that gives us peace of mind. But what about all of the intangible characteristics, experiences, and beliefs that constitute a large part of our lives? How can we ensure that the qualitative portion of our lives is not lost to our loved ones and descendants?
What is an Ethical Will?
An ethical will or personal legacy statement is an ancient Hebraic tradition of passing on the substance of a person's emotional life, including their accomplishments, failures, aspirations, fears, lessons learned, and hopes for the future. The oldest example of this oral practice, which can be found documented in the Old-Testament book of Genesis, describes how Jacob, on his death bed, lays out his wishes for burial, along with his hopes for each of his 12 sons. Ancient examples, such as this one, focus on dispensing advice: reminding children to respect their remaining elders, or to have faith in God, or invest in their education, and in casting hopes for loved ones' futures. Their tones range from loving and instructive, gently scolding and admonishing to downright scathing. In the Middle Ages this practice of passing on one's life experiences, lessons-learned, and hopes for the future made the transition from oral into written form.
While many ethical wills today do still mix logistical or practical information with advice or anecdotes, you should bear in mind that an ethical will is not a legal document. An ethical will is not intended to replace a traditional will or to address the division of one's property. It can be helpful, however, to use an ethical will to communicate information that may be vital to the person handling your affairs, such as:
a list of advisors, attorneys, accountants, and other financial managers
a list of assets: investments, properties, life insurance policies, bank accounts
a list of debts
general information such as your social security number, and date and place of birth
As Turnbull—the author of The Wealth of Your Life: A Step-By-Step Guide for Writing Your Ethical Will—points out, an ethical will is more about what you want your loved ones to know or have in a figurative sense than about what you want them to inherit in a literal sense. Many people choosing to craft personal legacy statements today—ranging in age from their 20s to their 90s—have embraced the practice as a chance to do more than communicate practical information. Many are choosing ethical wills or personal legacy statements as a way of imparting some of their wisdom and experiences to their loved ones: as a way of telling their stories.
How Can This Benefit My Family Philanthropy?
Family philanthropies spring up where a family's good fortune or financial success meets its ideals and values. All family philanthropies start with an idea, a hope, and a belief that change in the world is possible—a donor with a desire to make a difference and the resources to do so. During the founding donor's lifetime it is easy for successors or others working with them to determine what their goals and aspirations for the family philanthropy are just by observing to whom he or she decides to give, when, and how. Once a donor is no longer present to attest to their wishes, though, their successors may be left to ponder what the appropriate course of action might be.
To ease feelings of doubt and stave off future conflicts surrounding their philanthropy, many donors choose to draft donor legacy statements, which are the philanthropic equivalent of ethical wills. Both documents discuss the values, experiences, and beliefs that have shaped the author, the values they wish to pass along to descendents, and what their hopes are for future generations. In an age when families are spread across the nation and all over the world, and in which a second or third generation of family members may have had few opportunities to interact with the founding donor, having a written statement of philanthropic values can provide needed guidance during times of decision. Additionally, having this sort of document increases the chances that geographically separated family members, collaborating on their philanthropy from afar, will share an understanding of the goals toward which they are striving.
Keep in mind though that the world in which you founded your philanthropy is not necessarily the world in which it will always operate—in fact, as philanthropists we hope that it won't be; that some social ills will be cured by our work and the work of grantees and that positive change is occurring. By leaving behind a personal legacy statement, and ensuring that your successors are aware of what has been important to you and your family, they will be better equipped to make decisions that could fulfill your philanthropy's goals. The purpose of drafting an ethical will or donor legacy statement is not to bind your family to the past in a way that is restrictive or cumbersome, but rather to add to your collective family history and to enable them to write their own chapters.
How Do I Get Started?
For starters, consider why writing an ethical will or personal legacy statement appeals to you and what you hope to accomplish by completing one. These goals might include:
to supplement or personalize the terms of your existing, traditional will
to document your family's history or your own life experiences
to reach out to loved ones with whom you have lost touch
to re-affirm the relationships with those closest to you
to share your hopes for the future of your family and its philanthropy
Additional things to remember when drafting your ethical will include:
Be yourself. You're not trying to win a Pulitzer Prize here; this is your chance share with your loved ones the person you are and how you hope to be remembered.
Composing your ethical will, although it may be difficult at first, needn't be cumbersome or depressing. Think of your personal legacy as another valuable gift you leave your loved ones.
Keep in mind that your words are powerful. Certainly you want to be honest about your life experiences—both successes and failures—but negativity can be counterproductive and hurtful. Consider wisely what you commit to paper.
Take your time. Your personal legacy statement doesn't need to be written all at once. Feel free to revisit and redraft this document as time passes and you learn and experience new things.
Consider sharing your personal legacy statement or ethical will with family members while you are able. You'll be glad you did, and you may even learn something about yourself, your life, and your legacy.