A Thanksgiving Message: Gratitude and Optimism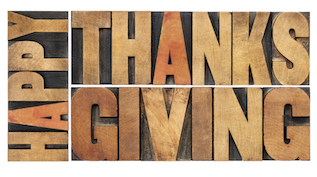 The fall season of educational workshops and speeches is coming to an end and, once again, I have learned more from conference participants than I possibly could have shared. The enthusiastic commitment of those who give up weekends and vacation time to focus on the responsibilities of philanthropy is endlessly instructive and inspiring.
Often, these workshops are for audiences that are pretty evenly split between those very new to philanthropy and those whose families have been involved in philanthropy for three generations or more. These families have a lot in common; new philanthropic life and charitable renewal involve the same search for meaning and purpose.
In preparation for one such program, I revisited notes from conversations I have had with new donors about the inspiration and goals for their giving. The National Center for Family Philanthropy is always trying to raise the quality of information available for and about giving families. Our challenge is to interpret objective data through our unique if somewhat subjective lens: our sensitivity to the very personal nature of this public trust.
For some twenty years, I have been asking donors what motivates their philanthropy. The responses are rich with their traditions, mentors, faith, and values. But over time the number one response remains the same: donors want to give back.
Similarly, I ask new donors what they hope to accomplish with their giving. Some donors have very specific causes and purposes in mind. Some want to be as strategic and as results-oriented as they have been in their business successes. Some are more uncertain; the fund or foundation may have been prompted by a financial or legal process and they haven't really thought about their philanthropic goals. But if I probe a bit, one theme does emerge: donors want to make a difference.
The idea of giving back is about gratitude. Donors appreciate what they have been given and feel a responsibility to recognize that gift in kind. Making a difference is about optimism—the fervent belief that your time, talent and treasure can indeed change what must be changed, create what has only been imagined, and renew what must be preserved.
Gratitude might have inspired Eugenia Dodson but she certainly didn't seek it. Mrs. Dodson left more than $35 million dollars to medical research after her death at age 100. She specifically didn't want people to know of her intentions because she didn't want the recognition or appreciation. Her decision to leave the funds for cancer and diabetes research – illnesses she and her brothers struggled with – reflects her sense of optimism about the future; others might one day be spared her family's health challenges.
A commitment to the future of a healthy nonprofit sector prompted more than 400 people to gather last month for the Nonprofit Congress. At the Congress, co-founder Audrey Alvarado voiced her desire to see our values and our good name back on center stage. The Nonprofit Congress laid out an ambitious agenda to support organizational effectiveness and heighten public awareness and support.
Generosity and optimism also recently brought the fourth, fifth and sixth generations of one philanthropic family together. They wanted to find a way to renew their charitable legacy, clarify their shared values and giving interests, and identify a structure that would enable them to continue more than a century-old family tradition of giving. Given their enthusiasm and commitment, they will certainly find a way.
Gratitude and optimism. Not bad inspiration and ambition for family philanthropy. And wonderful inspiration and ambition for this season when we are thankful for what we have been given and for our traditions of giving. And vital to remember when democracy, philanthropy and our hopes for a peaceful global community are threatened by selfishness and fear.
If your optimism is in need of a shot of hope, I hope you'll remember the encouragement offered by Robert Greenleaf:
"There is no other way that as few people can raise the quality of the whole American society as far and as fast as can trustees and directors of our voluntary institutions, using the strength they now have in the positions they now hold."
I'm giving thanks for all those who give – for those who inspire me with their philanthropy and those who support our philanthropic traditions. I'm giving thanks for work that lets me introduce this charitable tradition to potential donors. And I'm giving thanks for the countless donor families that inspire and guide NCFP as we seek to make a difference.
Happy Thanksgiving!