The Harman Family Foundation: Learning Leads to Focus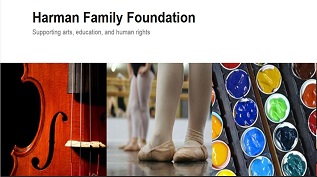 Wellesley College Professor of English Barbara Harman awaited the release of her book The Feminine Political Novel in Victorian England. The year was 1998, and when it arrived, after 10 long years of research and writing, she experienced something she assumes many authors discover upon the publication of their work.
"That 10 years had been wrapped up in a little package," recalls Harman. "It seemed to me that it was an enormous amount of labor and energy and brainpower and sweat and juggling family responsibilities and research interests to have what felt to me like a very small impact."
It was about that time that she received the annual letter from her father Dr. Sidney Harman, president of the Harman Family Foundation and founder and chairman of multibillion-dollar audio and video manufacturer Harman International. Harman sent Barbara and her siblings the occasional letter, informing them of the foundation's activities, and asking when he might expect them to join him.
"After 27 years of teaching and grading papers, I got the annual letter from my father, saying, 'Hey, guys, why don't you step up?'" remembers Harman. "And I said I am going to step up. I'm going to propose myself as the new executive director of the foundation."
Today, with her father and stepmother, Rep. Jane Harman (D-CA), Barbara leads the Harman Family Foundation, a Washington, DC-based philanthropy well known for its support of the DC arts community, including the Washington Ballet, the National Gallery of Art, and the Shakespeare Theatre Company, whose new Harman Center for the Arts opens this fall.
It was a learning experience to say the least.
"I bit off more than I had any reason to expect that I could chew," says Harman. "But I was a quick study."
Harman went about discerning and making more explicit the foundation's mission and direction. She immediately noted the family's passion for the arts and, as grant proposals arrived and Harman delved into the work of an executive director, Harman began to survey the nonprofit landscape.
"Something was missing from the picture—the small, entrepreneurial, neighborhood-based arts organization that sort of flew below the radar," Harman observes. "I knew that landscape was there. I didn't know much about it."
Harman looked to an innovative project in Boston for inspiration. In 1997, the Ellis L. Phillips Foundation, a Boston, Massachusetts family foundation, researched and published the first Catalogue for Philanthropy, a publication that spotlighted organizations throughout Massachusetts that were often too small to organize their own marketing and fundraising activities. Harman herself had received the publication and hoped to organize something similar for the greater Washington area. The idea spawned catalogues in a few other communities, but Harman took the idea to the next level.
First published in 2003, the Washington Catalogue for Philanthropy has since featured nearly 300 nonprofit organizations with budgets of $2 million or less working in areas such as the environment, culture, and human services. Although there is no way to determine exactly how many donations go to nonprofits because of their appearance in the Catalogue, at least $3.9 million in gifts are directly attributable to it.
Now its own nonprofit, the Catalogue has snowballed into a major philanthropy promotion in the Washington area. Each year, following a request for proposals, a volunteer team of 60 individuals from 35 DC grantmakers and nonprofits selects approximately 70 innovative organizations for inclusion. The Catalogue is mailed to more than 30,000 high net worth households, and thanks to the support of several Washington-area foundations, 100 percent of each donation goes directly to the charities.
This year's October rollout will include not only mailing the full catalogue to 30,000 homes but also sending posters to 100,000 targeted households. By expanding the reach of the project, Harman hopes to double the amount raised for this new class of charities.
The Catalogue has also become a tremendous support network for the featured charities. Inclusion in the Catalogue gives charities access to a host of online fundraising tools, including donations through Network for Good, and a database of sample press releases, marketing materials, and thank-you letters.
"It's all about helping them get the word out about who they are and what they do," says Harman. "We make an introduction. They make a relationship. Many of these charities had nothing to hand to a donor or a board member before – now they have the catalogue. Many had never accepted online donations – now they had the web site."
What started as a simple project by one foundation to help small organizations in ways beyond just grants, has mushroomed into a major enterprise. Harman believes others foundations should consider trying this in their own communities, noting how the Catalogue has helped them build their own grantee portfolio of smaller arts organizations, especially those that serve youth.
"The only way to start is to start," Harman says. "It's a little bit like what I used to tell my students when they would freeze up about writing a big paper. I always said, 'Stick your hands on the keyboard. Something will happen.'"
You can learn more about the Catalogue for Philanthropy by visiting its website.