Telling Your Family's Story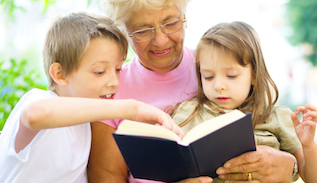 Family philanthropies are intimately connected with the past that shapes them. As stewards of both a public trust and a family legacy, philanthropic families are constantly drawing on their history for wisdom, energy, and focus. That's why growing numbers of families are recording their stories to share with future generations.
The sharing can be as simple as storytelling at a family reunion or as elaborate as a commissioned book or video. It doesn't matter so much how you do it, just that it be done.
"I believe family histories have enormous power," says Ginny Esposito, President of the National Center for Family Philanthropy. "By chronicling philanthropic history, you lay the groundwork for those who will be the future stewards of your legacy – including generations of your own family – in short, so the future may learn from the past."
Specifically, philanthropic histories can:
Clarify your own understanding of the values, intentions, and goals for your giving;
Ensure a shared understanding and commitment to those values and goals;
Inspire potential donors to appreciate the enormous good that can come from this commitment – for both the communities and interests served and the family itself;
Provide a benchmark against which future accomplishments, assessments, and challenges can be measured; and
Ensure that your grantees, prospective grantees, and the public understand your motivations and your expectations so that productive and mutually respectful partnerships can be developed for the future.
Many families acknowledge the power of these stories during holiday get-togethers and family reunions. The words of a founder are interpreted against the backdrop of a great oral tradition comprised of countless holiday meals and family vacations.
Sometimes the decision to record the history more formally relates to succession. Families worry that the sudden loss of a founder could deprive future generations of knowledge about the original values and vision that animated the family's philanthropy.
For the Dexter F. and Dorothy H. Baker Foundation in Pennsylvania, clarifying the founder's intent was crucial. Worried that others might reinterpret the founder's and the family's wishes, the Baker Foundation embarked on a project to make sure the intent, the history, and the impact of the Baker Foundation was clear to the family and the communities it served. After looking at other family histories, the family chose to record Dexter Baxter and others on camera.
"It was important to us that future generations heard it from him," says Ellen Ghelardi, the foundation's executive director. "But we couldn't find a single example of a benefactor actually talking."
A video documentary was conceived and storyboards drawn up. More than 20 hours of interviews were shot with the founder and his family and community members. The foundation looks forward to a finished documentary later this year.
For the Siragusa Foundation in Chicago, the catalyst was the approaching 50th anniversary of the foundation's creation in 1950. Irene Phelps, founder Ross D. Siragusa's granddaughter, became executive director of the Foundation in 1997 and was given three years to "figure out how to honor my grandfather."
"The problem was no one had ever heard of us – and no one had heard of my grandfather," Phelps says.
That would change with a special grants program in honor of the occasion and a short monograph that re-introduced Chicago and others to Siragusa, the son of Italian immigrants with no college education who went on to create one of the largest consumer electronics manufacturers in the world. That monograph is available on the foundation's website.
Considerations in Recording a Family History
The success and impact of your own family's history depends on aligning your vision of what this history should accomplish with the method most likely to achieve it, keeping in my mind the resources your family has to devote to the project. You can begin with a conversation.
"Get a few people together and have a real blue-sky session," says Joseph Foote, author of a forthcoming history of the Hilton family philanthropies. "What would the family like to have on their desk, on their coffee table, or on the shelf?"
During your "blue sky session," discuss the larger issues of creating a family history: what it is for, who it's for, and what form it will take.
Consider your goals. What are you hoping your family, your fund, and your community will gain from telling your story? Are you looking to celebrate a significant achievement or mark a particular milestone in the life of your giving? Will this project bring a new energy or a new focus to your grantmaking? Will it recapture the founders' intent? Is it simply an opportunity to tell your family's story?
Consider your audience. Is this history something only for family members, close friends, and/or associates? Is it something for current and potential trustees, staff, and advisors? Is it something for the general public?
Finally, with the intent and audience in mind, consider the medium that will best convey that message to that particular audience. Will it take the form of a family album? Will it be a brief monograph, a coffee table book, or a longer book for your library? Will it be a video or audio recording? Will it take multiple forms to serve distinct audiences?
This month's Profile in Family Philanthropy, the Laird Norton family, has used multiple vehicles to chronicle its 152-year history. The family has published two books, produced a DVD in honor of its 150th anniversary, produced a play presented periodically at family annual meetings, and even created a coloring book for younger family members to learn about the family's history.
Once the larger vision for the project is in place, consider who will participate in the writing of the history, who will manage the project, and how they will do so.
Next generation family members can interview older family members and compile an album of stories, pictures, and anecdotes. Teenagers can be enlisted to shoot video of their parents and grandparents, a low budget approach that has the advantage of engaging the next generation.
A more costly approach is the commissioned history either in the form of a book or film. The family may wish to employ the services of writers, editors, photographers, designers, printers, and/or videographers to capture their history. The Baker Foundation opted for this approach, employing, among others, an Emmy-Award-winning editor to cut their 20 hours of video footage into a 20-30 minute documentary.
Tips for Executing Your Plan
As you begin to tell the story of your family philanthropy, keep the following suggestions in mind:
Establish a creative and productive environment.
The possible content for the history could be limitless. Therefore, it's important to define the project's direction and boundaries at the outset. Make a list of the five messages, values, or stories your family's history must convey as well as a timeline for the production of copy, design of the final product, and publication. Let the list serve as a springboard for discussions and let the timeline bring you back to earth when family members seem to be getting carried away, striking a balance between creativity and productivity in a way that keeps the project exciting as well as moving forward.
If you plan to involve outside consultants, writers, videographers, and/or designers, establish a candid but professional relationship.
Some families are reluctant to bring in outsiders, preferring to keep the history a family affair. But if there is no family member with the skills or inclination to do the work, you'll have to hire help. If you're considering a commissioned approach, interview several writers and/or videographers to get a sense of who is compatible with the family. Ask for samples and references. Talk with other families who've worked successfully with a writer, designer, or videographer. Establish a scope of desired work, price, timeline, and an approval process (number of rounds of drafts, editorial control, etc.).
Consider expanding the circle of people involved and the voices heard in your family history.
Your family history is as much about a community as it is a family. Even if your only audience is family members, consider how the voices of family friends, colleagues, grantees, and community members might enrich the content.
Confront the sensitive issues.
Some families hesitate to invite some family members to participate in a family history for fear of what they might say. Writer Joe Foote understands that approach but disagrees.
"Invite every single member of the family to participate," says Foote. "These projects rise above indiscretions of the moment and give people a chance to be bigger than they usually are. Most people rise to the occasion."
Some families tiptoe around certain issues for fear of the memories they'll dredge up or the bad publicity they'll invite. Every family has its problems— a bitter divorce or the "ill-gotten gains" of the founder—and your history is bound to touch one sensitive issue or another.
Foote suggests if a sensitive matter is in the public domain, "a mention is enough. If the matter's not in the public domain, either don't mention it or mention it only briefly."
Being candid about the family's story can serve a positive purpose. Said one family foundation trustee: "We all worried about what would happen when we got to that chapter," noting a difficult family issue that had occurred some years ago but was still fresh for some family members. "We all knew what it was. We all knew it was coming. No one wanted to saying anything. But I'm glad we took it on and told the next generation the real story. We'd never done that before. Not in front of each other anyway. Now that it's out in the open, it's not the issue it once was."