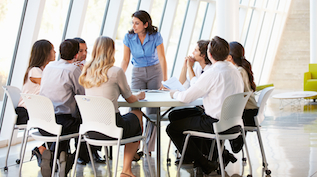 Our family foundation is preparing to bring on the third generation of family board members. As we prepare for this important transition we hope to better document the specific roles, responsibilities and attributes of our board members. Do you have suggestions for what to include in a family foundation board job description?
NCFP receives this question frequently. Fortunately, a growing number of families have put together thoughtful job descriptions for their family board members, and are willing to share these through the National Center's Family Philanthropy Online Knowledge Center.
Families' board job descriptions cover everything from a personal commitment to philanthropy to the number of meetings that trustees are expected to attend each year.
A great place to start is John Nason's Qualities of the Good Trustee. Nason includes objectivity, impartiality, a capacity for teamwork, practical wisdom, and a "commitment to the idea of philanthropic foundations." A final quality listed by Nason is: "Moral sensitivity to the act of giving and to the need of giving."
While some family foundations simply adapt Nason's list for their own use, others look more closely at the practical, month-to-month (and in some cases day-to-day) responsibilities of trustees.
The Leighty Foundation, based in Colorado, developed formal job responsibilities for both board and staff, including a description of the roles and requirements for Board Advisors, which are members of the third generation who may be interested in increased foundation involvement.
Another terrific example is the Homer A. and Mildred S. Scott Foundation, based in Wyoming. The Scott Foundation's "Foundation Trustee/Director Competencies" describes key competencies the foundation expects of its board members, including communication, creativity, leadership, and strategic thinking. The foundation's statement of "Individual Trustee Responsibilities" enumerates responsibilities designed to help trustees "act in a manner that he or she believes to be in the best interest of the foundation."
The Hill-Snowdon Foundation's Trustee Orientation Guidelines provide a different type of guidance.  Written as a brief orientation handbook for new trustees, these guidelines discuss expectations regarding participation in board meetings, committees, and site visits; eligibility for the foundation's discretionary grantmaking program; and the board election process.