Giving while living: Eli Broad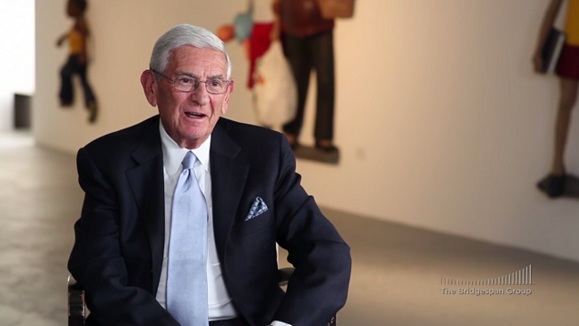 Editor's Note: The National Center is delighted to partner in 2013 with the Bridgespan Group to feature videos from its Conversations with Remarkable Givers series. To launch this series, we share Bridgespan's interview with Eli Broad on his entrepreneurial and "give now" approach to philanthropy, along with an introduction from Bridgespan Partner Susan Wolf Ditkoff on the goals and highlights of this remarkable series.
A Conversation with Eli Broad: An Entrepreneurial Approach to Philanthropy
Conversations with Remarkable Givers: Sharing Insight and Wisdom for Effective Philanthropy
The Bridgespan Group, a nonprofit advisor to mission-driven organizations and philanthropists, recently released a groundbreaking new video series titled Conversations with Remarkable Givers, and we are delighted to partner with the National Center for Family Philanthropy in 2013 to share highlights from this first-of-its-kind series.
Available at Bridgespan's philanthropy website GiveSmart.org, Conversations with Remarkable Givers is a free collection of more than 1,000 short video clips, drawn from over 50 original and private interviews that we conducted with philanthropists and foundation leaders.  Conversations provides unprecedented access to our interviewees' frank and candid strategic thinking, insights, and wisdom about effective philanthropy.
Our interviewees, ranging from Ted Turner, Eli Broad, Pierre Omidyar, and Michael J. Fox, to Peter and Jennifer Buffett, Charles Bronfman, Melinda Gates, and Jean and Steve Case, share personal observations about their philanthropic journeys and motivations for giving. They reveal how these leading donors think about philanthropy in relation to their families, how they pick causes to champion and work with grantees, and how they define success, measure results, and adapt their strategies along the way. Donors interviewed for the series reflect on giving to a host of causes from education and health to giving globally and locally.
They discuss the advantages of taking risks through innovative ways to drive results for society, and—since failures so often provide valuable learning experiences—they even talk about their colorful mistakes. Several remark on what's been humbling and unexpected, including how they have successfully (and unsuccessfully) applied business experiences to the social sector. Most interesting, perhaps, is their hard-earned wisdom and what they wished they'd known as a new philanthropist.
Philanthropy is a deeply personal venture, often conducted with family. There is no one-size-fits all prescription. Nevertheless, our interviews did surface some key themes leading to effective giving:
First, the old prescription to "learn, earn, then return" is changing; actively engaged "giving while living" is the new norm. In the mid-20th century, many successful businessmen believed they needed to get an education, make their fortune, then perhaps endow an institution at their death. Now, a growing crop of wealthy philanthropists—of all ages and genders—are either leaving the private sector at the height of their careers to dedicate themselves to creating social change, or are engaging themselves deeply in social issues alongside their high-powered private-sector careers. They are blending their values and beliefs with how they spend their time, either through philanthropy or other mission-related endeavors. They are using their reputation, relationships, networks, voice, convening power, and influence to effect changes impossible to imagine two decades ago. The overwhelming message was "give big, and give now."
Second, adaptive strategies and bigger bets are necessary to solve society's biggest problems. Part of the imperative to getting started early is to "fail faster" and get better over time. To be sure, some portion of our interviewees' "portfolio" of giving is not strategic and never will be; it involves giving back to an alma mater, or giving because they don't want to say no to a friend. However, increasing segments of their philanthropy are strategic in nature. Our interviewees are deeply passionate about solving big problems by making big bets or funding innovation. Beyond checkwriting, they emphasized, "I don't just want to fund a homeless shelter," they insist, "I want to end homelessness." The key insight our interviewees shared is an impatience for results, and at the same time, the recognition that they need to stay patient and engaged for the long haul if they are to be successful in realizing their philanthropic ambitions.
Finally, collaboration is on the rise. Collaboration sounds great in theory, but our interviewees report that in reality, it is exceedingly difficult to pull off. Still, our interviewees collaborate for many reasons: it brings more money to under-funded causes; it allows coordinated action on cross-sector problems like climate change; it enables access to networks and specialized skills that no one funder may have in-house; it enables greater visibility and voice on complex or controversial issues.
Every year, generous families want to see their resources make a difference in the world. But getting measurable results with philanthropy is hard, and we hope that sharing the wisdom, mistakes, and experiences of these givers will guide and inspire current and future givers on their philanthropic journeys.