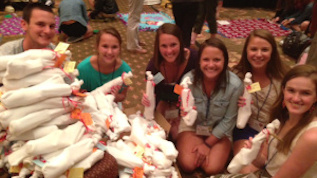 The National Center for Family Philanthropy and Youth Philanthropy Connect, a program of the Frieda C. Fox Foundation, have teamed up on the release of our latest Passages Issue Brief entitled, "Igniting the Spark: Creating Effective Next Generation Boards." This month's Voices from the Field column features the perspectives of Linda Tracy, program associate at the Tracy Family Foundation, on her family's experiences at this year's Youth Philanthropy Connect conference.
Why did your family become involved in Youth Philanthropy Connect and why did you attend this year's conference?
The Tracy Family Foundation attended the YPC for the first time this past June. The professional format attracted us to the conference. We were curious to learn from other foundations about the programming they had in place for their next generations. We brought six from our third generation, representing a total of 52, ages 5 – 36, from this generation. The conference exposed the six (2- high school juniors, 2-college freshman and 2- new college grads) to the larger world of philanthropy, meeting leaders from other foundations, and youth philanthropy groups.
We, as their chaperones, were looking for new ideas ourselves to educate and support our next generation. I was anxious to learn from each of their perspectives since they have had at least 10 years of experience with our grant programs. Were our established next generation grant programs and new advisory board on target with what other foundations are offering to their youth? What new ideas will interest our youth and do they have an appetite for more education beyond this conference?
What were your biggest take-aways and lessons learned from the conference?
Our "kids" realized the larger world of philanthropy that they are a part of because of the Tracy Family Foundation (TFF). They became, at times, a resource in the session they were attending, sharing their experiences with our grant programs, site visits or their work with family members on committees. This alone was a great experience for them and very validating for us.
We also took away from the conference a wealth of resources to further research: great ideas for our community and school leadership committee, service ideas for the next generation to work together, professional development opportunities for our youth as well as other family members, and other organizations doing great work with youth philanthropy to explore. Networking with the other family foundations/youth organizations was valuable to each of us also.
Our youth learned how to stay connected to the non-profits or causes they support, and that many community foundations have youth philanthropy programs. They also learned they would like more hands-on service opportunities with their cousins, and that legal and financial information is very complex yet interesting.
Our youth also incorporated two new YPC ideas to our July NG summer meeting. They produced a short video while still at the Disney Californian Hotel summarizing their experiences at the conference and showed it to the family. They also led their fellow cousins in a "birthday bag" service project which was one of the many new projects they were introduced to at YPC. Afterwards, each family had a birthday bag to take back to a food pantry in their own community for a lucky child's next birthday.
Why do you think next generation boards are a useful tool for multi-generational family foundations?
The Tracy Family Foundation appointed five members of the next generation to our first Next Generation Advisory Board (NGAB) in January, 2013. The board meets four times per year via conference call and at least one time per year in person. The purpose of the board is to develop their philanthropic spirit, develop board leadership, prepare for TFF board service, and support the work of the formal board.
Although this generation has the opportunity to serve on three next generation TFF board seats, these seats are short-term and many of the younger family members have an appetite to do more work for the foundation after their terms end. Our numbers alone (52 in the third generation and now six in the fourth generation) encouraged the TFF board to find other avenues to build future leadership capacity.
In addition to participating in our next generation grant/volunteer and matching grant programs, the NGAB board provides another voice for the next generations,  they review formal grants (under $5,000), and organize the next generation annual summer meeting.
The addition of a next generation board to any family foundation gives the multi-generations an opportunity to learn from each other, to recognize the value of different perspectives, and to use the capacity in others to grow their foundation's work. This board will educate and develop their youth for future leadership and help the next generation recognize all that they have to offer in the world of philanthropy — not only in their family's work but in their own communities as well.