Philanthropy Meets the "Always On" Generation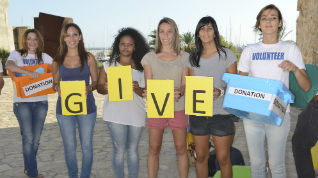 Family and community foundations that want to engage youth in grantmaking need to adapt to  a new generation of kids, many of whom have already gone digital with their philanthropy. Dubbed the "Always On" Generation, today's young people have discovered they can do good in the world without going through the usual channels of their counterparts even a decade ago. And their attitudes about how to make change are different, too.
Attendees at a recent AdNet Conference in San Diego–for community foundation advancement officers—tackled this in a session at which I spoke along with Annie Hernandez, director of Youth Philanthropy Connect for the Frieda C. Fox Family Foundation; Katie Marcus Reker, a former Fox Junior Board member and now a foundation trustee; and Aaron Robertson, grantmaking and community leadership associate with the Seattle Foundation where he leads their youth grantmaking board.
In researching a new book about raising giving children in a digital age, I've discovered just how profoundly technology has changed the lives of today's young people. In 2010, a study found that more four-year-olds knew how to down load an app than tie their shoes. And that was three years ago, ancient history by today's technology standards! Today more than three-fourths of kids 12 to 17 have cellphones, and half of those are smart phones. Just like adults, kids are walking around with the Internet in the palms of their hands.
Technology can be a helpful tool for kids' philanthropy. Through websites and social media, they can learn about the needs of people globally as well as locally. They can connect with like-minded individuals working on solutions. They can raise money from their friends for their favorite causes, instantly text donations for disaster relief, advocate for change by signing online petitions, donate to a crowd-sourcing effort to fund a social change project, and even make micro-loans to people on the other side of the globe.
Beyond technology, there are other key differences in the way today's young people approach philanthropy. Unlike previous generations, they are more focused on supporting causes rather than institutions. If they are passionate about protecting animals or the environment, for example, they will search out organizations to work with or they'll create their own project. They don't want to be passive and just send money to an organization. They want to be more directly involved and use all their resources, such as tapping their online networks to share the organization's work. They want to be part of the solution.
So what does this mean for foundations looking to engage youth in grantmaking? Despite the digital world kids are growing up in, most still want hand-on experiences, especially with peers. Next generation grantmaking boards serve that need. For a family foundation, such boards are a way to train future board members and also engage youth early so they'll be more be interested in carrying on the family's philanthropy as adults. Community foundation youth boards are a popular way to engage donors children. For example, the Seattle Foundation's youth board has 15 to 20 high-schoolers, some—but not all—donors' children.
It was because the youth of the Fox Foundation board wanted to learn from their peers on other next gen boards that Youth Philanthropy Connect was born. This youth led conference is held annually in California, for 8 to 21 year-olds. 
From their experiences working with youth boards, my fellow panelists offered these tips:
Ground the work in mission and values.
Involve the youth in creating or implementing a grantmaking board, and keep listening to them.
Balance opportunity with obligation–parents shouldn't pressure unwilling kids to serve on a next gen board.
Incorporate hands-on grantmaking, through site visits and/or volunteering so kids can see their impact.
Don't underestimate young people—trust them and respect their abilities.
Don't forget to inject an element of fun!