'On-boarding' the Next Gen: The Durfee Foundation's Approach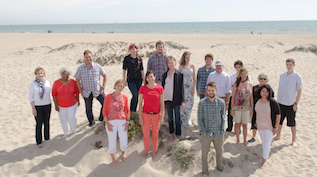 The Durfee Foundation has held many board retreats during its 54-year history, but these have always been for trustees only. In 2014 we decided to do an all-family board retreat and bring together toddlers, teens, trustees, and elders.
Why the change? In 2013, we brought two new family members onto our board, which had previously consisted of five family and two non-family trustees. Durfee typically reaches out to new family board members when they are in their 20s, and we did the same when we invited Chris and Sara to start the yearlong "onboarding" process for becoming trustees. They were model prospective trustees: eager to learn, fresh with ideas, appreciative of what had been accomplished in the past, and full of enthusiasm for the opportunities that the family foundation board offered. Their only complaint?  Why didn't we learn about the foundation earlier?
This got us thinking. Even though we never intended to operate behind closed doors, it was clear that we needed to make a better effort to show the whole family, not just those already on the board, what the Durfee Foundation is about.
The Durfee Foundation, established in 1960, is a family foundation with approximately $30m in assets and a regional focus on Los Angeles County. Until our 50th anniversary in 2010, we operated with an all-family board, but since then we have elected two non-family trustees to the board. The foundation was started by my grandparents, Stan and Dorothy Durfee Avery. Their three children served on the board for decades, but have retired. Current family trustees are all grandchildren of Stan and Dorothy (3G), ranging in age from 20s to 50s. The next crop of family members eligible for service, a "Next Gen"mix of 3G and 4G, range in age from 17 to 26. We also have a younger, all-4G cohort, ages 2-10.
How could we create a weekend retreat that would help the board re-engage around its mission and goals, introduce the Next Gen to the foundation, and give an age-appropriate glimpse of the foundation to the youngest 4G group? Oh yes, and we also had a big docket of board business to get through.
Setting the stage: Goals for our family foundation retreat
The board decided on goals for the retreat several months prior to the event. Executive Director Claire Peeps and I followed this up with individual conversations with each trustee. Claire and I worked closely with facilitator Robin Kramer to refine the goals, which are listed below:
To become more knowledgeable about the Durfee Foundation – history, development, results, and lessons learned
To introduce younger family members to the foundation history, values, and aspirations
To glean context about the ecosystem in which the foundation operates –community, nonprofit, and philanthropic
To identify the foundation's niche and strengths as a lens for our decision-making
To ascertain at a high level the foundation's five year frame: mission, work, governance
To engage with mutual respect, joy, creativity, and wisdom
So how did we do it? Following is a brief outline of the weekend.
Friday Afternoon
Everyone arrived at the hotel, a location about an hour north of Los Angeles that we selected because it offered meeting space for the board in the presidential suite, and plenty of fun distractions like beach and pool for younger family members who were not in meetings all of the time. Trustees and family members came from Denver, San Diego, Phoenix, Berkeley, and Los Angeles to attend. In all, we had 28 people. I created a "Cast of Characters" list that read like the first page of a Chekov play: "Mike, oldest of Judy's four children, father of Doug, Michael and Elisabeth," and so on.
Quick tip: It's important to note that, to ensure that we complied with Federal tax regulations, the foundation only paid for the expenses of trustees and staff for this retreat. Others were billed separately.
The board convened briefly at 5:00 to review the agenda and begin our meeting. The whole crowd came together for dinner; it was like a big Thanksgiving gathering in the summer. After dinner, the younger kids went to watch Frozen for the 89th time, and everyone else gathered in the presidential suite for a "Fireside Chat" (it was a fake fire, this being July) with the son and daughter of the foundation's founders. Judy and Russell both served on the Durfee board for decades (as did their brother Dennis, who passed away) before retiring. We asked them to speak informally to the board and Next Gen about their memories of growing up with Stan and Dorothy, and of the foundation's early days and evolution.
The talk was wonderful and set the stage for the weekend to come. We heard stories about Stan's lack of promise as a young man, Dorothy's aversion to the limelight, and how Russell was responsible for aiming Durfee in a more strategic direction in 1980, kicking it out of its comfortable pattern of being an extension of Stan's personal giving. There were a lot of questions and a lot of laughter.
Saturday morning
The board convened after breakfast. We started off with a "highlights reel," a short video that Durfee Program Associate Esther Kang had prepared that showed some of our grantees' accomplishments. We followed this with a personal check-in where everyone could share what is going on in their lives (a baby on the way! A move to a new city!) – this is something we do at every board meeting. We then launched into the business at hand: mission, governance, and our docket.

Next Gen Session
While the board had a working lunch, the Next Gen met over sandwiches in another room with Esther. They looked at the Durfee website, talked about the Fireside Chat, and pondered several questions on posters: "Apart from money, what have you inherited and what do you want to do about it?" "Do you volunteer, or want to; where is this and what have you learned?" "Do you have any questions about the Durfee Foundation and/or philanthropy?" They were given sticky notes to respond, and by the end of lunch the poster boards were decorated with brightly-colored comments and questions on sticky notes.
Saturday afternoon
The board worked through lunch and continued to power through its meeting. We were ready for a break when we concluded at 4:30. Many of us went for a walk on the beach, a nice way to transition out of meeting mode.
Saturday evening: Quiz Bowl!
The whole group got together for dinner again, and after dinner divided into two teams to play Durfee Quiz Bowl, a game of our invention where we asked (often silly) questions about family history and the foundation. The younger kids got very involved, and enjoyed answering multiple choice questions about how Stan and Dorothy first met, naming all of the grant programs that begin with the letter "S," and matching trustees to their extracurricular interests.
Quick tip: We engaged a professional photographer to spend part of the weekend with us. Well worth it!
Sunday morning: Next Gen Q & A
The board came together right after breakfast to wrap up its business. Later in the morning the Next Gen joined us. We set up the poster boards with their sticky note questions and comments so that the board and staff could see what was on the minds of the Next Gen.
We started off by telling the Next Gen group about how the foundation and the board work. I asked Chris and Sara, our newest trustees, to talk about their experience in the past year. We then opened it up to questions; they asked very good ones:
"Why does Durfee want to reach out to the next generation?"
We talked about how new generations have come onto the foundation board at different points in its history and how that keeps the work and the legacy alive. Chris and Sara talked about their recent experience with joining the board and how meaningful it has been to them to connect with family this way.
"How do the finances of the foundation work?"
We provided a long – but important – explanation about the endowment, investments and the 5% payout rule.
"Why is philanthropy important?"
We decided to follow this up with a written answer to the Next Gen group because we didn't feel like we did the question justice in the moment. In our written response, we talked about how philanthropy fills in some of the gaps where societal needs are not met by either business or government. We noted the privilege that our family has by being the stewards of this public trust that our forebears decided to create.
Finally, we showed a very engaging five-minute video produced by the National Center for Family Philanthropy called "So You Want to Be a Family Foundation Board Member." It does a great job of outlining what it means to join a family foundation board.
All-Family Fruit Pick!
After lunch, we all drove to a nearby orchard to meet up with Rick Nahmias, the founder of Food Forward, an organization that Durfee has been funding since it was a small start-up. Rick started Food Forward when he noticed the preponderance of fruit trees in backyards and public spaces in Southern California where the fruit often drops to the ground unused. He reflected on the needs that food pantries and homeless shelters have for fresh food, and thought that he could get a group of friends and neighbors together to harvest this bounty and deliver it where it is needed. From that idea a fabulous organization was born: Food Forward has a regular schedule of fruit picks throughout the region, and volunteers can sign up online to participate. Food Forward has also branched out to Farmers' Market recovery, picking up unsold produce at the end of the market day and delivering it where it is needed. They have recovered over 4 million pounds of food in their short existence.
We thought it would be fun for everyone to get to know one of the organizations that Durfee supports, so we signed up to pick oranges. Food Forward provided us with basket pickers and cardboard cartons, and we got to work. This was something that everyone from age 2 to 76 could throw themselves into, and the very youngest kids were some of our most productive pickers. A couple of hours into it, we had filled over 30 cartons with fresh oranges that would be delivered to a food pantry later that day.
Rick talked to the group about the history of Food Forward and how Durfee had helped with consistent general operating support and providing an experienced mentor coach to help Rick grow his organization.
Post-Retreat Evaluation
We sent a post-retreat survey to the board and Next Gen, and were pleased to see that everyone thought it was time well spent and enjoyed themselves in the process. Many cited the Fireside Chat as a highlight.
Lessons Learned
What did we learn from planning and carrying out the Durfee Foundation's first-ever all-family retreat?
Allocate a lot of time for planning. We had to set the retreat date almost a year in advance because it's so hard to coordinate so many schedules. We had originally hoped to do this in 2013 but couldn't find a date so had to postpone it to 2014. We started working on the retreat agenda more than six months in advance and spent many, many hours on it. Claire and I had individual conversations with each of the trustees about their hopes and expectations for the retreat and incorporated those conversations into the agenda.
Engage a skilled facilitator. Our retreat was so much better because Robin Kramer facilitated it. Robin, Claire, and I had several conference calls where we discussed our goals, drew up draft agendas, talked more, revised the agenda, and finally came up with a plan that worked. Her expert facilitation allowed everyone to participate fully.
Have your board set goals for the retreat. We had big issues to discuss, and it would have taken a week-long retreat to address all of them. We had to choose which ones were the most important.
Be very clear about expectations. The reason that we came together was to accomplish important board business and to begin to engage with the next generation. Although there was time during the weekend for fun, we were very clear about who needed to be in meetings at what times, and provided a color-coded schedule. Don't send a message that this is just a family gathering and that the meetings are optional when convenient.
Find ways to get everyone to participate. In most endeavors, there are a couple of people who take the lead and speak the most. We wanted to make sure we heard from everyone, so we gave responsibility for certain parts of the agenda to different trustees.
Look back. Set aside time to reflect on the history of your foundation. If you are fortunate enough to have trustees or friends who know that history and can share it, ask them. Some foundations have a video of the founder speaking about his/her vision. If those options aren't possible, then find other ways to bring history alive, such as tracing a history of the grantmaking.
Show the Next Gen what you're about, but also listen to what they are thinking. It can be a challenge to strike the right balance between the two.
Bring the work to life! We were fortunate to provide an example of our grantmaking by picking fruit and talking to the founder of Food Forward. Incorporate a site visit or conversations with grantees into your retreat, and make it interactive.
Who's taking care of the kids? We didn't pay enough attention to the child care burden placed on the families with young children where one parent was in meetings all the time. This is something we will address the next time.
Have fun! Important work is being accomplished at your retreat, but it's equally important to have fun. Joy is a key ingredient in family philanthropy.

Looking Forward
We're not waiting for our next retreat to engage the wider family with the foundation. We have launched a bimonthly email newsletter with updates about the foundation that goes out to everyone in the family. The newsletter is very short – we mostly provide links to articles about our grantees or the foundation, photos of events, or other news. It also serves as a way to keep trustees informed about Durfee in between meetings.
We are also planning on hosting an annual Durfee Day for trustees, Next Gen, and retired trustees. These plans are still in formation, but we are thinking of doing themed van tours centered on issues and agencies in Los Angeles that Durfee works with so that everyone can get a better sense of what's happening in the field.
In two years we will have another board retreat and will check in with everyone to see if they would like to make it all-family again. Family engagement is a continuous work in progress. Everyone gets older, new family members are added, people move, people change jobs and lifestyles that make them more or less interested in or available for board service. The only thing that is certain is that everything will change, and that the foundation needs to stay flexible and open to be relevant.