Where there is community, there is fellowship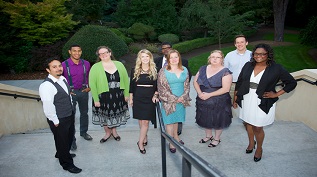 An increasing number of family foundations, community foundations, and regional associations are utilizing fellowship programs as a complementary strategy for meeting their charitable giving missions, while also seeking to expand local philanthropic leadership by building capacity in individual community members. Family foundations may decide to start a fellowship program for any of a number of reasons, including:
Honoring a loved one's legacy or approach to philanthropy.
Advancing the foundation's mission to create impact in the community, and
Building diverse new leaders to advance the field of philanthropy.
Through fellowship programs, family foundations can also deepen relationships with the communities they serve, while also inspiring and recognizing existing community leaders so they can further flourish in their roles.
But, what is a fellowship? In ProInspire's recent benchmarking research study report, Social Impact Fellowships: Building Talent in the Social Impact Sector, social impact fellowships are defined as opportunities that "enhance the value created by talent in the social impact sector, as a structured, professionally-oriented, time-bound and selective program in which talent enrolls."
From this definition alone, it's very clear that a lot of time, energy, and commitment is necessary to build a successful fellowship program. In order to create a successful social impact fellowship, family foundations and other organizations must take the time to evaluate an individual's personal and professional development needs, provide the funding to meet these needs, and to work with selected individuals for an extended amount of time to truly understand their potential and interests. The growth in fellowship programs is a fairly recent phenomenon; 76% of the 48 programs represented in the survey started in 2000 or later. Among the participants in this first-of-its-kind survey were NCFP Friends of the Family the Annie E. Casey Foundation and the Evelyn & Walter Haas, Jr. Fund.
The report includes a number of key findings that should be carefully considered by any family or funder thinking about establishing a fellowship program:
Foundation fellowships focus primarily on emerging leaders.
Few fellowship programs have reached large scale. Only six of the 48 fellowship programs represented in the survey had greater than 100 fellows in 2014.
Fellowships can be effective tools for enhancing diversity in the sector. More than half of programs that track diversity metrics indicate that 50% or more of Fellows in their program are non-white.
The fellowship industry approaches metrics and evaluation with inconsistency. Only 26% of respondents have performed a program evaluation. In addition, there is little consistency in metrics being tracked by programs in each category.
Fellowships desire more industry collaboration. Nearly 100% of respondents indicated they would like to find more ways to collaborate with other fellowship programs.
(Source: Social Impact Fellowships: Building Talent in the Social Impact Sector, ProInspire.)
From the key survey findings, there are several points that ring especially true for families that give and those who work with them, including community foundations and regional association grantmakers. In this issue of FGN, we profile three fellowship programs from those in our Friends of the Family and Partner network that have focused on the three goals of building new community leaders, enhancing diversity, and advancing the field of philanthropy and community development.
Supporting emerging leaders: Jane's Fellowship Program
The Russell Family Foundation's (TRFF) Jane's Fellowship Program was founded over 10 years ago and is a prime example of a fellowship program focused on people that have been identified as "emerging leaders" in their community. On the foundation's website, Richard Russell, trustee of the Russell Family Foundation, recognizes the fellowship as a legacy to his mother. He explains, "In this living cohort of love and care that has become the Jane's fellowship, to me, is a tremendous tribute to her. In thinking about my mom, it needed to be both an experience that would deepen skills and capacities, as well as a deeply human experience and a personal one." Jane T. Russell was not only a well-known business woman, but a community leader whose life's mission was to improve Pierce County by investing in its people and providing support in any way that she could. This fellowship program was a way for the family and Foundation to continue her legacy.
Susan Dobkins, TRFF program officer and former Jane's fellow, describes the fellowship as "a grassroots community leadership program that brings together humble, community leaders in Pierce County, WA for a year-long experiential program that knits them together, to strengthen and enable them to be more confident and to enhance the great work they're already doing." Dobkins describes the fellows as "people who are working at the neighborhood level, or even the block level on issues that are important to them and their community. They are people who are passionate, who have a vision, and who probably are not in whatever work they're doing for the money."
She continues on to say that due to many people being volunteers or underpaid in the work that they do for the community, a part of the program is to provide a direct stipend to the individual. This robust fellowship program provides a $6,000 stipend to compensate the Fellows' time commitment of one Saturday and one evening monthly, two learning retreats and site visits, learning dialogues, group problem-solving, entrance/mid-year/exit interviews, family dinner, graduate mixer, graduation, and homework. Additionally, at the end of the fellowship, TRFF provides $2,500 for Individual Development and Education Accounts, which must be used for ongoing work towards leadership goals.
The Jane's Fellowship Program contains four fundamental building blocks to guide the fellows' leadership development.
First, the program begins with building trust. In the first two months, the fellows attend an opening retreat to address relationship building, as well as their personal vision, mission, and goals.
Second, the fellows focus on personal and professional development by "owning their story." Over the next two months, they craft their storytelling, cultural competency, and asset-based community development skills. They are provided support during this process with their "Goal Buddy" teams.
Third, the fellows are challenged to expand their awareness. In these two months, fellows attend group facilitation training, participate in a site visit and mid-fellowship retreat, plan for the remainder of their fellowship, and continually check-in with their teams.
Fourth and final, the fellows focus on change in individuals and the community. In these final 6 months, fellows hold courageous conversations, behavior and leadership assessments, attend a mixer with Jane's Fellows graduates, receive team consultations, and organize their own graduation as a cohort. At the end of the Jane's Fellowship Program, the fellows are expected to add to a stronger and more intentional grassroots leadership network in Pierce County, as illustrated in the diagram below.
Supporting leadership diversity: The Ron McKinley Philanthropy Fellowship
The Ron McKinley Philanthropy Fellowship, hosted at the Minnesota Council on Foundations (MCF), was launched to prepare individuals from underrepresented communities for careers in philanthropy. The development of this fellowship program first began at the Bush Foundation, where Alfonso Wenker, current MCF director of diversity, equity and inclusion, previously worked to design an employment pipeline program focused on diversifying the field of philanthropy. The fellowship program, established in 2013, employs a cohort of "high-potential individuals from communities underrepresented in leadership positions in philanthropy for careers in the field" as fellows at MCF. The goal of the program is to not only change the faces of leadership, but to bring to the field new, innovative, and diverse ideas and viewpoints.
Wenker explains the importance and focus on diversity in the Ron McKinley Philanthropy Fellowship on the Bush Foundation website by saying, "For foundations to remain credible partners, their staff must reflect the shifting diversity of communities." The 2015 Fellows of this program include:
a Beach Interfaith Housing collaborative community organizer,
a community representative in the U.S. Congress focusing on immigration, foreign affairs, and outreach to communities of color,
a program and curriculum director of a program geared towards Minneapolis youth,
a coordinator for a family-oriented shelter, and
a campaign director working to achieve equity in employment.
These fellows are hired on a three-year appointment at a host foundation. Host foundations are tasked with providing full-time work for a fellow to gain substantive hands-on experience in philanthropy, supervision, and opportunities to become a visible leader. MCF supports the process by managing the hiring search, training, and support during their leadership development journey. Fellows in the program are also expected to attend regular trainings and seminars, networking and learning events, meet with a professional career coach to explore post-fellowship career options, and seek other professional development opportunities with a professional development budget of $4,000.
The McKinley Fellowship program also provides a useful example of the expectations for the per person cost of a vigorous and comprehensive fellowship program. For the Ron McKinley Fellowship program, the annual expenses per fellow is $98,540 in addition to expenses per site. The breakdown of costs is as follows:
The Ron McKinley Philanthropy Fellowship, similar to The Russell Family Foundation's Jane's Fellowship Program, was dedicated to a longtime member of the philanthropic and nonprofit communities who was a mentor to many and an advocate for justice and equity. Ron McKinley served as vice president of the St. Paul Companies foundation, founding director of the Minnesota Minority Education Partnership, coordinator of American Indian Programs for Macalester College, and executive director of the National Network of Grantmakers. His passion for advocating for underrepresented communities were seen evident through his life's work.
Other Notable Fellowship Programs in Family Philanthropy
Do you know of another creative fellowship program run by a family or community foundation? Please let us know by contacting program@ncfp.org.
Honoring commitment to public service and civic involvement: John Gardner Fellowship Program
The Silicon Valley Community Foundation (SVCF) supports the John Gardner Fellowship Program at Stanford University and UC Berkeley. This fellowship program was created in 2002 to honor John Gardner's spirit of commitment to public service and civic involvement. A permanent, endowed fund was created by the Board and staff at the SVCF to provide six students in the field of public service with a ten-month fellowship. This fellowship includes a $30,000 award and full-time work with a government or non-profit agency in the United States after graduation. The fellows are also matched with a mentor who is identified as a distinguished leader in their field of interest. The John Gardner Fellows also intern at the community foundation or a Silicon Valley public benefit corporation for a structured three-month experience. The fellows are expected to participate in orientation sessions, design a personal learning plan, participate in a mid-year and closing meeting, and write a year-end report and stewardship letters.
Manuel J. Santamaria, vice president of Strategic Initiatives & Grantmaking at SVCF, reflects on one particular fellow who "helped the department move on tech projects, archiving and organizing of electronic files and created an electronic filing system that is still in use here." He also recognizes the skills he most appreciated in the fellows, which include; writing, diligence in research and always asking questions/checking-in, punctuality and professionalism, and a deep commitment to community.
Key challenges to starting or continuing a successful Fellowship Program
High costs for running a fellowship program and a lack of funding.

Costs include: staffing, providing professional development and networking opportunities, retreats, seminars, establishing partnerships, stipends, resources, etc. 

Lack of consistent metrics and evaluation. Difficult to measure impact of the program and continually support the funding that exists for it
Recruiting a diverse-pool of talent. If looking for a diverse pool of applicants, it may take more outreach to find these highly-talented individuals that are often gone unrecognized
Collaboration. The most successful fellowship programs involve collaboration with other institutions and it may be difficult to navigate through the different nuances of each organization.
Lack of buy-in. Difficult to get leaders in the field to invest time into developing the skills of fellows in addition to their busy schedule.
Types of Fellowships
ProInspire categorizes fellowships in the following categories:
Matchmakers: Facilitate matching of fellows with social impact sector employers to serve in substantial full-time roles
Launchpads: Bring new organizations and operating models to the world by helping fellows launch new ventures
People accelerators: Amplify the impact of existing leaders through leadership and professional development
Strategic Employers: Advance own mission through the work of fellows in a structured program offering exposure and sector experience
If you are interested in starting a fellowship program, it is important to assess what the needs of your family foundation and communities are, what your end-goal for the fellows would be, and what type of fellowship would work best for your organization.
Conclusion
Fellowships are not only an opportunity for family foundations, community foundations, and regional associations to build the capacity of individual leaders in the community, they are a way of advancing their own systems of operation and field. Fellows are often seen as visionaries, deeply committed, and leaders with potential to contribute to the community on a larger-scale. While the mission for each fellowship program differs, the hope or goal for all fellowship programs is to provide students, community organizers, or otherwise an opportunity to advance their personal and professional skills to create a positive impact on the community or field they are most passionate about in life.
While starting a fellowship program is a large-undertaking and perhaps a bit intimidating, there is a community of foundations who are willing to guide you in your journey in order to make each community better than before.
If you are considering starting a fellowship program, it is important to:
Identify who will be in your "community of support" during the process, whether it be family foundations in our Friends of the Family network or your community leaders.
Create buy-in for the decision-makers of your family foundations to fund this program. You can do this by sharing stories from your peers.
Collaborate with surrounding community organizations, your community foundations, and regional association of grantmakers.
Be ready and willing to make mistakes – these will only make your program better in the long run!
And remember, where there is community, there is fellowship.
Acknowledgements
Thank you to the following individuals for their time in interviews and contribution to this article: Susan Dobkins, program officer, The Russell Family Foundation; Alfonso Wenker, director of diversity, equity, and inclusion, Minnesota Council on Foundations; Monisha Kapila, founder and CEO, ProInspire; and Manuel J. Santamaria, vice president of Strategic Initiatives &Grantmaking, Silicon Valley Community Foundation