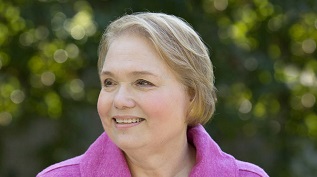 One of my favorite NCFP publication titles, Grace, Gratitude and Generosity, was used for our Faith and Family Philanthropy journal more than a dozen years ago. When we used it, inspired by one of the Journal's authors, I felt it had meaning far beyond that one publication; I still do today.
Those beautiful words have been much in my mind lately. Part of the inspiration for the memory has been delving into the data we are uncovering as we process the Trends research data. We are learning so much about what donor families are doing and how they are doing it. I'm so excited to share these results with you in the weeks and months ahead. But I'm also reminded how important it is to share why donor families do what they do: what prompted them to organize their charitable giving and to do it together? How can others be encouraged to join them?
The critical value of telling special stories came back to me as I mourned the passing of Ike Leighty recently. Ike was one of those donors who was at once larger than life and humble in presence and approach. Ike moving through philanthropic workshops in his signature red sweater is an image that never fails to make me smile. I'd known Ike for about 25 years when he died just a few months short of his 100th birthday. He was a wonderful individual in his own right and yet so reminiscent of the many donors, family members and field leaders I meet all the time.
Grace: Ike understood "grace" to refer in part to the religious values and traditions that motivated and sustained him. He was a member of his Waterloo, Iowa church for some 83 years! But he embodied "grace" in the way he approached life and his giving. As I said, humble. But also respectful, always learning, and ever marveling at the passions and work of others.
Gratitude: The most often mentioned reason family philanthropic leaders give for their gifts of time, talent and treasure is their hope to give back. Ike was always grateful. His scholarship program was named for the woman who helped to raise him. He was committed to his hometown. He was proud of his company and when it was time to sell, he sold it to the employees. He did, indeed, give back.
Generosity: Ike, like many donors, found many ways to give: direct gifts; a family foundation; a fund at the community foundation; and probably a whole lot more he didn't speak about. Like his colleagues in the field, he didn't just gift dollars. Donor families share their experiences with colleagues in the hopes others might learn from their experience. They sit on nonprofit boards and committees to support beyond grants. And, as I learned from Trends, they fill out surveys to advance not only their
own practice but that of the field as a whole.
Ike was very special. And, fortunately for the causes and communities all of us care about, there are thousands of special stories. Please continue to fill out those surveys that help us understand the practice and promise of family philanthropy. And share your stories and those of your charitable heroes – donors, family members, staff and advisors, and grantees. We have a powerful story to tell and one that can add to our numbers. In good times and bad, celebratory moments and challenging ones – remember Ike and all who embody charitable grace, gratitude and generosity.
Ginny