The World Belongs to Our Children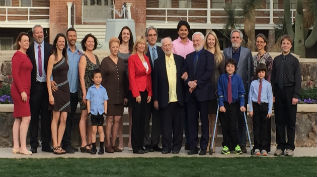 …and down they forgot as up they grew.
– e.e. cummings
The need is serious.  We haven't solved it yet, which means we need to solve it now and every tomorrow, which will forever become today.
The latest headlines in The New York Times and other news outlets scream about growing problems we urgently need to address to ensure a future in which our children can thrive. We live in a world of growing income disparities, human rights violations, increasing environmental concerns, political instability and ongoing global threats and atrocities.  We will never have an impact on these issues until we enlist the help of those who will be 60 years old in 2071.  Yes, I'm talking about the five-year-olds of today.
John F. Kennedy paraphrased Luke 12:48 when he said, "For of those to whom much is given, much is required."  I have a large family: children, stepchildren, adopted children, and grandchildren. Over the years, my family has become a melting pot of geographies, countries of origin, faiths, political leanings and ideas.  The single most important idea I have conveyed to each of them is simply this:
       You will best help yourself by helping others.
Years ago we joined the growing number of families investing in philanthropy to build a legacy of giving as our "wealth transfer."
At national philanthropy conferences I've met people in their 40s whose parents never allowed them to participate in the family foundation. And yet, 30 years later, they're asked to "take over."
"I'm not sure I want anything to do with my family's foundation," I've heard. "It's my parent's foundation, not mine."
Children are perceptive and quite capable of looking out for their own interests. One of their strong interests is to grow up, become an adult, and eat as many potato chips as they like.  Most children can't wait to be an adult.  But growing up is a process. It takes time.
When I founded the Frieda C. Fox Foundation (FCF) in honor of my mother, I wanted to find ways to immediately include the voices of my children and grandchildren.  FCF, like many other foundations created in the 1990's, has used our mission statement, to maximize the potential of young people, as motivation to get youth involved.
Recently our Junior Board (ages 8 to 17) presented their charitable activities to the Senior Board.  I was delighted to hear our 10- and 13-year-old junior board members talk about their site visits, what they have learned, and how they have arrived at their decisions on how to allocate the $60,000 that was theirs to grant.  As they spoke I had many questions, and was impressed with how well my concerns were addressed during their hour-long presentation.  I remember thinking, "I'm in business with 10 year olds and they're carrying their weight."
FAMILY PHOTO CAPTION: In 2015, I gave my biggest gift yet—a $20 million gift to the U of AZ to name the school of music after my father.  Our family of all generations showed up on a school day to join the dedication.
Why start young?
Five-year-olds are fully capable of expressing insightful feelings, opinions, and thoughts.  All they need is practice.  With adult encouragement five, eight, and 10 year olds are able to make decisions on par with most adults.  Our children actually believe they are real people.  And they are.
Participating on the junior board is a great way for young people to learn and practice values important to me, such as cooperation, creating constructive relationships, and doing the right thing even if no one is watching.
FCF's Junior Board has inspired the overall direction of our foundation.  These future 60 year olds add a vibrancy, honesty, and technology-forward mindset to our philanthropic efforts that has made us current 60 year olds more optimistic, more joyful, and more effective.
It is encouraging to see so many of our peer family foundations taking similar steps. NCFP's landmark Trends in Family Philanthropy study finds that 56 percent of family foundations are engaging younger family members in the foundation. Of those, two thirds have younger generations serving as voting members of their board and more than half go on site visits.
To support these efforts to engage the next generation in family philanthropy, we have developed a program called Youth Philanthropy Connect (YPC).  At our regional and national conferences, youth and adults from all over the world gather to share their stories. Hearing how other family foundations and organizations have involved youth in philanthropy has been powerful and transforming for my children, my grandchildren, and for me.
My grandson Jonah is now 13.  He has been an active member of the Junior Board since he was eight. Every year he researches and chooses nonprofits to which he will make a $2,000 individual grant. His brother Liam, now 11, also participates on the board. At a recent YPC conference a man told me that Liam shared with him how much he likes finding nonprofits to donate to and that his favorite activities are attending the YPC conferences and delivering checks to grantees. "Liam is terrific," he said.  Needless to say, I agree.
My family consists of people who care for others and give of themselves.  And if some of their philanthropy experience is learned and shared in the July, 2016 YPC Conference at Disneyland, I'm all for it. It's great fun for children of all ages to meet and learn from other youth philanthropists.
These young people are our real-time case studies and sounding boards for what is or isn't working. Our young participants not only have a good time, they are given decision-making power and the money to back it up. And they love connecting and spending time together.
Children are talented and capable.  Join me in imagining a world and generation of children in touch with their generosity, so that in 2071, when today's five year olds are 60 they will have influenced the course of human history.
Want to hear more from Alan C. Fox? Read about his New York Times best selling books and blog at peopletoolsbook.com. The Frieda C. Fox Family Foundation is one of the 70% of family foundations with less than $10 million in assets and 65% who gave fewer than $500,000 in 2014.  We plan to operate into perpetuity yet have gone over the 5% payout as needed and have one program-related investment.  For more information, visit fcfox.org or youthphilanthropyconnect.org.  To learn more about youth grantmaking and to continue this conversation, we invite you to join us at the Youth Philanthropy Connect International Conference July 7-9, 2016 at Disneyland's Grand Californian Hotel in Anaheim, CA. NCFP Friends can take advantage of a special 20% off the conference registration! Just use the code "NCFP" at checkout!