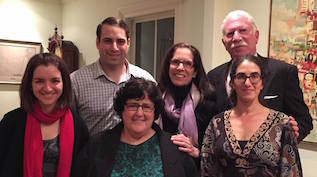 To celebrate his 50th birthday, a Boston-area banker named Abraham "Cap" Ratshesky chose to give a gift to his community by setting aside some of his wealth to create a foundation.
"Because man's life is of such short duration, and those services he may do for his fellow man are so few at best, I deem it a privilege to be allowed to give during my lifetime," Ratshesky wrote at the time.
A century later, that giving continues.
This year, the foundation that bears his name, the A.C. Ratshesky Foundation, celebrates a milestone that very few family philanthropies achieve — its 100th birthday.
The family's small, Boston-based philanthropy grants more than $250,000 annually — to Boston area organizations.
Just as important, it has become a source of lasting philanthropy and a touchpoint for a family four generations later.
"It's humbling to know that he put a significant amount into a foundation 100 years ago and has allowed us to share his privilege," says Laurie Morse Sprague, the foundation's president and a third generation family member. "And it is very much a privilege for each one of us to be able to help others."
Sprague says the foundation's grant making has taken several forms over the years — often based on the priorities of the family members who managed it and the needs of the community at that particular time.
A common thread, however, has been its work with immigrant communities — helping them manage the transition into living in the United States and embrace the American dream.
"When Cap wrote the original trust, he wrote it so that it could be interpreted in many ways," Sprague says.
Cap's vision has helped ensure that the foundation he created would endure. But the generations that have followed have made sure that they have been able to advance that vision.
And they've been able to keep his vision alive by following some key principles. They include:
A sense of history: Like many of the descendants of Cap Ratshesky, Sprague says she was raised with a strong sense of connection to the foundation, its work, and the history of her family. Each generation grows up learning about Cap and the family's history of giving. "So much of this foundation is something that I shared with my father and he shared with his father," Sprague says. "And that is so meaningful." The foundation has become a way to keep disparate family members together. Today, its trustees still meet around a table in person — which allows those in different branches of the family to remain connected.
No obligation to serve: The family's trustees make their children aware of the foundation and its work, but they don't push them to participate. Those who get involved in the foundation do so because they want to — not because they have to. "This is about them coming forward and expressing THEIR interest," Sprague says.
Blending past with present: Trustees make sure they balance the intentions of the founder and the history of the foundation with the values of the current generation and modern needs. "It's challenging to balance between 'this is how we used to do it' and 'this is how we do it today,'" she says.
Philanthropy comes first: The family's trustees don't participate in the foundation's work because they want personal recognition. They do it because they believe in the foundation and its mission. "Our trustees are very private. They tend to want to fly under the radar," Sprague says. "They don't want their names on a plaque. They want to do meaningful work without recognition."
Front row, l to r: Jennifer Morse (4G), Laurie Morse Sprague (3G), Rebecca Morse Steinfield (4G); Back row, l to r: Craig Morse Levy (4G), Roberta Morse Levy (3G), Eric R. Morse (3G)
Like most family foundations, the A.C. Ratshesky Foundation grapples with how it will continue as its current family leadership grows older. With each passing generation, questions arise about how it will continue its work as the founder grows more distant.
"My biggest challenge moving forward is to pull the younger generations in and interest them — and get them involved," Sprague says. "It's not just about getting them involved as voting members. There's a lot more to it. We're all people that work and have busy lives."
But, as it has for the past century, the family will continue to address this challenge.