Junior Board in Action: the Guadalupe and Lilia Martinez Foundation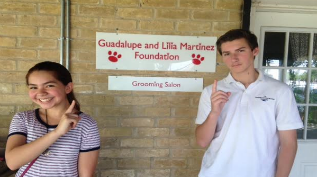 NCFP just returned from Youth Philanthropy Connect's (YPC) annual conference where we presented on our 2015 Trends Study in Family Philanthropy study. One of the members of the YPC leadership team, Brendan Adams, is featured below. Brendan and his cousin Nadia make up the Junior Board at the Guadalupe and Lilia Martinez Foundation and this is a reflection on their recent grant cycle. 
_____________________________________________________________________________________________________
My name is Brendan Adams and I am a sophomore at Allen High School in greater Dallas.  I am a Junior Board member of the Guadalupe and Lilia Martinez Foundation along with my cousin, Nadia, who is 13 at the time of publication. The Junior Board was created around the same time that I started getting more engaged in philanthropy.
I joined the Youth Philanthropy Connect (YPC) leadership team in August 2014 after attending the annual conference in Anaheim, California. Ever since, I have been constantly learning in my philanthropic journey. I have learned a lot about grantmaking processes and funding other organizations.
One YPC lesson that has remained with me is how important the work of a Junior Board can be in a family foundation. This lesson was reinforced when, in November of 2015, the Junior Board held its first grant cycle. Our Junior Board was modeled after the Junior Board policy example from NCFP and YPC. This sample policy was immensely helpful as we developed our first youth philanthropy program.
Prior to the Santa Fe gathering, Nadia and I were each given a list of 10 pre-approved organizations based in Laredo, Texas. Since Laredo is the where the family ranch is located, the foundation—created by my great aunt and uncle—serves the community and surrounding areas through its grantmaking. After receiving the list of organizations, we researched each of them before we met in Santa Fe, so we could form our own perspectives before seeing each other. Nadia and I received $1,000 from the foundation for discretionary funding and we had the opportunity to choose how to distribute the funds to the organizations.
When all of the board members arrived in Santa Fe, the adult board had its annual conference while we had our own separate conference to discuss which organizations we wanted to fund. We continued to research the organizations, discussed which ones spoke to us, and decided on the issues we were most interested in. We decided to narrow the list down to just six grantees. We were particularity interested in organizations that focused on animal protection, anti-bullying, and education, so we decided on six grantees that most impacted these areas. The best part of the process was learning about all the organizations that work with youth. Laredo isn't a very large area, but there are so many organizations trying to make a difference!
Nadia and I hope to have more of our relatives join the Junior Board soon; I can't wait to be a mentor to my younger cousins! The Junior Board is excited to hold more grant cycles as we grow up and into bigger roles as youth philanthropists at the Guadalupe and Lilia Martinez Foundation.
The purpose of the Guadalupe and Lilia Martinez Foundation is to provide means primarily for the people of Webb and Zapata counties to achieve successful lives and to improve the overall environment in those communities.
Youth Philanthropy Connect (YPC) is a special initiative of the Frieda C. Fox Family Foundation. It connects youth grantmakers and the adults who support them to each other, to resources, and learning, while also growing the movement of youth engaged in philanthropy. We are inspiring and helping the next generation of youth philanthropists (ages 8-21), who are changing the world and will continue to be the future change makers for social good. Want to be like Brendan? Apply to join our YPC Leadership Team which defining the strategies and approaches that will develop the program, the educational conference, and the content of the programming for youth: http://www.fcfox.org/lead/