Making the Case for Shared Workspace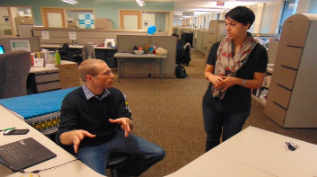 I recently responded to a LinkedIn posting from someone affiliated with a family foundation looking for feedback on experiences working in a co-working space. After a 15 plus year career in financial services, I started working independently (harp-weaver LLC) with a handful of families and individuals on charitable giving. It was a typical small business, at first operating out of a home office.  As the business grew, I not only missed working in a proper office, I craved some connection with people doing similar work.
In 2012, I met two executive directors of private foundations.  They had the same desire to work alongside others engaged in similar work and in the community of philanthropy.  In the summer of 2012, five organizations with one or two people each moved into Friends Center (a green, Quaker-run office building) located in Center City Philadelphia.  We had 10 desks, individual short-term leases, and open-minds.
As the co-working space grew in number, we gave it a name and realized that it was a truly productive work environment.  We call ourselves The Exchange PHL and today we are made up of 13 organizations, 7,000 square feet including 5 conference rooms, 55 desks and shared kitchen, copier/printer services.
The Exchange PHL is a self-designed hub for individuals and organizations working in nonprofits, philanthropy or social justice.  The common thread among members is working hard to tackle the problems facing the Philadelphia region.  This has been the motivation for all of us to connect, work together and share space.
One way that The Exchange PHL is unique is that it's member-run. That means we define our mission and the value we add to the community, rather than just paying rent in exchange for space.
Thus far we've developed the following as tenets of our tenancy:
Acknowledge the inherent ability of all people to contribute to the greater good.
Respectfully steward human, financial, and environmental resources.
Challenge ourselves and others to envision that which might be possible and then act upon it.
Collaborate on the basis of trust and mutual respect.
Act with passion, focus, enthusiasm and gratitude.
We are constantly trying to improve, experiment and evolve the informal and formal collaborative environment.  Through this process, we are working to intentionally plan the next phases of The Exchange PHL. When we think about our community and the space we occupy, these are some values and goals we keep in mind:
Open to mission-driven organizations and funders
Fosters transparency
Encourages collaboration
Supports community, reflecting the diversity of the region
Employs enabling technology
Is central, accessible & visible – a space to convene
Sponsors wellness
Inspires through art & nature
Promotes environmentally friendly practices
Ultimately, our vision for The Exchange PHL is that it serves as a model that can be replicated throughout the region. Collectively we aim to advance the Greater Philadelphia Region by:
Strengthening the leaders of high-performing mission-driven organizations;
Empowering mission-driven organizations, community members, and partners;
Demonstrating best practices in all aspects of work; and
Highlighting the value and vital role that mission-driven organizations provide.
Co-working spaces are on the rise and finding the right one for your needs can be challenging.  There are a lot of considerations like the location of the space, the cost, the flexibility, and various amenities.  Every space has its own energy and culture.  Because The Exchange PHL is just for those in the philanthropy and nonprofit community, there is a natural sense of community and a desire to work together to improve individual work and impact.