Shinn Award Honors Advancement of Diversity, Equity and Inclusion in Ohio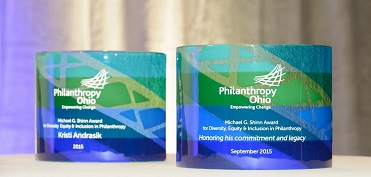 Last year, our Board of Trustees created the Michael G. Shinn Award for Diversity, Equity and Inclusion in Philanthropy to honor Mr. Shinn, a board member who died in March. Until his death, he chaired the Diversity, Equity and Inclusion Committee, taking on primary responsibility for guiding the organization's work in this arena, and served as Board Secretary. Creation of the award – which we present during our annual statewide convening of Ohio philanthropy – signals our commitment to diversity work, begun formally in 2007 and continuing as a major focus area today.
Mike's service on our board was just one of the ways he demonstrated his commitment to philanthropy. He founded the Shinn Family Foundation and was an active and respected community volunteer. Whether he was serving on the boards of the Shaker Lakes Nature Center or the Mt. Zion Congregational Church, the JumpStart Emerging Market Venture Capital Fund or the Kansas University Endowment Association, he was a dedicated and tireless philanthropist.
Mike started his business career at General Electric, having received his Bachelor of Science in Aerospace Engineering from the University of Kansas, and he stayed at GE until he retired in 1998 after 31 years of service as an engineer, manager and corporate staff consultant. While there, he spurred the creation of GE's African-American Forum, a personal and professional development program for black employees.
Mike's philanthropic commitment extended to the national scene, as he was a member of the National Society of Black Engineers, where he founded a Fellows Program; each year, a top scholar receives the Mike Shinn Distinguished Fellow Award from the society. His philanthropy also extended to his alma mater, supporting the university and the School of Engineering, serving on the KU Endowment Board of Trustees and receiving numerous awards.
Our annual Shinn Award honors Mike's efforts to promote diversity and philanthropy, as it recognizes an individual who has demonstrated a significant commitment to diversity, equity and inclusion in his/her philanthropic practice in Ohio. Those nominated for the award must have made outstanding contributions to philanthropy by demonstrating that he/she does one or more of the following:
         Builds bridges, connecting people dedicated to diversity, equity and inclusion;
         Champions the acceptance, respect and inclusion of all;
         Promotes justice, impartiality and fairness;
         Forges genuine partnerships with diverse communities; and
         Implements diversity, equity and inclusive practices in organizational operations, grantmaking, and other areas.
In 2015, we presented the Shinn Award to Kristi Andrasik, program officer at The Cleveland Foundation.
Cleveland-area colleagues who nominated Kristi wrote of her professional and personal commitment to making philanthropy more diverse, inclusive and equitable, citing her focus on helping the Cleveland LGBT community mobilize resources and strengthen community infrastructures to prepare for the 2014 Gay Games and improve the well-being of Greater Cleveland's LGBT residents.
One of Kristi's nominators described her impact, saying that she "helped frame Gay Games 2014 as more than just a game but as a movement – one that ushered in a greater level of awareness and acceptance of LGBT issues. In every exchange, Kristi is always mindful of the implications of the work in terms of diversity, equity and inclusion outcomes."  Another peer remarked that "Kristi has made it her mission to strive for equity, which I believe to be a daunting task. I have witnessed Kristi build bridges between philanthropy and non-profit organization to be inclusive and dedicated to diversity."
The Board of Trustees will review nominations for the 2016 award and make its selection and present it on September 21 at the Learning Institute.
For more information about Philanthropy Ohio's diversity, equity and inclusion work, you can find a timeline here.