The Mary Reynolds Babcock Foundation Signed the Divest Invest Pledge: Here's Why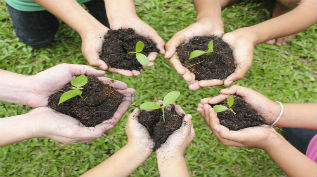 Editor's Note: In June, our Program Coordinator, Rachel Ogorek, posed a question in our LinkedIn Family Philanthropy Network. Rachel wanted to know if any of our Friends of the Family had signed the Divest Invest pledge. Here is one family foundation's response:
---
In addition to making grants to organizations across the American South, the Mary Reynolds Babcock Foundation achieves positive impact by aligning our financial investments with our mission of helping move people and places out of poverty. Leveraging our assets sustainably and responsibly is one way we can remain faithful to our grantee partners, who work daily to build more just and sustainable economies that work better for everyone.
Many of the communities in our footprint have historically relied on fossil fuel industries and are now experiencing serious environmental problems and challenging political realities. Recognizing the disproportionate impacts of climate change on low-wealth people and communities of color in the United States and around the globe, we signed the Divest Invest pledge, a global movement calling for investors "to divest from the fossil fuel industries deepening the climate crisis and invest instead in climate solutions." These efforts shine a light on the economic risk inherent in fossil fuel investment and the importance of making capital available to climate and clean energy solutions.
In October 2014, we adopted an investment policy that integrates environmental, social and governance factors into our criteria. These include climate impact and natural resource use, as well as labor rights, corporate governance, supply chain management, community impact and other practices. We believe this best-of-sector approach is consistent with our fiduciary duty, and we expect our portfolio to generate competitive market performance returns.
Signing the Divest Invest pledge takes this commitment one step further, as we join more than a hundred other foundations in cementing our support for companies that are addressing climate change and managing the environmental risks associated with their business activities.