From Paris With Love: A Reminder for Family Philanthropists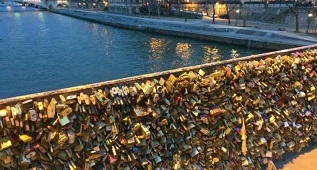 Editor's Note: This blog was originally published by the Africa Grantmakers Affinity Group. 
---
Flipping through my photo archive from the past year, I came across a snapshot of the bridge of locks in Paris. Not the more famous Pont des Arts, which was dismantled for safety reasons in 2015, but a tiny bridge named Pont de l'Archevêché. Because they rarely venture off the beaten path, few tourists have discovered this smaller replica hidden just behind Notre Dame. Believing I'd completely missed an opportunity to ever see this physical manifestation of emotion, I was pleasantly surprised when I found myself at this "symbol of everlasting love." And watching the sun set over the Seine I succumbed to the emotion the locks symbolize: love.
Reflecting on bits of wisdom to ground what will be my eighteenth year in the philanthropic sector, I didn't want to defer to words such as strategy, impact, risk, and collaboration, which frame most conversations in our workplaces. But I was again drawn to the thousands of colorful locks of the Pont de l'Archevêché, and was reminded of why I initially came to this work. Love. Of justice, access, equity, and safety for all humankind.
We have a crisis in philanthropy. And I use the word crisis on purpose; love of humankind is the foundation upon which a culture (not the institutions) of philanthropy was birthed and later institutionalized. Some of us came to this work for the wrong reasons to begin with; many have forgotten our initial motivation. Most of us are not acting with any sense of urgency, or consistently reflecting on the fact that the problems we've committed to tackling involve real human beings.
As you, your family, or your staff reflect on and think deeply about strategy, evaluation, impact, and learning, begin with a foundation of love.